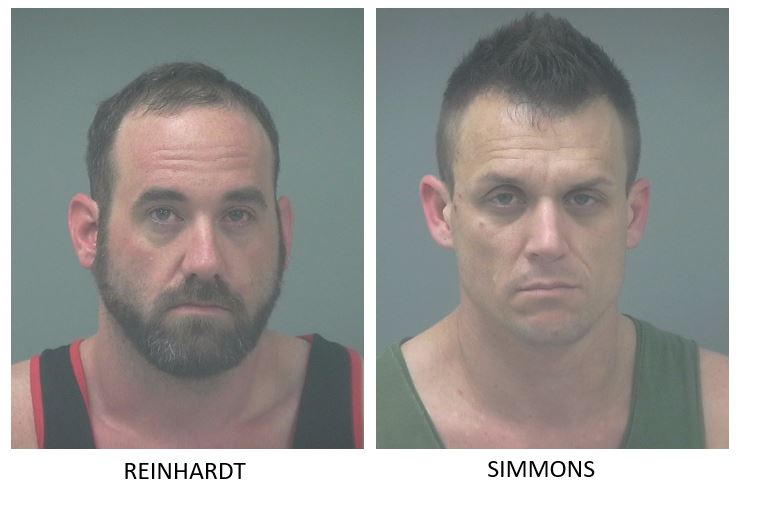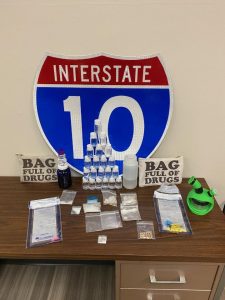 Cops found evidence in the car, including two bags which read "BAG FULL OF DRUGS" (photo courtesy Santa Rosa County Sheriff's Office).
Florida Highway Patrol Trooper Marlon Boggan was patrolling Interstate 10 in Santa Rosa County late Saturday afternoon when he observed a grey Kia sedan traveling eastbound at a high rate of speed.
Trooper Boggan clocked the Kia on radar at 95 miles per hour in a posted 70 mph speed zone and conducted a traffic stop at mile marker 40, near Holt.
Trooper Boggan identified the driver as Ian Christian Simmons and the passenger as, Joshua Michael Reinhardt – both 34 years of age and from Orlando, Florida.
Trooper Boggan determined that Mr. Reinhardt was the subject of an active felony warrant for Violation of Probation in Orange County, Florida and requested backup.
The Santa Rosa County Sheriff's Office arrived to assist, and Sheriff's K-9 Prince alerted to the presence of contraband in the Kia.
A subsequent search of the vehicle yielded approximately 75 grams of methamphetamine, 1.36 kilograms of GHB, 1 gram of cocaine, 3.6 grams of fentanyl, 15 MDMA tablets and drug paraphernalia.
Both subjects were taken into custody and transported to the Santa Rosa County Jail.
Trooper Boggan was also assisted by the Florida Highway Patrol Criminal Interdiction Unit.