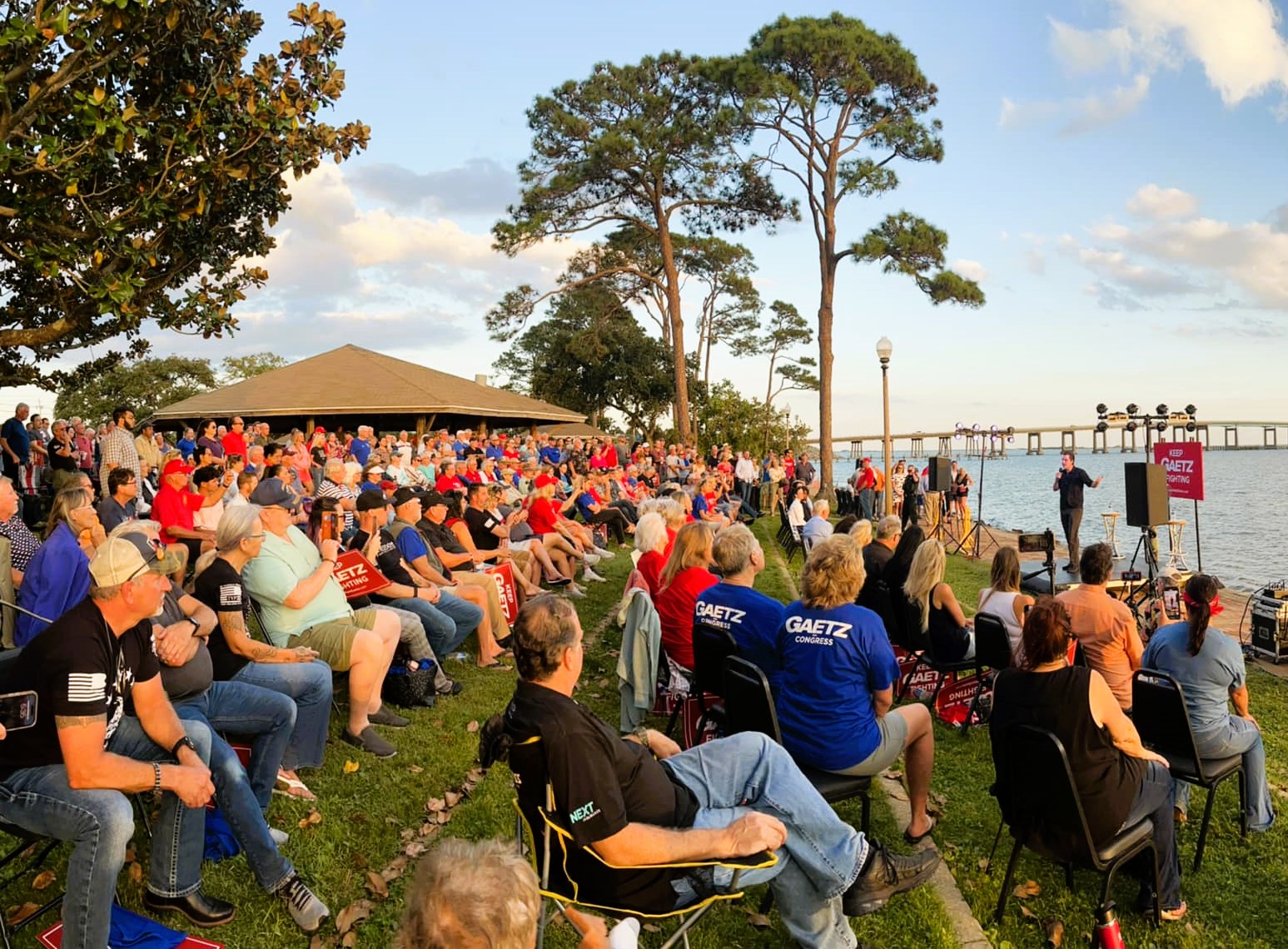 U.S. Congressman Matt Gaetz attracted worldwide attention for his bold move to replace Speaker of the House Kevin McCarthy, and more than 500 of Gaetz's constituents showed up Monday to help celebrate the Oct. 25 election of Rep. Mike Johnson as new speaker.
"Gaetz fought the DC establishment and won," said Florida House District 2 Representative Alex Andrade, who represents portions of South Santa Rosa County, including Navarre Beach. "He's proving that you can make real change if you stand up for what's right and aren't afraid of special interests and those in power. He's a fighter, and he's one of the best I've ever seen. Northwest Florida is lucky to have him."
Gaetz announced Oct. 27 that he would be host an Oct. 30 rally at Dewey Destin's Navarre restaurant. However, the venue had to be changed to Navarre Park to accomodate all those who requested tickets. On the day of the event, the parking areas at the park were filled to capacity ahead of the 5:30 p.m. event, so attendees who didn't arrive early had to park on the north side of U.S. 98 and cross the busy highway.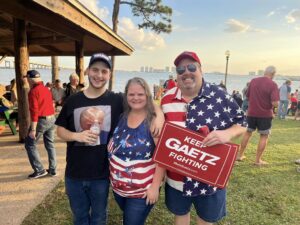 "We're so happy a to see a Christian Conservative and someone with a backbone become Speaker of the House, said Russell Bauridel, who attended the rally with his family. Photos by Romi White.
Santa Rosa County District 3 Commissioner James Calkins was amongst the elected officials who attended Monday's rally. "Matt is about action, not words. He is now known as the most effective congressman in U.S. history by being the only one with the guts to oust the head alligator of the Washington , D.C. swamp. He is our hero."
As Gaetz made his way to the stage, the crowd rose to their feet, greeting him with a standing ovation and cheers. He started off the rally by asking veterans to stand and be recognized for their service. He then went on to express his frustration with post-pandemic federal spending remaining high while average Americans are struggling financially.
"More people are facing repossession of autos than any time in the past 15 years. Over 60% of Americans are living paycheck to paycheck, using credit cards more and more…paying $700 more for the same goods and services as last year," Gaetz said, pushing for single subject versus omnibus spending bills as a remedy to address the nation's $33 trillion debt and annual $2-3 trillion deficit.
Gaetz also recalled how McCarthy had not delivered on promises, such as a vote on term limits and a balanced budget amendment. He also pointed out that during the seven months McCarthy had been speaker only one of a dozen appropriations bills was passed.
After Johnson replaced McCarthy, a second appropriations bill was passed within one day.
"In the moment when we designated Mike Johnson, the first thing he called us all to do is pray. Because there is a power at work in this country that is stronger and more dispositive and more meaningful than any politician, from President of the United States down to our local government, and it is almighty God," Gaetz said, bringing the audience to their feet, cheering and clapping loudly.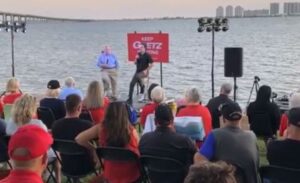 Joining Gaetz on stage toward the end of the rally was his father, Don, who formerly served as President of the Florida Senate and recently announced he is pre-filing for the Florida Senate District 1 seat. The duo discussed concerns about education and other topics.