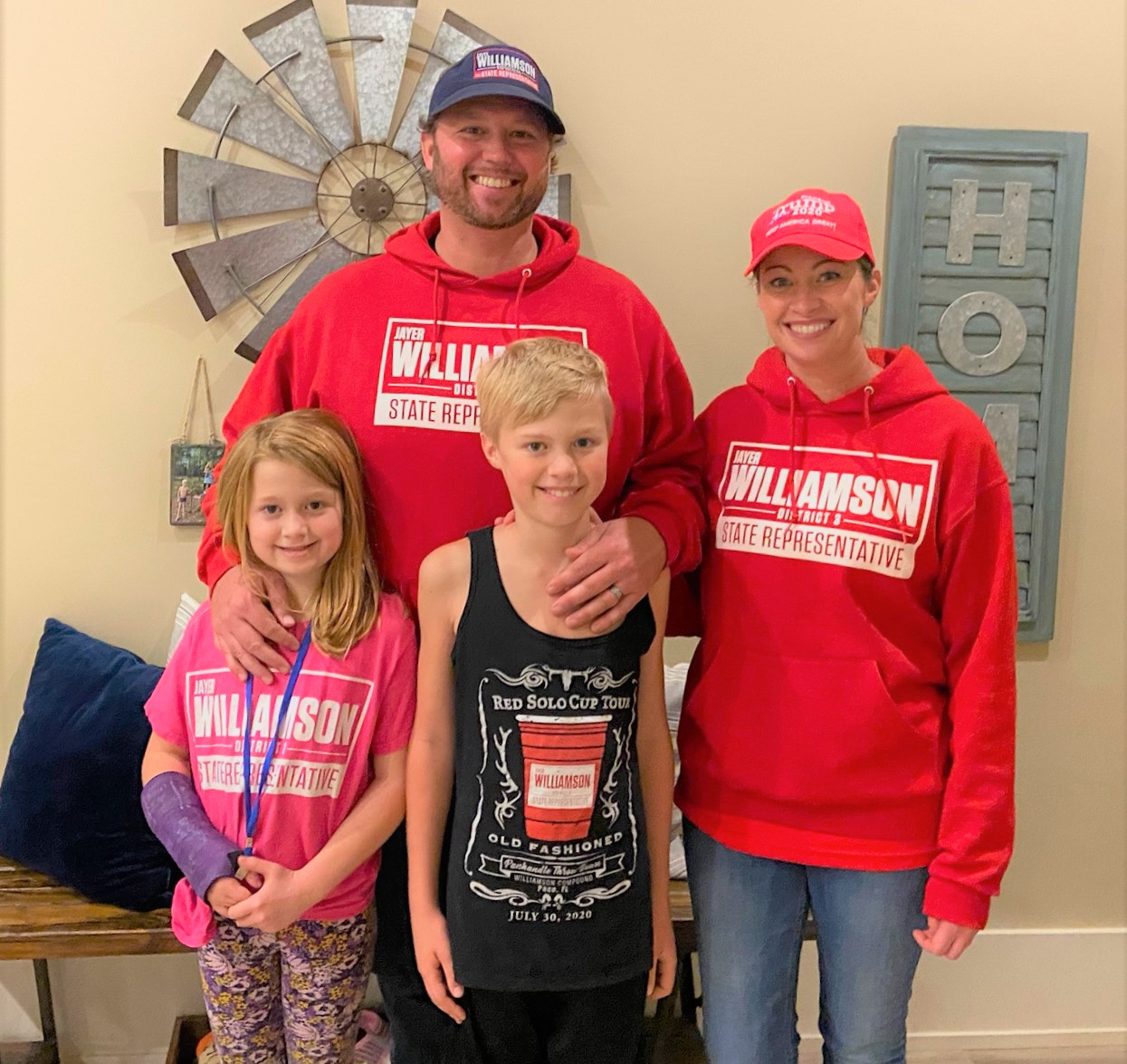 Florida Representative Jayer Williamson celebrated his landslide victory Tuesday night with family and friends and his home in Pace. He's pictured with his daughter, Rylin, son, Brooks, and wife, Linsey. (Photo by Romi White)
Santa Rosa County set a record Tuesday when more than 107,316 ballots, the most ever cast in the county, were tallied in the General Election, providing a red wave of support for Republican candidates at local, state and national levels.
The turnout was 73.6 percent – the highest since 1966 when there was an 81.60 turnout. Back then, Santa Rosa County only had 15,812 registered voters.
Today the county has 145,810 registered voters, including 85,755 Republicans, 27,234 Democrats and 32,821 others.
In addition to flooding Republican candidates with votes, Santa Rosa voters also supported renewal of the half-cent local option sales tax for five years and a declaration of Sanctuary for Life for the county, a symbolic Pro-Life label which has no teeth since abortion is legal in the state under certain circumstances.
Additionally, Navarre Beach voters passed a measure to create a special fire district on the island.
City of Milton voters ousted two of three council members with only Jeff Snow winning re-election. Mary Ellen Johnson lost her race to Roxanne Meiss, mother of former Mayor Wesley Meiss. Peggi Smith lost her re-bid to newcomer Matt Jarrett.
There were also six Constitutional Amendments on the ballots:
Citizenship required to voted passed in Santa Rosa County and statewide
Raising Florida's minimum wage to $15/hr by Sept. 30, 2026 failed in Santa Rosa but passed statewide
Allowing all voters to vote in state primary races passed in Santa Rosa but failed statewide
Voter approval of Constitutional Amendments passed in Santa Rosa and but failed statewide
Limitation on Homestead Assessments passed in Santa Rosa and statewide
Property Tax Discount for Spouses of Certain deceased Veterans passed in Santa Rosa and statewide
Here's a summary of how Santa Rosa County votes added up:
U.S. President
Donald J. Trump (REP) 77,306 (72.21%)
Joseph R. Biden (DEM) 27,560 (25.74%)
Congressional Representative
Matt Gaetz (REP) 74,992 (70.88%)
Phil Ehr (DEM) 29,436 (27.82%)
State Senator
Douglas V. Broxson (REP) 78,430 (74.83%)
Karen M. Butler (DEM) 26,379 (25.17%)
State Representative District 2
Alex Andrade (REP) 7,208 (69.47%)
Dianne Krumel (DEM) 3,167 (30.53%)
State Representative District 3
Jayer Williamson (REP) 70,334 (75.26%)
Angela L. Hoover (DEM) 23,120 (24.74%)
Board of County Commissioners District 1
Sam Parker (REP) 84,501 (92.87%)
WRITE-IN 6,485 (7.13%)
Board of County Commissioners District 3
James Calkins (REP) 85,328 (94.04%)
WRITE-IN 5,404 (5.96%)