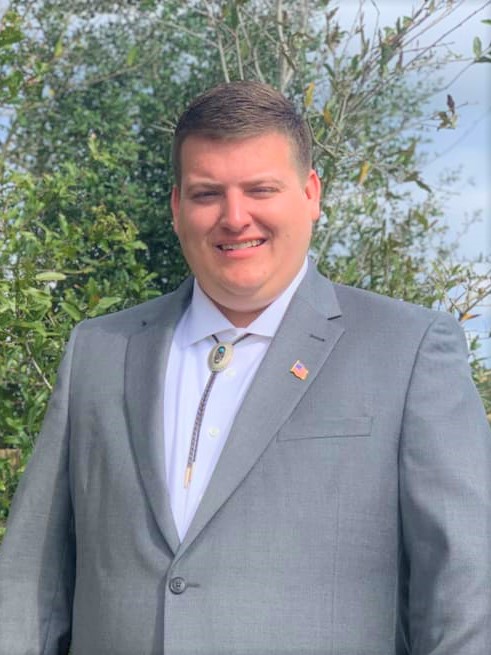 Pace resident Gage Schlegel believes it's time for Santa Rosa voters to change out some long-term politicians for the betterment of the county, so he's bringing forth solutions which he hopes will earn him the District 3 seat, which has been occupied by Don Salter for 20 years.
"Like others, I have seen our great county change in many ways – some good, some bad. I want to make sure all the change is for good henceforth," Schlegel said. "This board has had it's chance to fix issues. It's time to elect others to make those much-needed changes."
Schlegel points out that over the past two decades traffic congestion has worsened, infrastructure needs have not been met, taxes are higher and residents do not believe some existing board members listen to their votes, pointing out Santa Rosa County voters during three separate elections opposed funding construction of a new courthouse.
"They purchased land at double the cost of what it was worth. Then turned around and took 10-15 million from our unrestricted funds for emergencies to start construction and decided to borrow money for the remainder of the costs. That shows Santa Rosa County does not have a tax problem, this current board has a huge spending problem, and it's not in the right areas."
Schlegel says commissioners say they want the public to come to meetings and express how they feel but in the end do not listen to what taxpayers are saying.
"I've seen one commissioner criticize voters and then adjourn a meeting before letting another citizen finish her allotted time to speak. Some of the current commissioners have a proven track record of not listening to what the voters want. If I'm elected, I will listen and be your voice for the future," Schlegel said, adding, "I will also donate half of my first year's salary to parks and charity organizations. I would be honored to serve as your next commissioner and hope I can get your votes come election time."
Some of Schlegel's other goals include:
Developing traffic solutions
Lowering property taxes
Improving infrastructure and drainage
Enhancing Public safety
Budgeting with common sense
Focusing on economic development to create more tech industry jobs
Putting Faith back into the hands of the voters
Transportation and infrastructure improvements will be Schlegel's focus.
"When I lived behind Wal-Mart in Pace, every time it rained our home got flooded. Just recently the drainage issue was fixed after several homes became flooded. But there is still flooding in many areas, and I will work swiftly to correct that. The current board has tried to address this issue but are not doing as well as needed for local property owners," Schlegel said.
Additionally, he says that Woodbine Road has been an ignored issue for many years.
"This problem and all of Santa Rosa County's road problems didn't just happen overnight, but they did happen under this current board. While I feel they are trying to correct the issues, they've had plenty of time to do it and should have started years ago. If elected I plan to make transportation improvements my number one priority for all of this county," he said.
Schlegel also believes it will be important to unite the county, noting the divide with south end residents who have expressed a disconnect with the county commission, which is based out of Milton. "I want to make it feel like everyone gets a even slice of the pie," he said.
Gage is well motivated to work hard to make Santa Rosa County a better place for his family, including his wife, Jessica, and their four children.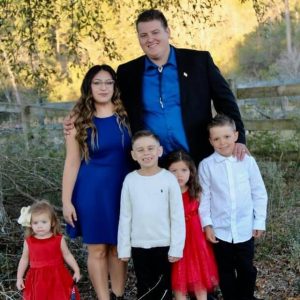 The Schlegel Family: Gage & Jessica with Paisley, Dallas, Jalen, and Kali
Schlegel has resided in Santa Rosa County for more than a decade and graduated with an electrical certification from Locklin Technical College. He is a business entrepreneur and real estate investor who enjoys spending his free time coaching youth sports at local parks, hunting at Blackwater River State Park and fishing with his family in Santa Rosa Sound in Navarre during summer.
"I have a vested interest in helping bring improvements to Santa Rosa County," he said, explaining he wants to make positive changes for future generations. "We need to have a vision for not only what is needed in the next decade but also 50-100 years from now. I don't want my children and grandchildren to be burdened with the lack of planning for growth that we have witnessed to date."
Toward that end, Schlegel had been going door to door, seeking out petitions and the will of voters to further develop his platform with consideration of their needs and wishes. However, the COVID-19 crisis has put a temporary halt to that.
Although, the COVID-19 crisis has put a halt to making personal visits, Schlegel is still available to talk to citizens via cell phone at (850) 281-7100 or email gageschlegel94@gmail.com.
"Santa Rosa County is a great place to live, and I'm going to listen to the citizens to make it the best place it can be," he said.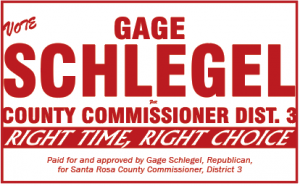 Paid for and approved by Gage Schlegel, Republican for Santa Rosa County District 3