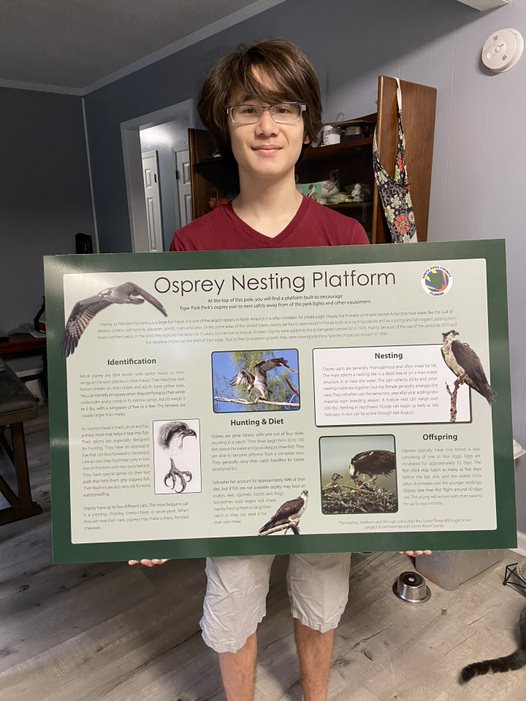 Ian Tsubooka, a 16-year-old International Baccalaureate student at Pensacola High School who resides in Pace, recently undertook a project to relocate an osprey nest which had become an issue at Tiger Point Park & Recreation Facility.
According to county officials, the ospreys have been nesting in the park for at least four years, and their nest was not only damaging the light fixtures but also preventing maintenance anytime during the breeding or nesting season, typically April through August.
So Tsubooka, a member of Troop 400 based in Pace, used a design recommended by the Florida Fish and Wildlife Conservation Commission and led construction of a platform to relocate the birds.
He also raised money to fund the project on his own.
"I have worked for two summers to pay for the project myself," Tsubooka said. "Last year I worked at BSA Camp Woodruff, and this year I worked part-time at a bowling alley."
He allocated $500 for supplies, including food and drinks for volunteers.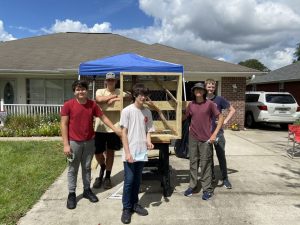 Scouts and adult leaders built the nest platform in about 6 hours on September 12.
Although installation was originally scheduled for the week of September 21, it was delayed by Hurricane Sally, which destroyed the old nest, eliminating the need for county staff to remove it.
Additionally, Tsubooka also created an educational sign informing park goers about the osprey. County building maintenance and park staff will install next to the nest pole.
Working with a county contractor and using a lift, Tsubooka on October 15 helped install the 50-foot pole supporting the new nest platform. Installation took roughly 3.5 hours.
The county supported the project by covering the cost of the contra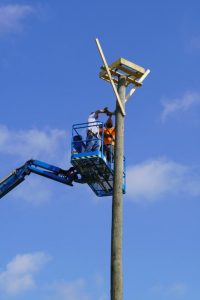 ctor's services.
Relocating the nest within 300 feet but 300 feet from buildings or trees is aimed to resolve the maintenance issue while still allowing the birds to stay in the area.