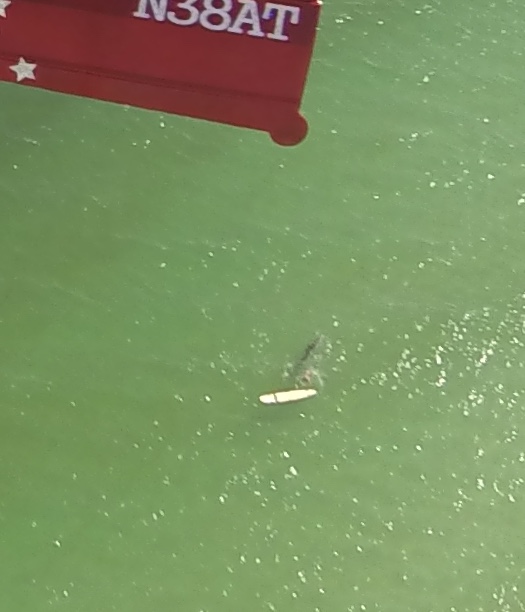 Photo of overturned kayak courtesy of Fly the Boat
Navarre businessman Jeff Bell, owner of Fly the Boat, around 3:15 p.m. yesterday spotted an overturned kayak off Navarre Beach. A county lifeguard retrieved the unmanned kayak, prompting a search for what appeared to be a missing angler.
"The kayak was loaded down with fishing equipment," said Navarre Beach Fire Rescue Chief Danny Fureigh. "But so far we don't have a missing person's report filed."
However, the U.S. Coast Guard was summoned to assist local first responders in the effort to locate the kayaker, who is assumed to be missing.
Bell said at first he thought the kayak might be a whale, so he flew in to take a closer look and realized it was an overturned kayak.
"I flew around three times," Bell said, noting he made a circle over a roughly two- to three-mile area without seeing a person in the water. "It was very clear you could see a sea turtle from 1,000 feet."
Fureigh is hopeful that someone with information about the kayak or kayaker will come forward. Anyone with related information is asked to contact the Santa Rosa County Sheriff's Office dispatch at 850-983-1100.