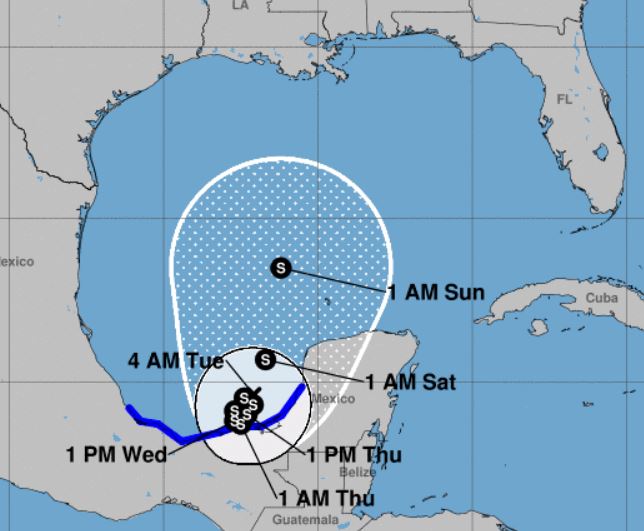 The National Hurricane Center's 7 a.m. CDT update indicates Tropical Depression Three has become a little better organized and strengthened slightly, and there is a possibility that a second cyclone could develop.
"In 5 days there could be a cyclone near the forecast point that is not actually TD-3 due to land interaction and the possible formation of a secondary cyclone," said National Hurricane Center Forecaster Stacy R. Stewart in the 4 a.m. NHC update.
The latest model guidance shows the depression merging with a large system of circulating winds over Central America within 72 hours. "This may be in part to the lack of Mexican and Central American upper-air data at 0000 UTC, except for Belize," said Stewart, noting global and regional models are in "overall good agreement on the cyclone remaining trapped in a break in the subtropical ridge to the east and west of the depression." However, a weak shortwave trough is forecast to nudge the depression northward on days 4 and 5. Until then t
he system is expected to remain in the Bay of Campeche. It will eventually enter the Gulf of Mexico later this week.
This morning Air Force reconnaissance aircraft will investigate the system.
A Tropical Storm Warning is currently in effect for Campeche to Puerto de Veracruz in Mexico.
Per Stewart, it is too soon to specify the
location and timing of any potential impacts along the U.S. Gulf Coast. "Interests in these areas should monitor the progress of this system through the week and ensure they have their hurricane plan in place as we begin the season," Stewart said.
Stewart noted that due to the complexity of the situation, the track and intensity forecasts are currently low confidence.
But local officials say the highest certainty at this point for our area will be a risk of strong rip currents along our beaches, increasing through the weekend with the potential for elevated surf heights. Locally heavy rainfall may also become a concern.
The system is presently 125 W of Campeche, moving W near 3 mph with maximum sustained winds of 35 mph. It's expected to form into Tropical Storm Cristobal later today.
The next NHC update on the development will be issued at 10 a.m. CDT.