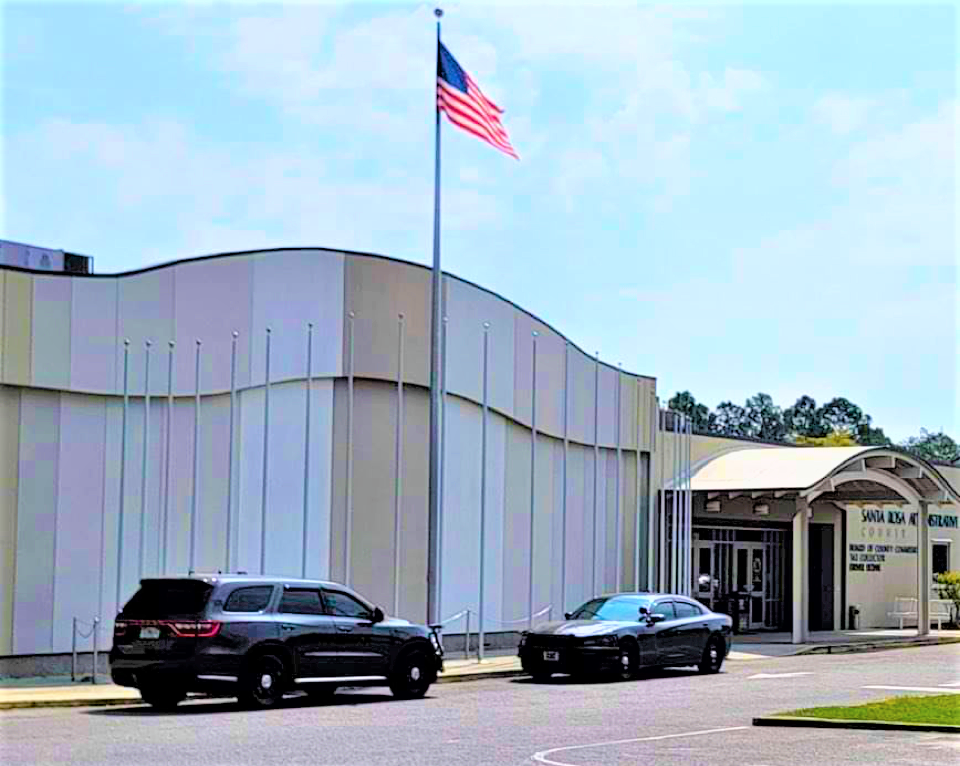 Milton Police Department and Santa Rosa County Sheriff's Deputies responded this morning to the Santa Rosa County Commission Office after threats were made against Commissioner Sam Parker. Photo by Romi White.
Milton businessman Chris Smith, during the Santa Rosa County Commission's March 6 committee meeting, presented surveillance video of District 1 Commissioner Sam Parker inside of an undisclosed local business, seeking a discount and stating, "We gotta Jew you down a little bit."
Parker, who currently serves as the board's Vice Chairman, can be heard on the video, stating "I guess if I would have brought cash you wouldn't have had to charge me tax." Parker went on to say, "At least give us a free Coca-Cola."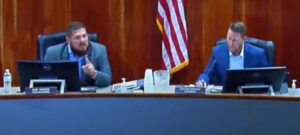 Parker pointed his finger at Smith during Monday's committee meeting.
A heated exchange took place between Parker and Smith, who chided the commissioner for repeating the anti-Semitic comment and also called for the commissioner's resignation.
"I didn't do anything wrong," Parker said, stating it was "not an ethnic slur" and that he always seeks a discount. Parker pointed out how he saved the county money by negotiating a lower deal than the asking price for the new courthouse property.
Santa Rosa County Clerk of Court Donald Spencer, an ex-officio member of the board, asked to address the issue. Although it was during public forum, Commission Chairman Colten Wright hesitatingly permitted it.
Spencer said he would never try to use his elected position to secure a benefit because it reflects poorly upon the entire board and "creates distrust" in the community.
District 3 Commissioner James Calkins then tried to speak. However, Wright instead gaveled the meeting into a five-minute recess, telling Calkins he had "not been recognized."
Following the recess, Calkins stated he would "not be silenced" and that he was "disgusted" by the video.
Numerous emails, calls and visits were made to the county commission office in the aftermath of Monday's discussion, including demands for his resignation and threats against Parker, prompting the police response.
Parker on Wednesday declined to make a statement to South Santa Rosa News, explaining that he would be making a public statement during tomorrow's county commission meeting.
Sarah Whitfield, a spokeswoman for the board, said the board would not be speaking on the matter other than to say "Only the Governor can remove a seated Commissioner. Residents may file a complaint with the Governor's office.
Due to a planned absence by Chairman Wright, Parker will serve as Chairman during tomorrow's commission meeting which starts with a one-hour public forum at 8:30 a.m. and regular meeting, starting at 9:30 a.m. The meeting will take place at the County Administrative Complex, located at 6495 Caroline Street in Milton.