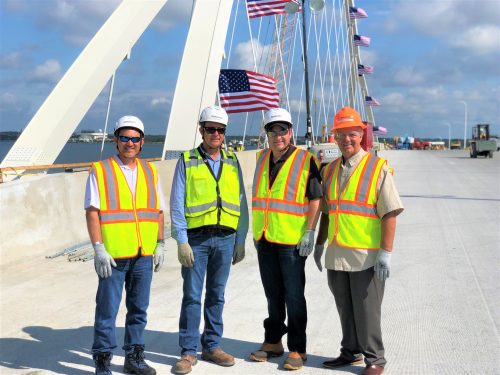 Senator Doug Broxson on Tuesday hosted a tour across the soon to be opened Pensacola Bay Bridge. He was joined by Santa Rosa County Commissioner Lane Lynchard, whose district includes Gulf Breeze, and Escambia County Commissioner Robert Bender, whose district includes the Escambia portion of the new bridge.
"Since the grand opening of the fully completed bridge will not be held until both spans are complete in 2021, we wanted these men and women to know how much the community appreciates their hard work," said Broxson.
The Florida Department of Transportation last week announced that it would begin shifting traffic to the first expanse of the new bridge on July 28.
The entire bridge project, which is the largest infrastructure project in the history of Northwest Florida, is scheduled for completion in 2021.
"This is a signature bridge and a great project to work on," said Tom Fulton, vice president of operations for Skanska International. "These workers here are the frontline of our work and they are the ones that really make this project happen."
"We forget the challenges of long hours in sweltering heat, cold fronts and high winds," Broxson added. "Some of these workers have been away from family for over two years with two more years to go."
"I appreciate Senator Broxson for his work on this project," said Commissioner Lynchard. "This bridge will be an integral part of life on the coast for decades to come, and as we near the completion of the first span it is important to recognize the hard work and dedication of the men and women who have worked in the elements for over two years now.