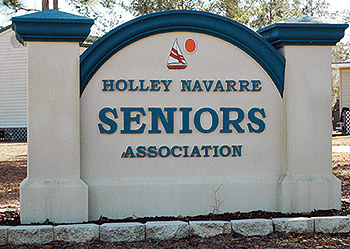 The Holley-Navarre Senior Center is focused on it business activities this month while other folks concentrate on gift buying, office parties and planning family meals for the holidays. They are hoping you can add one more thing to your holiday schedule.
Kicking off December will be this Friday's general membership meeting where four new board members will be elected to represent the Holley-Navarre Senior Center. The general membership meeting starts at 1 p.m.
On Saturday Dec. 7, starting at 10 a.m., the senior center will host the line up for the Navarre Christmas Parade. Float participants and helpers will marshal at the senior center parking lot to place finishing touches on their displays, ensuring they are street ready. The parade participants are projected to depart the staging area at about 12:30 p.m.
The senior center will then host the dedication of the newly finished Blair Blage gazebo on Saturday, Dec. 14 at noon. Everyone is invited to attend. "Please come out; we are hoping to have a good crowd," said TJ Husser, president of the senior center.
The Holley-Navarre Senior Center is located at 8476 Gordon Goodin Lane in Navarre.