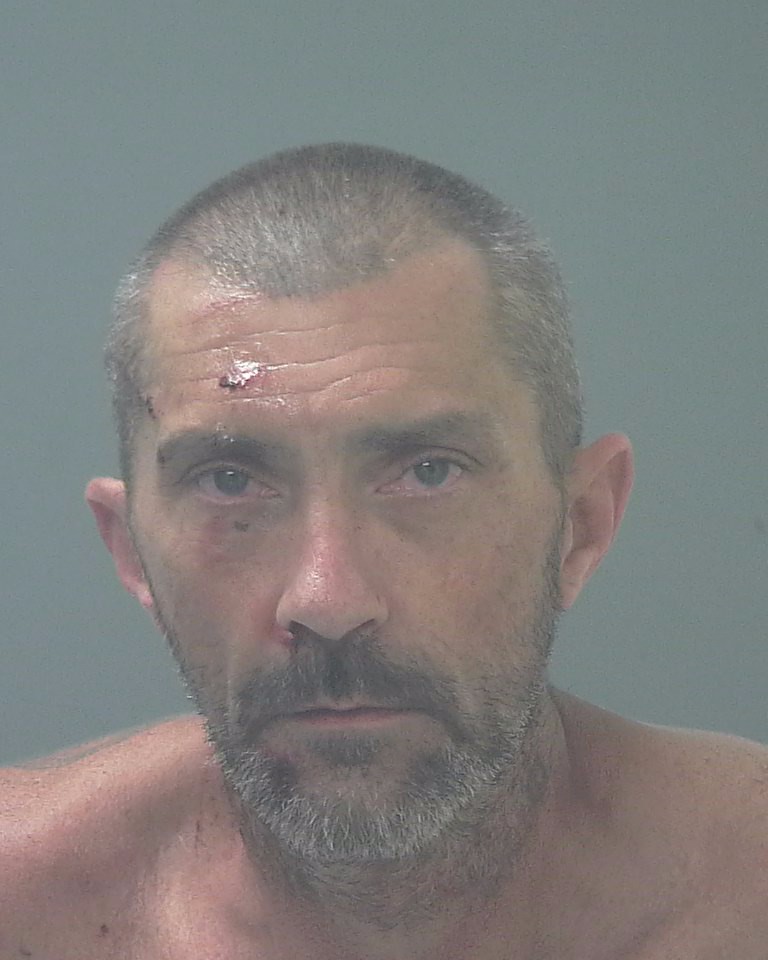 A serial thief is back in Santa Rosa County Jail after Santa Rosa County Sheriff's Office executed a felony warrant February 25. Ex-convict Myrick "Brock" Hamilton, 46, was not only booked for charges related to a November 7 burglary incident but also now faces new charges for resisting arrest, smuggling Fentanyl contraband into jail and drug paraphernalia possession.
Deputies tracked down Hamilton at 2657 Salamanca Street, which is a nearly one-acre property owned by Matthew Buckley at the southwest intersection of Sevilla Street and Salamanca Street.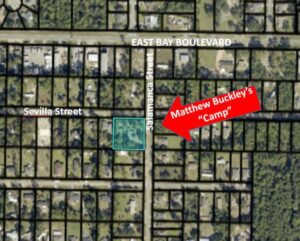 According to Hamilton's February 25 arrest report, a deputy overheard a man and woman inside of a tent on the property. The deputy identified himself as law enforcement, and the female inside said she was changing and would be out momentarily.
After exiting the tent, the female, Angel Boucher, who is known to be the girlfriend of Hamilton, made contact with deputies, who asked if Hamilton was inside. According to police reports, she was "uncooperative" but consented to a search of the tent.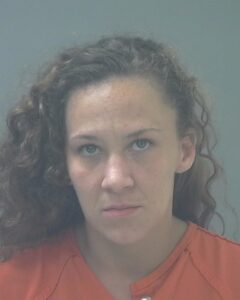 Angela Marie Boucher's February 25 mugshot. Boucher was charged with resisting an officer – obstructing without violence.
Cops soon discovered Hamilton buried underneath objects in the back side of the tent and issued several verbal commands for him to exit. However, Hamilton continued to not comply with commands, per the report. Hamilton was assisted off the ground and attempted to run into the woods. He was then assisted onto the ground but continued to refuse to comply with verbal commands, attempting to keep his hands concealed, per SRSO.
Hamilton was advised that if he had anything concealed on his person and brought it into the jail that he would face an additional charge. He claimed he had nothing on his person and was transported to Santa Rosa County Jail.
While at the jail, another search of his person took place, and police located a piece of tin foil. When asked, Hamilton stated the foil had Fentanyl on it. He claimed it should be empty as he had used it and forgotten he had it on his person.
Subsequently, he charged with resisting an officer (by not complying with commands), bringing contraband into a detention facility and possession of drug paraphernalia. His bond was set at $9,500, and he remains in jail.
HISTORY OF THE CASE
Back during the November 7, 2022 incident, Hamilton was shot in the arm by Josh Huston, a Navarre homeowner.
Huston, a special operations veteran who suffers from PTSD, was startled awake around 2 a.m. while sleeping outdoors on his family's Pine Ranch Drive property – something he does often to keep his insomnia issues from disturbing his wife and children.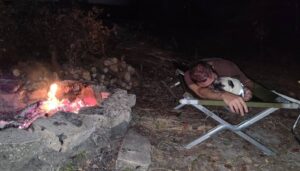 Photo of Josh Huston sleeping outside taken by his wife prior to the November 7 incident. Photo courtesy Tiffany Huston.
Tiffany Huston, Josh's wife, says the handling of November 7 incident has been "dehumanizing" after he was charged with attempted murder. "Josh was in fear of his life when he shot because Hamilton was aggressive and noncompliant with something metal in his hand, flailing about," she said.
Initially the Office of the First Judicial Circuit State Attorney said no charges were going to be filed against Hamilton, who was trespassing on the Huston's property at the time of the November 7 incident.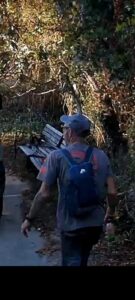 November 2 home surveillance footage shows Brock Hamilton walking down the Huston family's driveway. Video courtesy Tiffany Huston. It's believed Hamilton stole multiple items from the Huston family from Nov. 2-7, 2022.
Hamilton is now suing the Huston's insurers for the injury he sustained during the incident on their property.
"Josh went from defending our country's freedom, serving multiple combat tours, to defending his own life that night and now he's fighting for his own freedom," she said, noting the family is having to sell off his prized refurbished sailboat to fund his legal battle.
But the tide could be turning for the Hustons.
Hamilton on January 6 was booked for trespassing. Additionally, following continued investigations by SRSO, the aforementioned felony warrant was also pursued for burglary of an unoccupied dwelling (a recreational vehicle) and grand theft after cops in February 2023 recovered missing items from the Huston's RV inside an abandoned home where Hamilton had been squatting.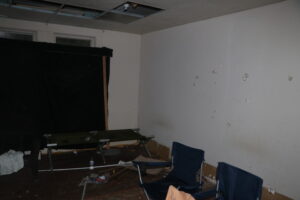 Photo from inside Hamilton's hideout, an abandoned home located at 1924 Captain's Cove. Photo shows chairs and a cot which belong to the Hustons. SRSO evidence photo.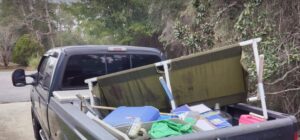 A truckload of stolen items were returned to the Hustons last week, following conclusion of SRSO's investigation, which triggered another felony warrant for Hamilton. Photo courtesy Tiffany Huston.
To date, Hamilton has not been charged for providing false information to law enforcement in connection to the November 7, 2022 incident. At that time he had an active warrant, stemming from an April 21, 2022 theft incident and told police his name was Jeremiah Hamilton, his brother. SRSO had to issue a corrected news release, updating Hamilton's name.
Hamilton, 46, previously served 38 months of a 54-month prison sentence for charges including 6 counts of burglary, trafficking in stolen property, 4 counts of grand theft and selling, dealing or manufacturing meth. He was released May 31, 2021 and since then has been arrested four times:
August 22, 2022 for a felony larceny charge, stemming from an April 21, 2022 theft incident;
December 1, 2022 for felony failure to appear charge related to the April 21, 2022 theft incident;
January 6, 2023 for a trespassing charge, stemming from the November 7 burglary/theft incident;
February 25, 2023 for charges included in the story above.
Hamilton has multiple upcoming court events, including a March 3 docket day.