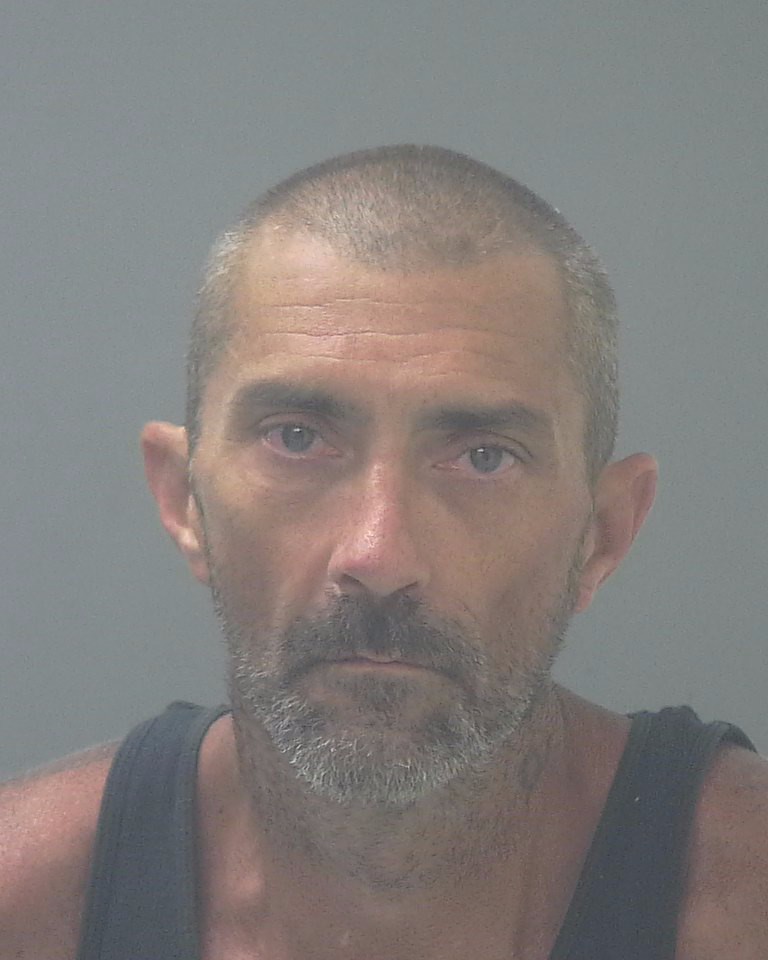 Getting shot in the arm last November while trespassing at 2 a.m. wasn't enough to deter serial thief Myrick "Brock" Hamilton from trespassing again. He was recently booked into Santa Rosa County Jail on multiple charges after being caught prowling last month at a family's home on Hwy. 87 S.
Santa Rosa Sheriff's Office reports show Hamilton was arrested Oct. 6 on an active warrant for the Sept. 21 trespassing and loitering/prowling incident. He was also charged with two drug-related counts when police were searching his pockets before transport to jail and discovered two pieces of tinfoil which field tested positive for Fentanyl and a clear bag with a crystal-like substance which field tested presumptive positive for methamphetamine.
"Those aren't my pants," Hamilton immediately told police, per the report.
Florida Department of Corrections records show Hamilton, a convicted felon, served more than three years in prison for multiple counts of grand theft, burglary of an occupied dwelling, trafficking in stolen property and selling/manufacturing or delivering meth. Additionally, Santa Rosa County jail records show he's been booked 11 times for charges including but not limited to larceny, burglary, and smuggling Fentanyl into a detention facility.
Per SRSO, around 1 p.m. on September 21, Hamilton entered a Holley family's fenced property despite "No Trespassing" signs being posted. Surveillance footage shows he stood on the front porch and looked through their windows, pacing the sidewalk and looking at a vehicle. He then went around the side of the home, looking at a golf cart and shed. When the family's dog came around the back of the house and began to bark, Hamilton is overheard asking "No one home?"
Hamilton then walked back to the front of the home and sat down around 5 feet from the door. The husband logged into the family's Ring doorbell and directed the suspect to leave, advising that police were en route.
The victim, who was home at the time of the incident, told police the incident caused her to fear for the safety of herself and her family and that she wished to press charges.
The reporting deputy stated he attempted to locate Hamilton in a wooded area where the suspect is known to have been staying in a tent, near the intersection of Avenida de Sol at Miranda Street. The deputy left a business card with a female who has been staying with the suspect. After repeated follow-up attempts to contact Hamilton, who didn't respond to any of the requests to contact the deputy, a warrant was requested and issued.
Bond was set as follows:
$1,000 first-degree misdemeanor – trespassing;
$500 second-degree misdemeanor – loitering/prowling;
$7,500 third-degree felony – possession of controlled substance without prescription;
$1,000 first-degree misdemeanor – drug equipment possession.
As of October 11, Hamilton remains in jail on the four charges.
Hamilton's previous charges related to the November 2022 trespassing incident, which resulted in him being shot by a property owner around 2 a.m., were dropped by the First Judicial Circuit State Attorney's Office, claiming insufficient evidence. Brock was also not charged for falsely identifying himself to law enforcement during that incident, claiming he was his brother and resulting in the Sheriff's Office having to issue a corrected press release.
Hamilton has since filed a civil lawsuit against the property owner who shot him, and the property owner's insurance company, alleging negligence and seeking damages in excess of $50,000.
Santa Rosa County Clerk of Court documents show the First Judicial State Attorney has dropped the following charges against Hamilton via Nolle Prosequi (unless otherwise noted in parenthesis):
DATE CHARGED, CHARGE, DATE PROSECUTOR DROPPED/TOOK NO ACTION
2/27/2023 810.02.4b BURGL UNOCCUPIED CONVEYANCE UNARMED 6/15/2023
2/27/2023 812.014.2c1 LARC-GRAND THEFT 750 LESS THAN 5K DOLS 6/15/2023
2/27/2023 810.09.2a TRESPASSING – PROPERTY NOT STRUCTURE OR CONVEY 6/15/2023
2/27/2023 951.22.1h SMUGGLE CONTRABAND CTRL SUB DEFINED IN s 893.02(4) CO DETN F 6/15/2023
7/24/2017 812.019.1 STOLEN PROP-DEAL IN 1/26/2018
7/24/2017 812.019.1 STOLEN PROP-DEAL IN 8/11/2017 (no action)
7/24/2017 812.019.1 STOLEN PROP-DEAL IN 8/10/2017 (no action)
7/18/2017 812.014.2c1 LARC GRAND THEFT 300 LESS THAN 5K DOLL 1/26/2018
7/18/2017 812.019.1 STOLEN PROP-DEAL IN 1/26/2018
7/17/2017 784.011 SIMPLE ASSLT – INTENT THREAT TO DO VIOLENCE 1/02/2018
7/17/2017 893.13.6a DRUGS-POSSESS CNTRL SUB WO PRESCRIPTION 08/11/2017 (no action)
7/17/2017 893.147.4 USE POSS MFGR PARAPHERNALIA TO TRANSPORT DRUGS 8/11/2017 (no action)