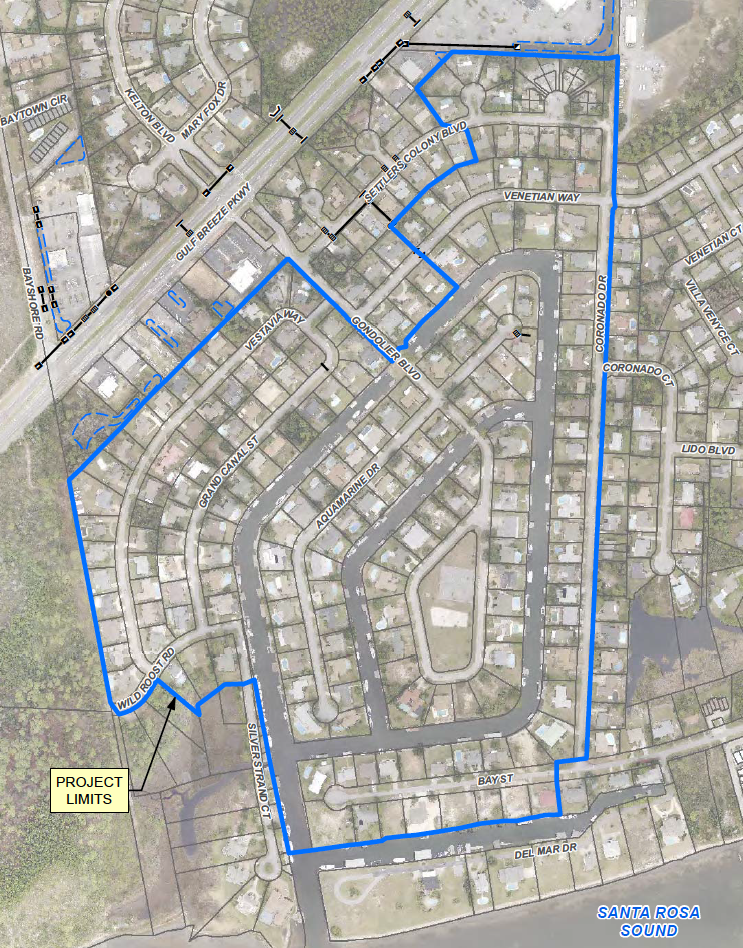 Santa Rosa County has received Hazard Mitigation Grant Program funding to further improve drainage in the Settlers Colony area, located west of Coronado Drive and
east of the Gulf Islands National Seashore.
A public meeting will be held Thurs., Nov. 16 from 5:30 to 7 p.m. at the Tiger Point Community Center, 1370 Tiger Park Lane in Gulf Breeze, to inform local residents of the anticipated extent of the proposed improvements, answer questions and take feedback on the proposed engineering design.
Representatives from Santa Rosa County and engineering firms, Atkins/KHA and Baskerville-Donovan, will be in attendance.
As proposed, this project will include the construction of new stormwater inlets and associated stormwater piping connecting to the existing Villa Venyce canal network. Underground stormwater vaults will also be constructed to help collect sediment, trash and other particles prior to entering the canals.The improvements, when completed, will minimize recurring flooding and reduce repetitive flood loss to properties while improving stormwater quality within the canal network. Design plans for this project are currently at 30 percent completion.
For information contact Nancy Model, 850-981-2017 or nancym@santarosa.fl.gov.