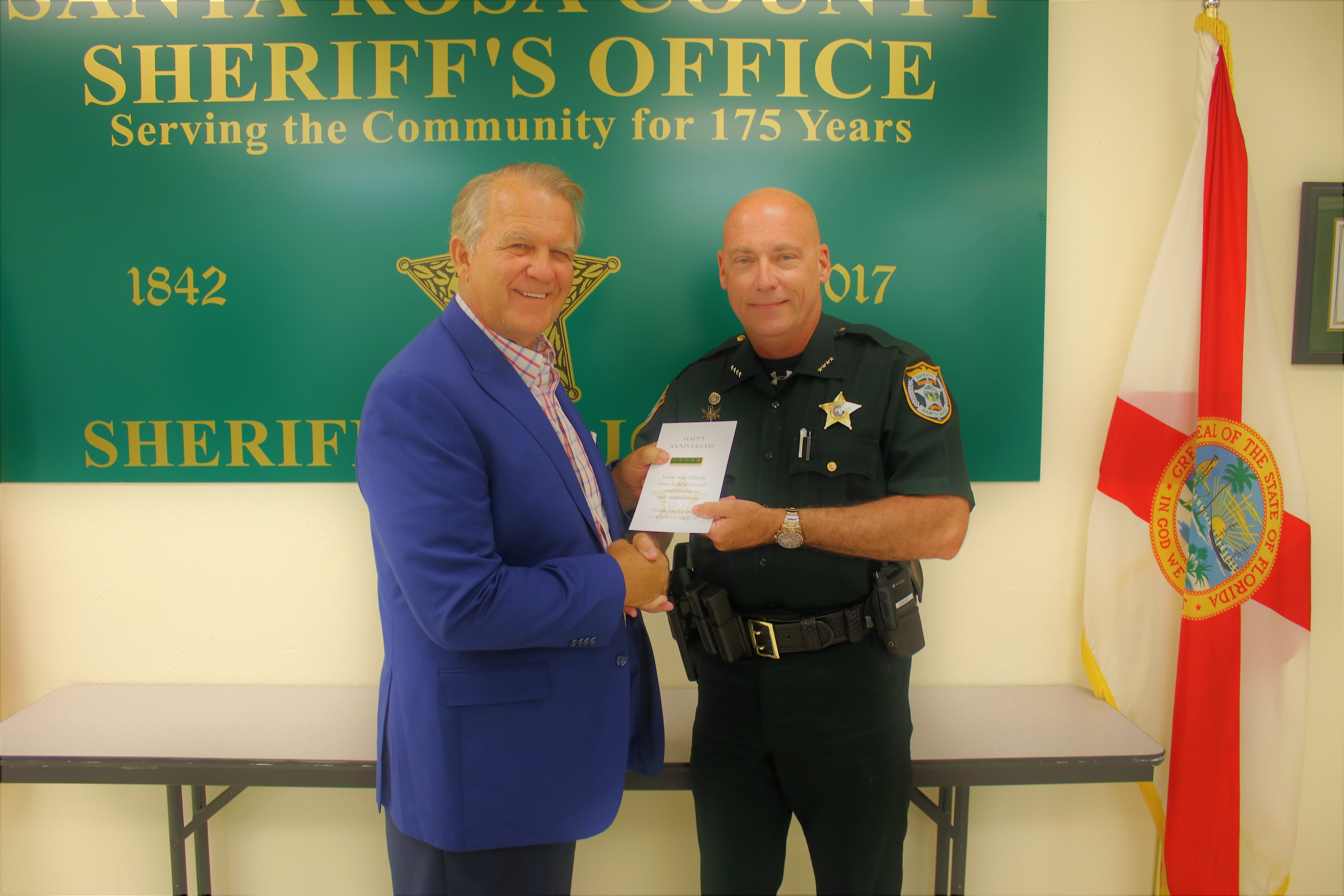 Florida Senator Doug Broxson, left, presented Sheriff Bob Johnson with a pin marking the occasion
Sheriff Bob Johnson started working for Santa Rosa County Sheriff's Office in 1993 and since then has risen up through the ranks to become the county's top cop.
Johnson was elected Sheriff in 2016, and celebrated his 25th Anniversary with the agency at a pinning ceremony on Monday.
Chief Deputy Joe McCurdy introduced Johnson, pointing out the Sheriff had started off as a deputy and eventually worked in every division at the agency, serving in roles ranging from school resource officer to SWAT commander and Chief Deputy.
Johnson has completed more than 3,000 hours of specialized training and successfully completed thirteen months of the Senior Leadership program through the Florida Criminal Justice Executive Institute. He is a graduate of the FBI National Academy and earned a Master's Degree in Criminal Justice.
Sheriff Johnson also serves as the agency's Homeland Security Coordinator and is an active member of Florida's Region One Domestic Security Task Force.
Additionally, Johnson still works patrols, has made several notable arrests since becoming Sheriff.
Florida Senator Doug Broxson was asked to present Johnson with his 25th Anniversary pin.
Broxson's dad, Bart, was serving as Santa Rosa County Sheriff when he died in the line of duty. His wife, Annie, was appointed as the county's first female Sheriff until her son, John, was named Sheriff.
"I'm proud to have you as our Santa Rosa County Sheriff and proud to have you as my friend," said Broxson.
During the presentation Broxson discussed new social anomalies impacting public safety. "We're seeing things never seen before," he said, noting the "enormous" pressure placed on the law enforcement community. "We want to thank all of you for what you do."