PROJECT UPDATE:
Crews from Weeks Marine, working 24 hours a day, continue to perform beach renourishment and have progressed further east near Navarre Beach Fishing Pier, resulting in temporary closure of the shoreline around the structure.
The pier will remain open throughout the renourishment effort.
Last week public access was closed from behind The Pearl condominiums eastward to Summerwind Resort, and the closure has been extended to the first crossover on the east side of the pier.
As pictured below, beach access behind Lagerhead's restaurant at the pier is closed, but the adjacent crossover remains open, allowing entry to the public swimming area east of the pier.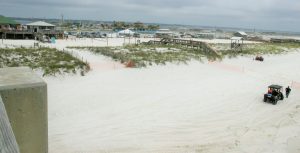 From the pier, looking westward, it's easy to see how the project is expanding the shoreline and rebuilding the beach berm. In the foreground, the end of one of two sand pumping distribution pipes is seen at the existing shoreline.