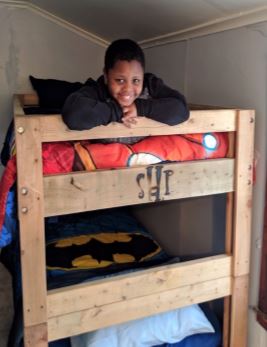 What better time than Christmas to celebrate the birth of a Savior, and a new local chapter of a non-profit organization dedicated to helping kids.
Before you get nestled all snug in your bed tonight, think about this. There are literally hundreds of children throughout Santa Rosa, Okaloosa and Walton counties who aren't sleeping in peace, but only dreaming of having a comfortable bed… all while struggling to get a decent night's rest on a couch, chair, blanket, or even a cold, hard floor.
The initial concept for such a charitable organization to combat this sad situation started right around this time about seven years ago miles away in a garage in Twin Falls, Idaho. It was a time of joy, giving and love, but also a time of bitter cold weather. Little did anyone know that one simple act of love and kindness would be the beginning of something huge.
Caring couple Luke and Heidi Mickelson had learned of a family's need for a child's bed so they launched a small project to build them one. A simple post on social media sparked an avalanche of response. Not requests from needy families, rather a host of people who wanted to help and volunteer.
When it came to their attention that the need for beds went far beyond their own neighborhoods, they took the initiative to answer the larger call to a national problem. It was no longer about just one family in need, but a question as to how many the group could provide. Sleep in Heavenly Peace was born and the organization has grown by leaps and bounds across the nation.
Since its inception, this all-volunteer organization has multiplied to 200 chapters with 35,000 much-needed and appreciated beds being built and delivered. A 20-bed project requires about 60 volunteers, which averages two to three volunteers for each bed built. The bed cost runs about $350 each.
SHP's belief is that a bed is a basic need for the proper physical, emotional and mental support that a child needs. Their mission is: "No kid sleeps on the floor in our town!" Their goal – powerful but simple – to provide brand new, hand-made, ready to sleep in bunk beds to kids in need.
Plans and fundraising efforts are currently underway for a new local chapter to launch in January 2020. Chapter President Mickey Hawkins of Ft. Walton Beach heads the organization.
"We are working to reach our goal of $15,000.00," Hawkins explained. "We encourage those in our community to get involved in this worthy effort benefitting our young people. We are also seeking volunteers – anyone and everyone. No skills are required but to have a servant heart. An adult must accompany kids under 12. Builds typically take place on Saturdays from 8 a.m. – noon."
Hawkins says the volunteer experience can be a great team-building project for organizations, businesses, churches, etc.
But what about those in need of a child's bed?
"They can fill out a bed request via www.shpbeds.org.," Hawkins said. "The request will be forwarded to our chapter via zip code ID. Someone else can request a bed for a child, as well. Additionally, we will partner with local schools, agencies, churches or anyone who knows about children in need."
How to help:
-Donate by mail or in person to:
Mickey Hawkins, Chapter President
Sleep in Heavenly Peace
26 Yacht Club Dr., N.E.
Fort Walton Beach, FL 32548
-Click on donation button on main page @ www.shpbeds.org and link to FWB Chapter.
-Donate via FB by searching @SHPFt.WaltonBeach. Link to FWB Chapter.
For more info contact Mickey at mickey.hawkins@shpbeds.org