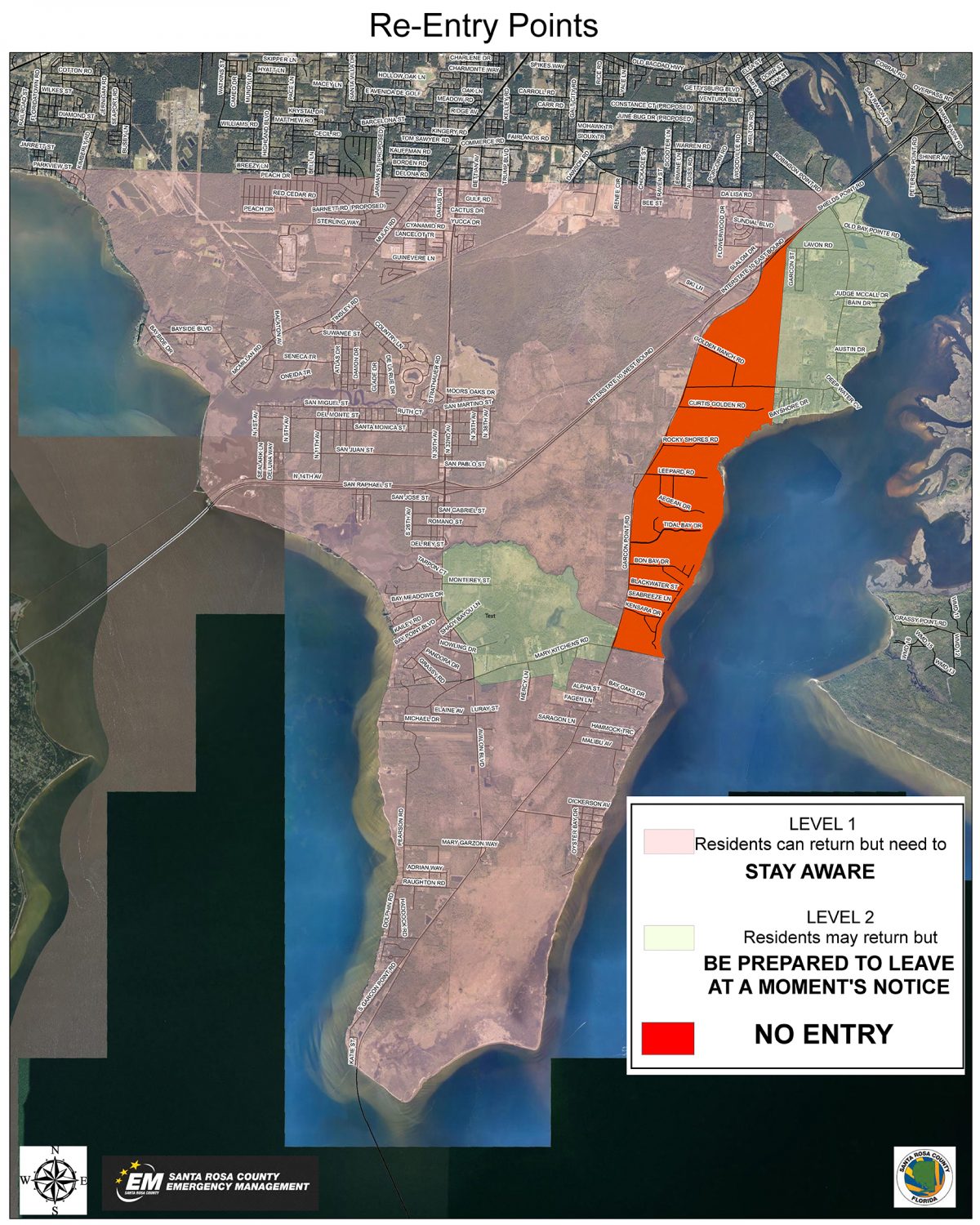 GRAPHIC KEY: LEVEL 1 pink shading – residents can return home but need to stay aware; LEVEL 2 green shading – residents can return home but need to be able to re-evacuate at a moment's notice; NO ENTRY: orange
Florida Forest Service wildland firefighters in coordination with Santa Rosa County Public Safety and area fire departments have been working to contain the Five Mile Swamp Fire, which has consumed roughly 2,180 acres in the Garcon Point area.
Currently the fire is estimated to be 35% contained, and some residents who had evacuated are returning to their homes.
"Fire personnel are providing 'mop up' tactics today, doing all we can to ensure the area is as safe as possible before we allow residents back into areas that had previously been evacuated," said Public Safety Director Brad Baker. "In addition, extra structural protection resources have been brought in to assist with the firefighting efforts and citizens may see them staged in areas as a precaution, should a hot spot flare up outside the perimeter."
Santa Rosa County damage assessment teams are assessing the number of damaged structures and have confirmed 14 destroyed residences and one with minor damage. This includes mobile and modular homes, single family residential homes, and guest houses but not include barns, sheds or other ancillary structures.
There have been no injuries to responders or residents.
Residents are reminded not to fly drones at this time. Drones interfere with air support, forcing helicopter operations to stay grounded and impeding firefighting efforts.
Residents are strongly discouraged from burning leaves, debris or trash.
Monetary donations for long-term recovery efforts for residents who have lost their homes can be made to Safer Santa Rosa.
Evacuations/Re-Entry/Road Closures
Interstate 10 has reopened to traffic in both directions.
Evacuation and re-entry areas remain unchanged.
As areas begin reopen, they will reopen to RESIDENTS ONLY, and residents will need to be prepared to evacuate if conditions change.
Closed – Everything on Garcon Point Road east to the Blackwater Bay from I-10 south to Mary Kitchens Road remains closed including Garcon Point Road.
Level 1 – Everything south of Mary Kitchens Road on Avalon and Garcon Point Road, and on the west side of Avalon is at a Level 1 evacuation, meaning residents can return to their homes but need to stay aware. Level 1 also extends up to Da Lisa Road.
Level 2 – Indian Bayou to Mary Kitchens Road and the houses along Mary Kitchens Road as well as Robinson Point Road to Oakview Drive are a Level 2 evacuation and may return home but must be prepared to leave at a moment's notice. Note that Robinson Point Road can only be accessed from the entrance north of I-10 where it connects with Warren Road.
Florida Forest Service
Florida Forest Service wildland firefighters worked through the night to monitor, improve, and widen containment lines around the perimeter of the Five Mile Swamp Fire which is still ~2,180 acres and 35% contained.
Crews observed minimal fire activity throughout the night due to a decrease in wind speed and an increase in relative humidity.
Today's weather predictions are for a switch in wind direction and a drastic increase in wind speeds. Winds will now prevail from the south/southwest at 13-18 mph gusting up to 25 mph which will increase fire activity on the north/northeast perimeter of fires.
Smoke will now impact communities north of the fire. Florida Forest Service helicopters will continue concentrated water bucket drops on both fires as wildfire activity increases during the day.
Additional Florida Forest Service personnel and equipment from throughout Florida are still arriving to assist with the firefighting efforts.
Officials with the Blackwater Forestry Center are continuing to withhold burn authorizations.
Florida Forest Service Wildfire Dashboard:https://fdacs.maps.arcgis.com/apps/opsdashboard/index.html#/7c243720c87f4a3482db6ebf77efe99d
Gulf Power outage map
Gulf Power is continuing to work as quickly as possible to replace poles and restore power.
Check the Gulf Power Outage Map for updates.
Citizen Information Center
The Santa Rosa County Citizen Information Center is open. Those who have evacuated or who have questions may call 850-983-INFO (4636).