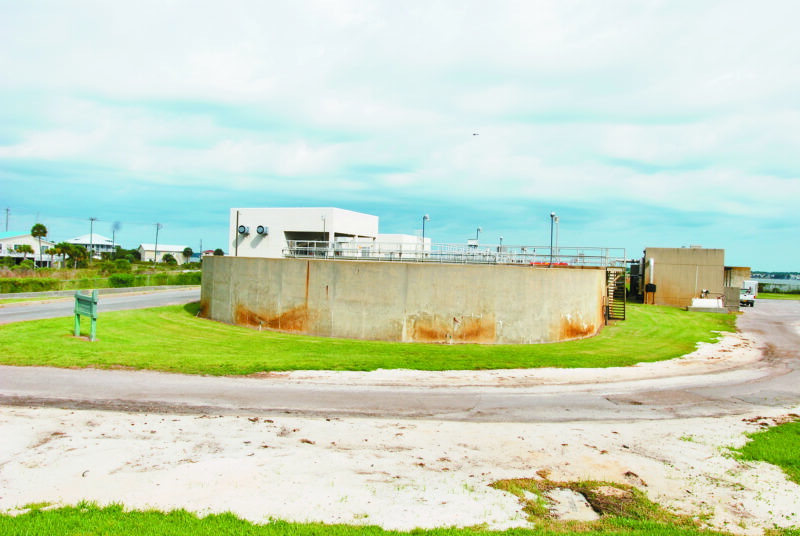 A group of local leaders share a vision to clean up Santa Rosa Sound, and the plan includes stopping the daily discharge of effluent into the waterway and eliminating septic tanks along its shoreline.
"We have too much of our effluent going into the Sound and the bay — and not just in Navarre and Gulf Breeze," stated House District 3 Representative Doug Broxson.
Broxson said Floridians in November 2014 showed overwhelming support for clean water with roughly three out of every four voters endorsing the Florida Water and Land Conservation Initiative, which earmarks billions toward conservation efforts such as fighting water pollution.
"(Floridians) want clean water. We just need to do a better job," Broxson said.
Towards that end Broxson said, he supports relocating wastewater treatment plants on Pensacola and Navarre Beach to the mainland. He also wants septic tanks along the shorelines removed and replaced by sewer service.
"Everyone who has a septic tank within reasonable distance (to the shore) contributes to the problem," Broxson said.
To make that happen Broxson said he'd like to see a "unified understanding by all utilities of what our challenge is and how we can access cleaner water."
One local utility, Holley-Navarre Water System, had already been taking steps in that direction.
In 2014 the HNWS board of directors entered into a study to determine the feasibility of possibly obtaining the Navarre Beach Water & Sewer utility from Santa Rosa County.
"To date this is a work in progress, and we are almost ready to make a proposal to Santa Rosa County," stated HNWS President Daryl Lynchard, who said there would be multiple benefits to the acquisition.
"Currently HWNS is running out of capacity at its existing spray fields. Our engineers estimate that within the next three years HNWS will have to build additional spray fields to dispose of our effluent water," Lynchard said.
According to Lynchard, if HNWS acquires Navarre Beach Water & Sewer, revenues from the new customers would provide immediate funding to help cover the cost of an additional spray field.
"Beach residents would also benefit from the fact that the cost of the spray field can be spread among a larger group of users, thus reducing individual costs," he said.
Additionally, Santa Rosa County has leased and permitted a proposed spray field on the Eglin Air Force Base property. Lynchard said HNWS would require its acquisition as part of the deal.
HNWS's existing spray field has a capacity of 1.2-million gallons per day compared to "conservative" estimates of 7 million gallons per at the proposed field, which Lynchard said
It would have the capacity to handle HNWS's effluent water for "many year into the future."
"Another benefit will be removing the effluent water that the county currently disposes of directly into Santa Rosa Sound. Our plan would not only remove this discharge of up to 600,000 gallons effluent during peak tourism periods from the Sound but also remove the treatment plant from the beach all together," Lynchard said.
The plan calls for expanding the HNWS Holley by the Sea Treatment Plant to accept sewage from the beach. "It will help prevent future sewage spills into the Santa Rosa Sound due to hurricanes and flooding which can occur at the current Navarre Beach treatment plant," Lynchard said.
In addition to protecting the waterway, Lynchard said other future benefits to the community would be "the equalization of rates between the beach water users and mainland users."
Lynchard said the move would also "take away" HNWS's reliance on The Club at Hidden Creek for effluent disposal purposes.