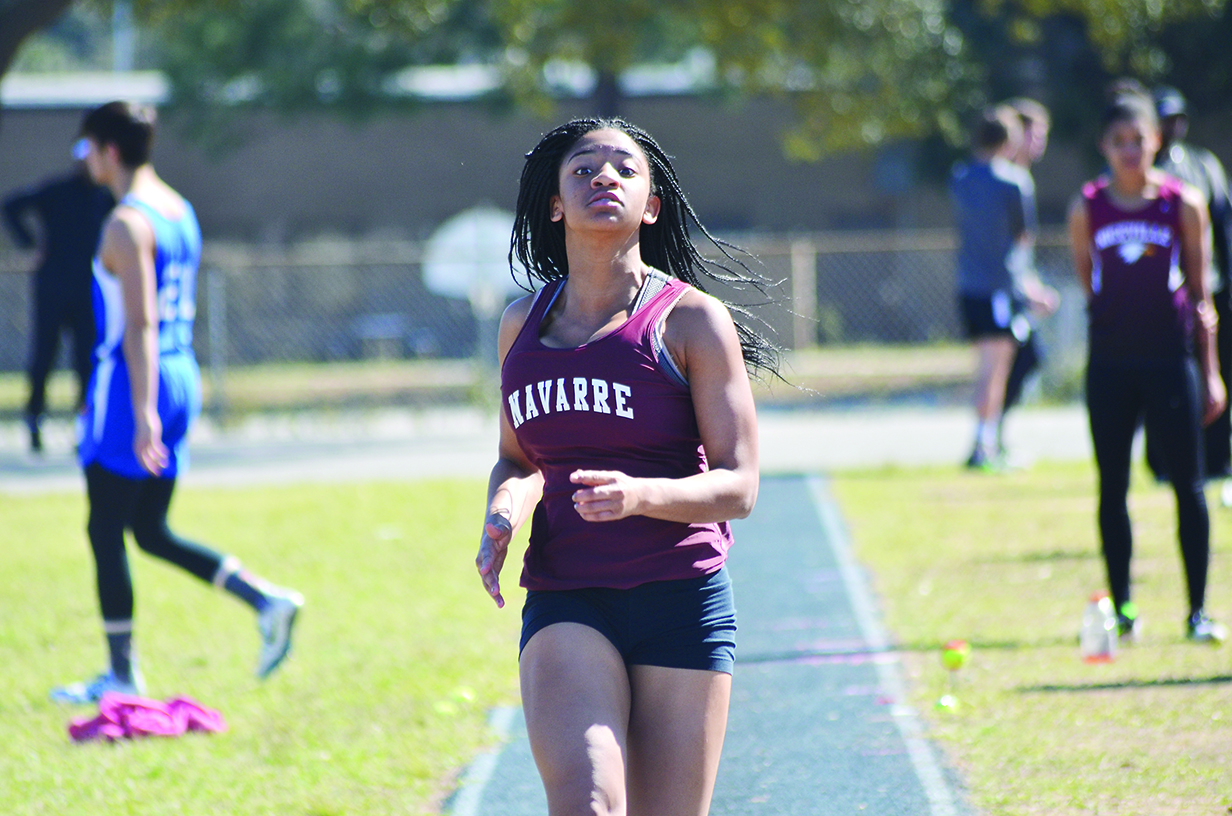 After tallying up the scores of 16 area schools and coming to a tie, a coin toss decided the boys' winner of Saturday afternoon's Fellowship of Christian Athletes Panhandle Championship track and field meet.
Boys' meet
West Florida High School and Pine Forest High School set themselves apart from the competition in a tight finish on Saturday when the schools tied for first place. Both teams scored 98 points and were declared co-champions, but thanks to the flip of a coin Pine Forest took home the trophy. Niceville took third place with 90 points.
Hurdles
Christian Friis and Anthony Bryant placed first in the boys 110 meter and 300 meter hurdles for South Walton, contributing 10 points apiece toward his team's eventual 81 points. Friis finished the 110-meter in 14.98, about a second before Samuel Bassham of Navarre. Bryant placed first in the 300 with a strong showing, 1.3 seconds faster than Azayah Suggs of Pine Forest.
400 meter dash
Murray Washington secured 10 points and first place for West Florida in the 400-meter dash, finishing the race 1.3 seconds before Mystikal McGhee of Booker T. Washington High School.
800 and 1600 meter run
Matthew Jones squeaked into first place of the boys' 800 meter run by outpacing Trace McMullen of Fort Walton in the last lap to finish with a time of 2:01.06, .74 seconds faster than McMullen.
Jones carried his success into the 1600-meter race and finished .78 seconds ahead of Mason Youberg of Gulf Breeze to take first place and 10 more points for West Florida with a time of 4:36.30
4 x 100 relay
1. Niceville
2. Pine Forest
3. Crestview
4×400 relay
1. West Florida
2. Niceville
3. Washington
4 x 800
1. West Florida
2. Pine Forest
3. Fort Walton Beach
High jump
1. Cal Dermody (Gulf Breeze)
2. Monty Brown (Tate)
3. Jacob Copeland (Pine Forest)
Pole vault
1. Caleb Phillips (Pensacola Christian Academy)
2. Sean Toellner (Pensacola Christian Academy)
3. Joshua Moreno (West Florida)
Long jump
1. Murray Washington (West Florida)
2. Jacob Copeland (Pine Forest)
3. Anthony Bryant (South Walton)
Triple jump
1. Ethyn Periman (Milton)
2. Brandon Bell (Pensacola)
3. Jeremy Smith (Pine Forest)
Shot Put
1. Michael Moore (West Florida)
2. Jamarques Miller (Pine Forest)
3. Adaryl Legarant (Pine Forest)
Discus
1. Christian Friis (South Walton)
2. Edward Shelikoff (Niceville)
3. Jordan Williams (Milton)
Girls' meet
In the girls' results, Pine Forest, Niceville and Fort Walton Beach also separated themselves from the majority of the other teams by scoring over 100 points a piece. Pine Forest grabbed first place among the girls' teams with a final score of 143, Niceville placed second with 117 points, and Fort Walton Beach racked up 102 points for third place.
Hurdles
Michaela Thompson and Shaniya Sanders dominated the girls' 100 meter and 300 meter hurdles to place first and second place in both events, contributing a combined 36 points to their team. Sanders trailed Thompson by .18 of a second in the 100-meter and beat Thompson in the preliminary rounds of the 300-meter, but finished a little over a second slower in the finals.
3200 meter run
Ally Woodward helped secure second place for Niceville High School with an outstanding run in the 3200 meter where she scored 10 points for her team with a decisive finish, more than seven seconds ahead of second place Haley Kling for Pace High.
1600 meter run
Maddie Fulmer blew away the competition on the track during the 1600-meter race, finishing with a time of 5:08.70 and a bit more than 14 seconds to catch her breath before Kling crossed the finish line in 5:23.05.
4 x 800 meter relay
Brooke Crane ran anchor for Niceville in the finals of the 800-meter and crossed the finished line with a time of 9:44.00, more than 12 seconds before Fulmer would for Fort Walton.
High Jump
1. Sophia Madison (Booker T. Washington)
2. Tytadia Hardy (Washington)
3. Khorri Newton (Navarre)
Pole Vault
1. Maddy Kish (Niceville)
2. Emma Gibson (South Walton)
3. Chloe St. Aubin (South Walton)
Long Jump
1. Brianna Washington (Milton)
2. Amber Saffore (Niceville)
3. Diamond Lopez (Fort Walton)
Triple Jump
1. Brianna Washington (Milton)
2. Tytavia Hardy (Washington)
3. Nykeria Lee (Pine Forest)
Shot Put
1. Alexis Lucas (Pine Forest)
2. Monica Duckworth (West Florida)
3. Sydney Walton (Escambia)
Discus
1. Alexis Lucas (Pine Forest)
2. Kaleah Strawder (Pine Forest)
3. Brandy Allen (Pace)