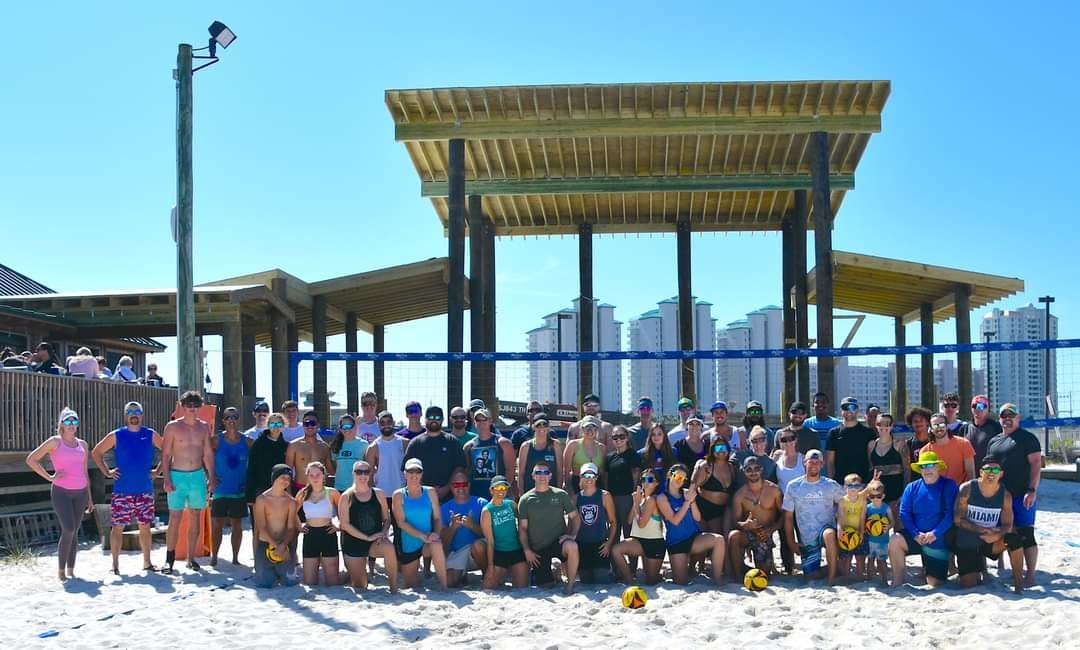 Members of the Navarre Beach Volleyball group posing in front of the new stage at Juana's Pagodas. Photo courtesy Judd Smith.
Santa Rosa County's capital funding summary for the past five years, including the 2022-2023 fiscal year, shows 94% of $2.4 million in capital funding has been appropriated to South Santa Rosa with 92% allocated to the Navarre area. Only around 6% was distributed north of Yellow River, per the Santa Rosa County Tourist Development Office's Capital Funding report.
SOUTH SANTA ROSA
The Navarre area has 52 projects, which have been allocated $2,226,050.42 of $2,414,117.08, equating to 92% of the county's tourism capital funding. Those projects include but are not limited to:
$200,000 for shower stations near Navarre Pier (completed);
$194,000 for Emerald Coast Wildlife Refuge (completed);
$600,000 for an amphitheater on Navarre Beach (planned);
$33,333.33 for a new stage and deck restoration at Juana's Pagodas (completed);
$157,147 for landscaping improvements on Gulf Boulevard (not completed);
$15,000-17,500 per year for Navarre Beach annual Fourth of July fireworks display;
$30,000 per year for sea turtle monitoring via Dr. George Gray;
$130,056 per year for Navarre median maintenance contract;
$31,991.57 Navarre Beach lifeguard towers and ATV (completed);
$21,600 Gulf Boulevard sidewalk and crosswalk (completed);
Additionally, roughly 1 percent of the funding, $33,333.33 was allocated to the City of Gulf Breeze for it Shoreline Park Wetlands Trail.
NORTH SANTA ROSA
The county's Capital Funding Summary shows that only 3 projects totaling $114,733.33 have been funded since 2018 north of Yellow River:
$11,400 in 2018 for Arcadia Mills Archeological Site (completed);
$70,000 in 2018 for the Milton/Bagdad Connector (completed);
$33,333.33 in 2021 for the West Florida Railroad Museum Restoration (completed).
Additionally, $40,000 has been earmarked in 2023 for the Santa Rosa Fairgrounds Agri-Plex expansion in East Milton. Altogether, that totals 4 projects north of Yellow River allocated a total of $154,733.33.