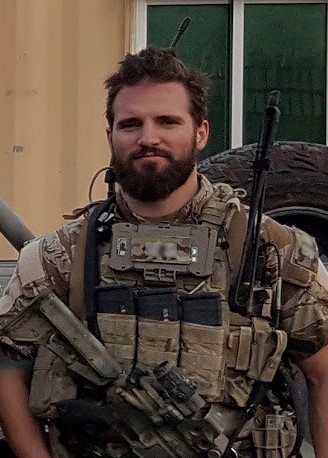 A Silver Star Medal will be presented to an Air Force Special Tactics operator during a ceremony at 10 a.m. at the Mighty Eighth Air Force Museum, Pooler, Georgia, April 9.
U.S. Air Force Tech. Sgt. Cam Kelsch, an ST tactical air control party operator assigned to the 17th Special Tactics Squadron, 24th Special Operations Wing, Air Force Special Operations Command, will be awarded the nation's third highest medal for gallantry against an armed enemy of the U.S. in combat.
The 24th SOW, headquartered at Hurlburt Field, is the sole Special Tactics wing in the Air Force and is responsible for providing Special Tactics Airmen for rapid global deployment to enable global access, precision strike and personnel recovery operations.
In addition to the SSM presentation, U.S. Air Force Maj. Gen. Vincent Becklund, deputy commander of Air Force Special Operations Command, will also award Kelsch with a Bronze Star Medal with Valor.
Kelsch will be honored for his role in securing the safety of his joint and partner force members during an operation against a high value target while serving as a joint terminal attack controller deployed with a U.S. Army 75th Ranger Regiment battalion during Operation FREEDOM'S SENTINEL in support of the RESOLUTE SUPPORT Mission in Afghanistan.
While receiving accurate fires from the enemy and with no regard for his own personal safety, Kelsch exposed himself to danger in order to control airstrikes from an AC-130 gunship within 35 meters of his team's position. He also coordinated an attack with precision guided 500lb bombs from two F-16's and 105mm munitions from an AC-130.
Additionally, Kelsch willingly exposed himself to effective enemy fire to save the life of a wounded American teammate by dragging him to safety. While recovering his teammate, Kelsch was hit by hostile fire. Kelsch continued to control danger close strikes to neutralize all remaining threats to the assault force.
Special Tactics is the Air Force's ground special operations force that leads personnel recovery, global access, precision strike missions and battlefield surgical operations.
Since 9/11, Special Tactics Airmen have received one Medal of Honor, nine Air Force Crosses and 44 Silver Star Medals. Tech. Sgt. Kelsch is the first Air Force TACP operator to be awarded the Silver Star for actions in combat during the last 7 years.