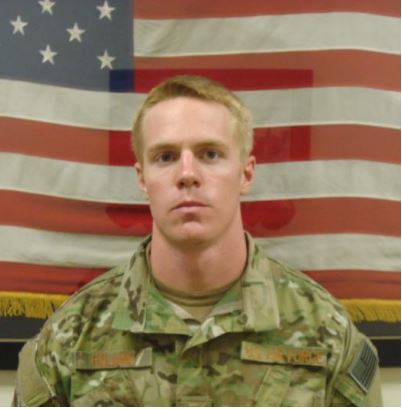 In a split second while on a mission in 2015, U.S. Air Force Capt. Matthew Roland made the last leadership decision he would he would ever make. Without hesitation, he chose to protect his team and give them the best shot at overcoming an insider attack in Afghanistan, sacrificing his life in the process.
To honor the fallen Special Tactics Officer's actions and courageous leadership, the 24th Special Operations Wing along with friends and family hosted a dedication ceremony in Roland's honor May 6, 2021 at Hurlburt Field, Florida.
"Today I have the privilege of dedicating the Roland Field Leadership Training Complex," said U.S. Air Force Col. Matthew Allen, commander of the 24th SOW. "It's particularly meaningful to dedicate this training site to Matt as he spent years of his life honing his leadership expertise."
The wing chose to dedicate one of the Special Tactics Training Squadron facilities used for training and assessing Special Tactics Officers just like Roland.
"It means everything to be a part of his legacy," said one of the young STOs attending the ceremony and finishing the training pipeline. "I think he embodies a lot of what a lot of people in our position are trying to do and why we joined. Guys like him paved the way for us and have shown us an example of who we should strive to be like. We're honored to be walking in his footsteps and everyone who came before us."
In the audience were also several distinguished guests, friends and family members of Matthew Roland including his sister, nieces, fiancé, mother and his father, U.S. Air Force, retired, Col. Mark Roland.
"Matthew was a patriot, he believed in his nation and was dedicated to service," said Mark. "He loved serving as a STO and leading his team. This complex is a testament that he was good at what he did and respected for how he did it."
Matthew Roland graduated from the U.S. Air Force Academy in 2010 and then entered the rigorous Special Tactics Officer training pipeline to earn the coveted red beret. His last assignment was at the 23rd Special Tactics Squadron at Hurlburt Field, Florida.
Members of the fallen Airman's former squadron watched as the Roland family unveiled the new sign to the Roland Field Leadership Training Complex followed by the Special Tactics tradition of memorial pushups.
"He never quit, he never gave up. Be strong in the face of adversity," said Mark. "To us, this complex dedicated to selecting and training Special Tactics Officers represents three things that Matthew valued…service, strength and sacrifice."
As a Special Tactics Officer, Roland was a qualified battlefield commander prepared to lead reconnaissance, strike and recovery missions, as well as a military static-line and free fall jumper, an Air Force combat scuba diver, and a joint terminal attack controller. For his actions during his deployment, Roland was posthumously awarded the nation's third highest honor for valor, the Silver Star medal, in June of 2016.
"At his core, [Matthew] was concerned with loving and protecting his family, being a leader in our Air Force and living out his warrior ethos," said Allen. "If there was a hardship, he'd endure it. If there was a burden, he'd help lift it. If there was a challenge…he'd meet it."
For future Special Tactics leaders, the complex will forever stand as inspiration to the selfless leadership and determination Roland displayed throughout his time in service.
Special Tactics is the Air Force's most highly decorated community since the Vietnam War specializing in global access, precision strike, personnel recovery and battlefield surgery. Since 9/11, Special Tactics Airmen have received one Medal of Honor, 12 Air Force Crosses and 50 Silver Star Medals.