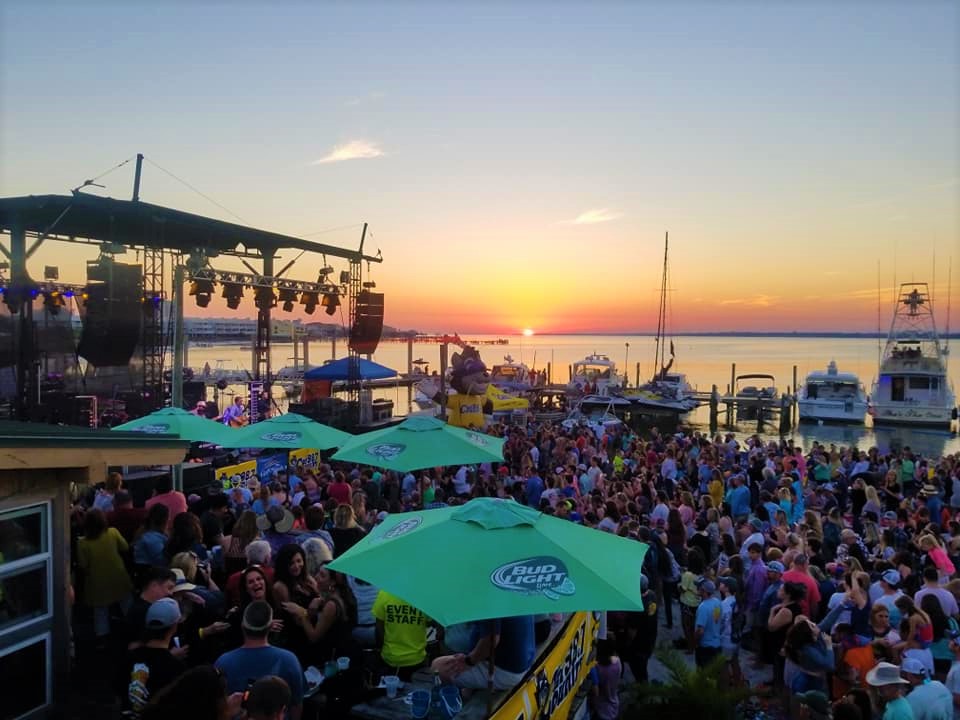 Crowds gather at the 2019 Spring Jam, which is sponsored in part by the Santa Rosa County Tourist Development Council. The annual event takes place at Juana's Pagodas on Navarre Beach. There are no plans to cancel this year's show, which will start at 5 p.m, Saturday, March 22, featuring LoCash with Gabby Barrett and Gone West. The event will benefit Santa Rosa Kids' House. Tickets for the rain or shine show are available at www.catcountry987.com. Photo courtesy Marianne Catyb.
A 71-year-old Santa Rosa County man died March 6 after becoming one of the state's first Coronavirus victims, following a Nile River cruise. But so far there hasn't been a significant local impact on tourism from the pandemic.
"As of yesterday I am only aware of three cancellations related to COVID-19 at a local property," Santa Rosa County Tourist Development Director Julie Morgan told South Santa Rosa News on Wednesday.
At this time, there are advisories against some international travel, but domestic travel has not been limited.
However, county tourism officials are being proactive, gearing up to mitigate any future potential impacts.
White on Wednesday started participating in weekly calls with state tourism officials, and she has been in contact with local bed tax collectors to monitor the situation. She'll make a related presentation to the board of county commissioners during their Thursday, March 12 meeting.
Additionally, the county's tourism office has developed a 14-page COVID-19 Plan of Action which includes steps such as:
Shifting messaging to promote Navarre Beach as an "uncrowded" destination;
Continuing paid media to target drive market locations such as Atlanta, Birmingham, and Nashville
Pausing all media press trips during March and April
Updating the county's tourist development website with COVID-19 statement
"We are not hearing of any slowdowns or cancellations because of the Coronavirus from our members," said Greater Navarre Area Chamber CEO TJ Goulet. "It is unfortunate that some media outlets and news organizations are hyping this for their own personal gain and clicks. The virus is serious, and I hope everyone takes the precautions prescribed by the CDC, but false hype and hysteria isn't going to help anyone."
A spokesperson for Vacasa, which owns Resort Quest, a sponsor of Spring Jam, concurs that there hasn't yet been any serious local impacts. "While the spread of coronavirus has yet to significantly affect Vacasa's business, we anticipate this might change in the coming months. The well-being of our guests is of utmost importance to us, so our primary objective will be to work with them to amend reservations in response to health concerns, as needed."
Meanwhile, the county's tourism revenues are climbing. The latest tax revenue reports show county bed tax revenues increased by nearly 30 percent to $172,246.39 in January 2020, up from $133,265.35 in January 2019.
It remains to be seen if that will change, but at this time tourism revenues are up significantly and plans are a go for Spring Jam 2020.
U.S. Senator Marco Rubio on Wednesday announced the CDC is sending $27 million in emergency supplemental funding for critical resources to Florida's health centers and communities as a result of the Coronavirus.
"Our state and local leaders are doing the best they can under challenging circumstances. This $27 million will help them prepare to treat current and future cases of the coronavirus. I will continue to work with my colleagues in Congress, the Administration, and state and local officials to contain and mitigate the risks of this outbreak," said Rubio.
White tomorrow plans to ask for $100,000 in emergency funding related to Coronavirus concerns.
"This is an evolving situation, we will have to evolve with it and we hope the measures the Governor is taking will help contain the spread (of COVID-19) in Florida," White said.