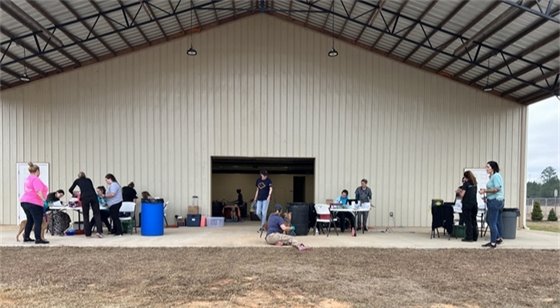 Santa Rosa County Animal Services (SRCAS) has been overwhelmed by the community's response after taking in over 70 dogs from a rescue case in Gulf Breeze the week of Feb. 21. Many different shelters, rescues, businesses and individuals responded to a plea for help from the animal shelter.
Thanks to the tireless work of shelter staff, less than 25 dogs from this case remain in the shelter's care. The shelter would like to thank the following for their involvement in making this a successful rescue:
Rescues/shelters that took dogs not only from this case but also from the shelter to make room for more homeless dogs:
The London Sanctuary, Inc.
Phoenix Rising Rescue
Citrus County Animal Shelter
Jacksonville Humane Society
Pensacola Humane Society
Saving with Soul
YOUR Humane Society SPCA
Alaqua Animal Refuge
Flagler Humane Society
SPCA Tampa Bay
Animal Welfare League of Charlotte County
Furry Friends Adoption
Honor Animal Rescue
Peggy Adams Animal Rescue League
Southeast Volusia Humane Society
Angie's Dog House
Pet Alliance in Sanford
Humane Society of Pinellas County
Special thanks to those who helped transport dogs to rescues:
Walton County Animal Shelter
The Bunny Hutch
Angie's Dog House
Friends of the Escambia County Animal Shelter
A HOPE
Brenda Chadwick
Volunteers:
Many individuals from our community
Santa Rosa County Employees
A HOPE
Guardians of Rescue
Best Friends Animal Society
Food donations:
Milton Bakery
Chick-Fil-A
The Bunny Hutch
Velvet McAlister
Staging areas:
Agriplex provided by Santa Rosa County Fair Association.
Pet Alliance of Sanford for allowing us to use their location as a staging facility during transport and their volunteers who walked the dogs to give them a break out of their kennels midway through traveling to their destinations.
Other:
Midway Fire District – breathing apparatus support and standby for advanced life support
Santa Rosa County Emergency Management – assistance at the property and coordination throughout the rescue event
Tractor Supply – donations
Mobile SPCA – temporary use of crates
BISSELL Pet Foundation – emergency empty the shelters event in Florida
"We could not have done what we did without all of the support we received and the amazing work of our shelter staff," said Dr. Megan, shelter veterinarian. "We started out with over 70 dogs on Mon., Feb. 21 at the Agriplex in East Milton and by Friday, we were able to move operations back to the animal shelter because almost every dog from the rescue case had found a place in less than a week."
The shelter would also like to thank members of the community and beyond who sent in food and monetary donations. The shelter is fully stocked with dog food and received over $5,000 in donations online.
"The work of an animal shelter never stops," said Dora Thomason, shelter supervisor. "We can't thank everyone enough for the role they played in the shelter's ability to be positive and successful in aiding our customers over the last week, whether they were four-legged or two."
For more information on programs offered by the animal shelter, to make an appointment to adopt, or to find out how to continue helping the shelter with its mission to find a home for every animal that enters its doors, visit www.santarosa.fl.gov/387/Animal-Services.