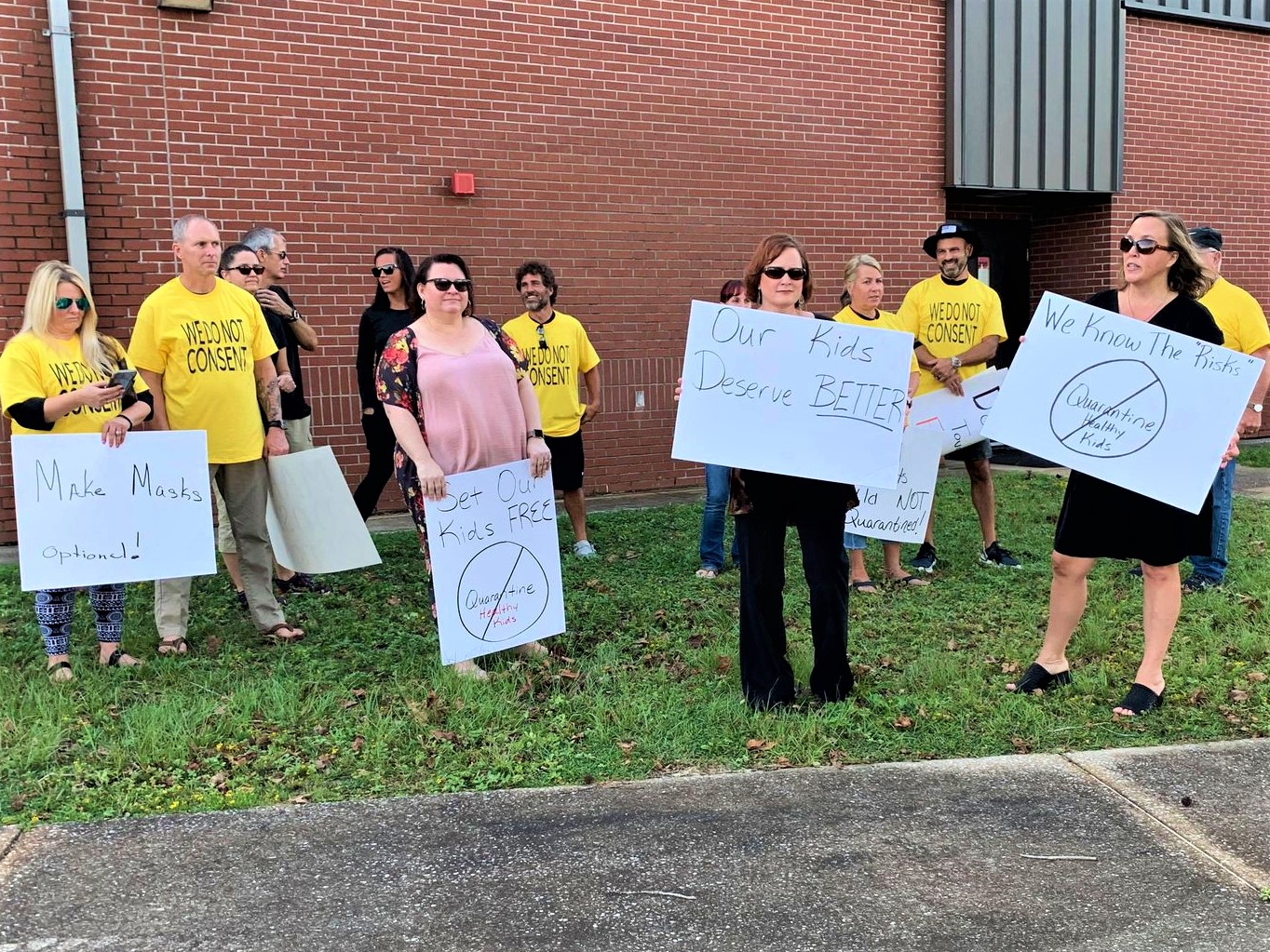 Photo courtesy Jennifer Letavish
Santa Rosa County Health Department's recommendation for 10-day quarantines for students who test positive and 14-day quarantines for students exposed to COVID-19 will remain in place for now – despite parents protesting before the September 27 Santa Rosa County School Board Meeting.
During the meeting, about 15 parents and students spoke out about the issue – most opposing the lengthy absences from school, which some parents say are unnecessary and harmful to students' academics and mental health. Some also expressed concern about on-campus mask requirements.
"We are following the direction of the Santa Rosa County Health Department," School Board District 1 Member Linda Sanborn told attendees.
The SRC Health Department recommendation follows Florida Health Department's CDC guidance, as required per Governor Ron DeSantis' Executive Order 213, per school district officials.
Pace resident Dawn Henderson told the board she was informed her daughter was exposed to someone who tested positive then sent home for 14 days before being re-exposed on her first day back to school, resulting in a second 14-day quarantine.
"She needs to stay in school," said Henderson, who said her daughter had no symptoms and tested negative for COVID-19. "Our family is not fearful," she said, pointing out they are concerned her daughter, a straight-A student, will fall behind academically and is missing out on important activities such as Student Government Association.
Others are also worried about the impact such isolation can have upon students' mental health.
Michelle Hardman reached out to South Santa Rosa News to share the story of her friend, who got a call on September 22 no mother ever wants to receive, informing her that her 14-year-old son, a Navarre High student, had committed suicide.
"(He) was doing remote learning as a Navarre High School student. He was a social kid that loved playing baseball and singing in the chorus," Hardman said, pointing out he left no note to say why. "We don't have that answer and we probably never will. However, when I hear other mothers talk about the stressors their own children are feeling due to being sent home after exposure to quarantine for 14 days and falling behind in their advanced classes due to no instructional interaction during their quarantine and also getting displaced in their sporting activity due to not being able to practice with their team, my fear is that (he) may not be the only one we lose and we cannot just sit by and let this happen."
But for the time being, school district leaders say they are at the mercy of the Santa Rosa County Health Department's recommendations.
Superintendent-Elect Dr. Karen Barber expressed hope that a survey is being conducted by the Florida Association of District School Superintendents (FLADSS) could produce helpful information as early as Friday. She said the survey is determining which districts throughout the state are mandating masks and following DOH recommendations.
"Hopefully FLADSS then can help us advocate for a policy that provides us with the best situation, balancing students' health, the virus and student academic achievement."
In the meantime, Barber said the top priority is making sure quarantined students are better connected during their extended absences and toward that end school principals planned to discuss the matter during an October 1 district-wide principals meeting.
To express concerns to the Santa Rosa County Health Department regarding their current COVID-19 recommendations for Santa Rosa County Students, email PIO.CHD57@flhealth.gov.