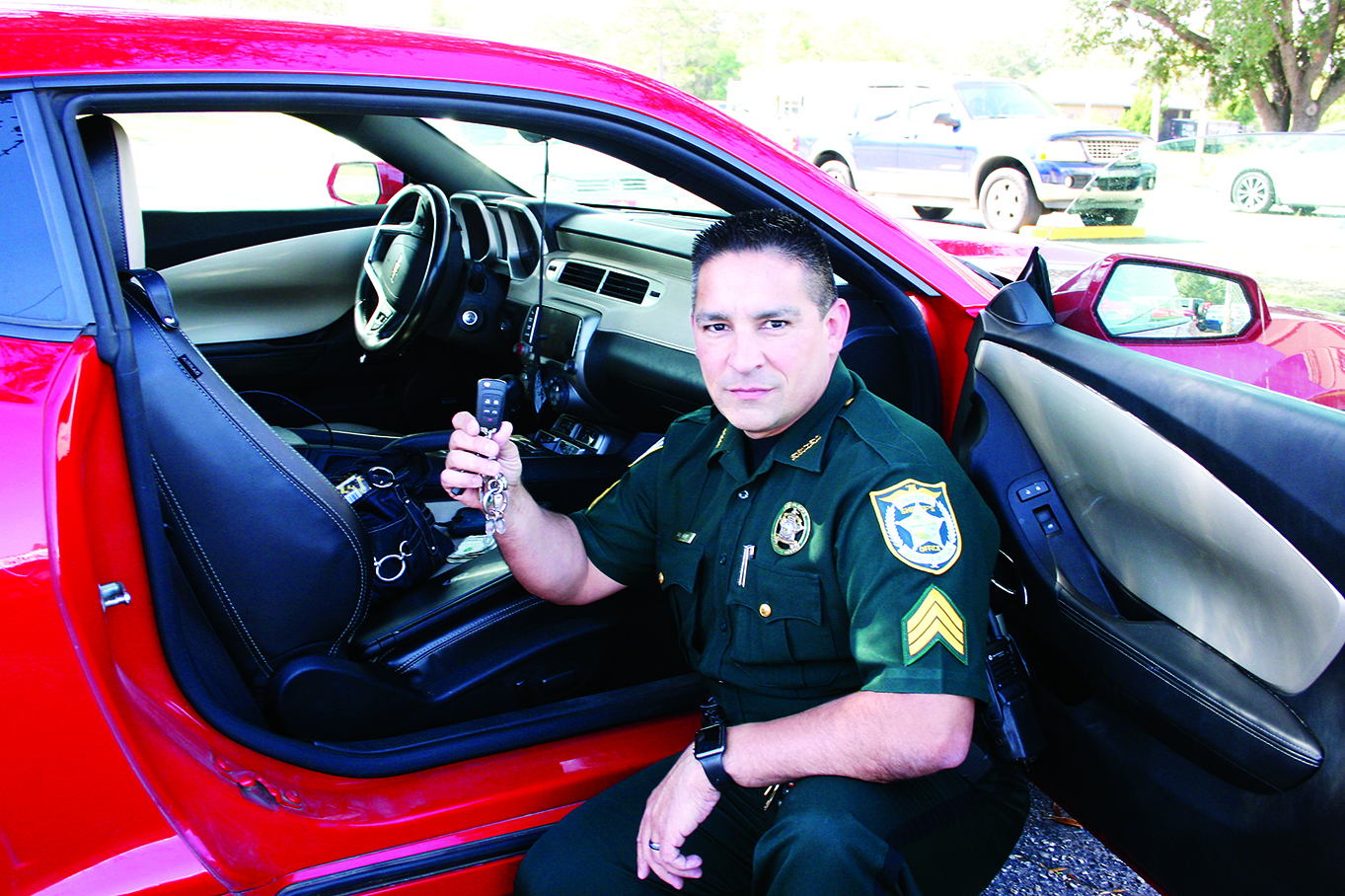 Lock your car doors.
A simple message that the Santa Rosa County Sheriff's Office says is often ignored. And because it's ignored, many locals are paying the price.
"There's always been vehicle burglaries," said SRSO Public Information Officer Sgt. Rich Aloy.
And those incidents have been popping up a lot more recently. But the burglaries are not your "smash and grab" type incidents. The majority of vehicle burglaries in Santa Rosa County involve individuals entering unlocked vehicles and taking contents from inside of the vehicle.
Statistically, a little over 90 percent of vehicle burglaries that occur in Santa Rosa County happen to vehicles that are left unlocked.
Last weekend there was a rash of burglaries across the Navarre area near Navarre High School. Several vehicles were burglarized. All of them unlocked.
In the same breath, an individual early last Saturday morning stole a vehicle near Navarre High School. It's currently unknown if the two incidents are connected, but the vehicle that was stolen was unlocked and had the keys inside of it.
The vehicle hits are nothing new in the south end of the county, particularly in Navarre as the local sheriff's office has been seeking information regarding several vehicle burglaries that occurred on March 27 in Navarre in the Wilburn Cove area. They have obtained surveillance video from the Wilburn Cove burglaries and are currently looking to identify an individual spotted on video taken from a home surveillance system who they believe was going through the vehicles in that neighborhood.
Residents who live around Navarre High School took to social media last weekend to report the recent burglaries in their neighborhood and some even admitted that they accidentally left their vehicle doors unlocked, which made it easy for the burglar(s) to enter them.
One individual was able to obtain video surveillance footage of the person they believe was committing the burglaries, but the alleged suspect was too far away from the camera to obtain any type of positive identification.
Both the burglaries in March and April have occurred in the early morning hours and have all occurred on vehicles that were not locked. The most recent set of burglaries near Navarre High School happened around 3 a.m.
Vehicle burglaries are nothing new, but the question that's often never answered is: How do these burglaries reflect upon your insurance policy if you call to report them to your insurance company?
According to Navarre insurance salesman Ed Carpenter with Carpenter Insurance, Inc., auto insurance claims are typically all the same: if you have too many claims, insurance companies can drop your policy. Similar to when an individual is involved in a lot of wrecks or has a lot of traffic tickets on their record. The more claims they have on their policy, the more likely the insurance company will yank their policy.
But in regards to items being taken from inside of a vehicle, that's where it gets iffy Carpenter said.
First you need a police report.
Then your insurance company has to verify whether the claim is auto insurance related or personal property related.
If someone has their door unlocked and an individual opens the door and takes items from inside of the vehicle —for example a pair of sunglasses— most people would not file a police report, Carpenter said. And in order to file a claim with an insurance company, typically the victim of the crime must file a police report to obtain record of the incident. And even with that report, it's hard to know whether an insurance company will cover the claim since it could be considered personal property and not part of the vehicle or if it's even worth making the claim since the deductible might be more than the actual cost of the sunglasses that were taken.
"The problem is, are the items (inside of the vehicle) actually covered?" Carpenter said. "That can be iffy. Now if your window was broken (during the burglary), then you have proof."
But Carpenter said that typically it comes down to just the amount of claims.
Typically if a person locks their vehicle, they are less likely to have something stolen from it, and there is less of a likelihood that they would have to make a claim with their insurance company.
"The claims are what hurt you," Carpenter said. "If you call (your insurance company to file a claim), it counts against you."
Carpenter said that if an individual has full coverage through their auto insurance company on a vehicle, the policy will typically cover any items taken from that vehicle. But most of the time, when you file a claim through an insurance company for items taken from a vehicle, you have to have serial number(s), a police report and, more importantly, proof that someone broke into that vehicle. Broken windows are typically enough proof to persuade insurance companies to cover losses, especially if law enforcement is called out to write up an incident report on the burglary. But considering most of the burglaries locally are on unlocked vehicles, it could prove to be harder to convince insurance companies to file a claim or pay for those stolen items.
Whether the car is unlocked or locked not might not affect your insurance policy, but the more claims you make on a policy, the more likely you are to be dropped by that insurance company.
So the moral of this story? Lock your vehicle's doors to avoid having to make claims to your insurance company, which could ultimately affect your policy or affect future policies you might apply for.
It's why most insurance companies ask if you've had any prior claims or accidents when you apply for insurance. If they know you've had prior claims, they might not accept you as a policy holder as you'll appear to be too much of a liability.
According to Aloy, the SRSO is still investigating both the Wilburn Cove burglaries and the burglaries that occurred last week near NHS. The vehicle that was stolen near NHS was later recovered, according to Aloy and no arrests have been made.
The SRSO spokesman said that the department did receive a number of tips from locals in regards to the Wilburn Cove burglaries through their CrimeStoppers hotline and is encouraging locals to do the same with the recent rash of burglaries neat NHS.
"We got three or four tips from that alone," Aloy said.
Any individual wishing to make a tip to law enforcement regarding any of the recent vehicle burglaries is asked to call Santa Rosa County CrimeStoppers at (850) 437-STOP. Currently, CrimeStoppers is offering a $3,000 reward in relation to the Wilburn Cove burglaries and anyone who calls CrimeStoppers can remain anonymous. You can also submit tips through the CrimeStoppers website at www.srccs.com.