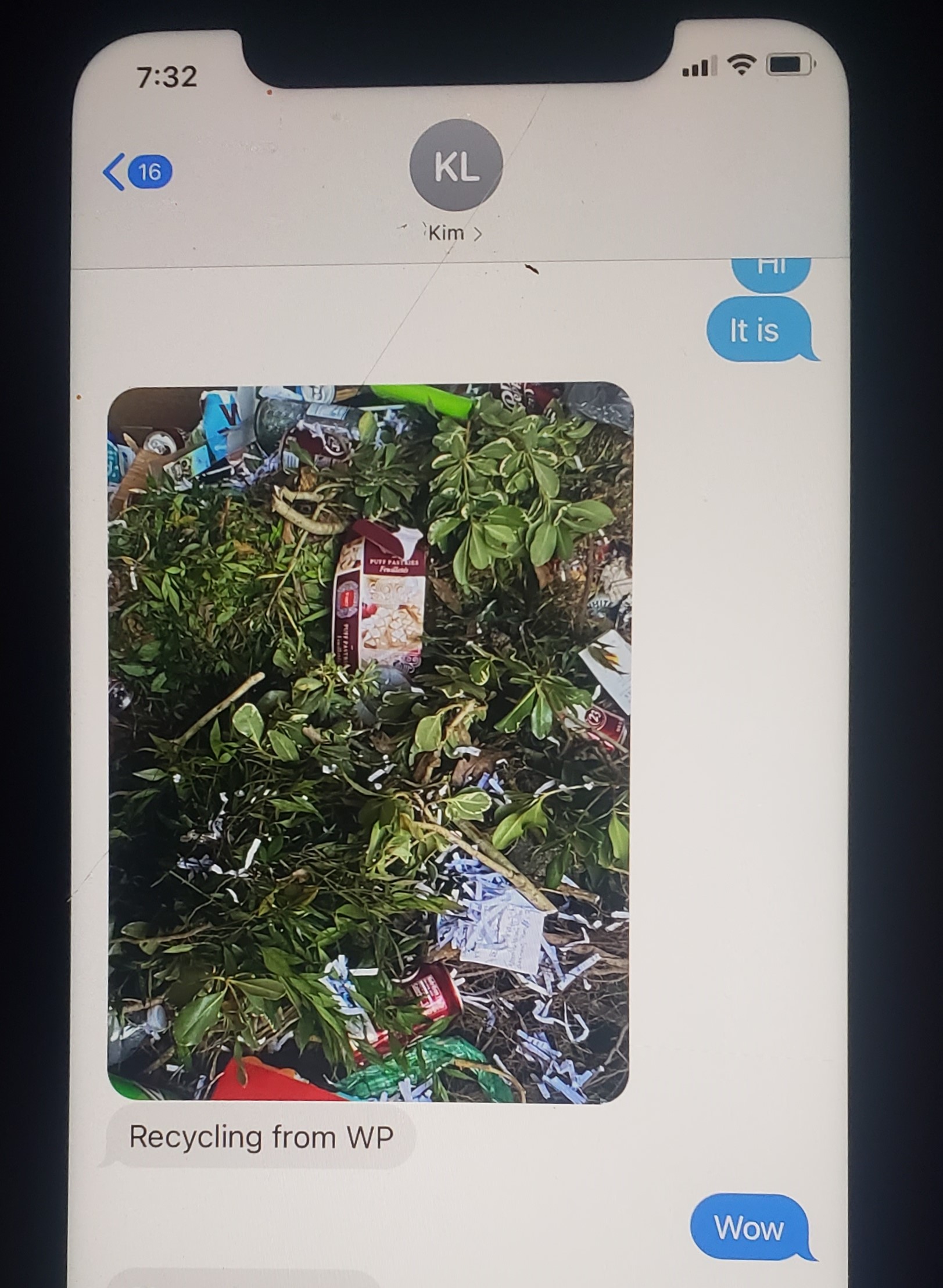 Screenshot from Santa Rosa County Environmental Department staff allegedly showing the comingling of waste with recyclable material, which would constitute a $2,000 fine per Waste Pro's contract terms. No fines have been paid by the company since the renegotiated contract started in January.
Deleted public records, a boat purchase and intimidation of county staff hired to enforce the Waste Pro contract are just some of the allegations included in Santa Rosa County's internal report, which will now be reviewed by the First Judicial Circuit State Attorney.
Although the allegations include potential violations of state law, Santa Rosa County Administrator Dan Schebler, when asked during the June 8 commission meeting, said he unilaterally chose to conduct an internal investigation into the matters, hiring Michelle Anchors of AnchorsGordon, P.A. to provide a third-party report. At that time he said he did not know how much Anchors' service would cost.
Anchors' report was completed June 11. However, Schebler refused to provide a copy to District 3 Commissioner James Calkins, who demanded to see it during the board's June 22 board meeting. Schebler said he would release the report after finishing the internal investigation.
Graham Fountain, executive director of the First Judicial Circuit State Attorney's Office, confirmed Thursday that the report would be released by today and that the SAO will be reviewing it.
The issues involving Waste Pro surfaced back in April when Santa Rosa County's Waste Compliance Branch Supervisor Natasha Borneo reported concerns to the Human Resources Director.
Borneo says some citizen complaints against Waste Pro have been deleted, making it difficult for her and her staff to perform their jobs and hold the company accountable to its contract, which includes provisions to fine the company for missed trash pickups, spilled hydraulic fluid, and other matters.
Borneo told South Santa Rosa News county employees discovered Waste Pro was comingling solid waste and yard waste with recyclable materials. Per contract terms, such comingling should have resulted in a $2,000 fine, which would be doubled for every subsequent occurrence.
But despite hundreds of complaints submitted since January 1, Santa Rosa County has not yet assessed any fines on Waste Pro.
A former officer in the county's Waste Compliance Branch, Jordan Dahdah, quit his job after a short period of time, stating he found his supervisor, Borneo, to be honest but that he became increasingly uncomfortable with what he believes is a "bad situation" within that county department.
Dahdah told Anchors he felt like there was a "smoke and mirrors" approach when it came to the enforcement of the Waste Pro contract. He said he received customer complaints which he believed amounted to contract violations for which fines should have been issued to Waste Pro. However, Dahdah said he discussed those violations with Santa Rosa County Environmental Manager Andrew Hill, who allegedly dismissed them, stating, "We are not looking to fine them . . . we are just trying to keep everyone happy."
Dahdah said he and Borneo felt like "their hands were tied" when it came to enforcing the contract.
Anchors' report states that in his exit interview Dahdah stated, "Look into conflicts of interest between County employees and the franchisee."
One of those reported conflicts was the purchase of a boat from Hill by Waste Pro's Santa Rosa County Division Manager Rick Chauncey. Anchors' report states that transaction took place at "fair market value." But she did not provide any supporting documentation for her assertion and did not include any details regarding the boat's year/make/model nor value comparisons.
Additionally, Borneo's complaint included other allegations, such as a hostile work environment.
"There is reason to believe that some of the situations described in the complaint did occur as they were reported," stated Santa Rosa County HR Director Gin Neal McVay in a related report, adding, "some were interpreted differently by the parties involved and some were not supported by the evidence. However, I do not believe that the situations described rise to the level of severe or pervasive, nor create a work environment that someone would consider intimidating, hostile, or abusive."
Anchors' summary stated that although she did not find evidence of improper dealings between the County and Waste Pro, her conclusion "may be modified if the forensic analysis of any computer, data, or telephone usage indicates an intentional interference with the communications of the Compliance Supervisor."
Anchor said "significant improvements" will need to be made in the processes, communications and relationships within the department. Toward that end, she suggested:
Front end receipt and processing of customer complaints;
Investigation of customer complaints, including allowing the County to have real time access to information to verify Waste Pro's field operations;
Fair and random inspections of Waste Pro's operations in the field;
Direct access to tracking information for Waste Pro's operations in a searchable format;
Communications with County staff, customers and Waste Pro regarding the complaint process, the status of the investigation, and the outcome;
Monthly reporting of complaints and fines; and
Process for imposing fines
Schebler, in a July 1 memo to Santa Rosa County Commissioners, admitted a compliance review of the entire contract identified instances in which the County and Waste Pro had not adhered to the terms of the contract.
He said disciplinary actions are being reviewed and that standard operating procedures for contract enforcement have been drafted and approved. He stated that for the next six months the Waste Compliance Branch will report directly to his office instead of the Environmental Department.
Schebler also said two $100 fines will be assessed and 35 $100 fines are pending further information from Waste Pro, totaling $3,700.
READ THE FULL REPORT HERE: SRC Solid Waste Report-final (1)