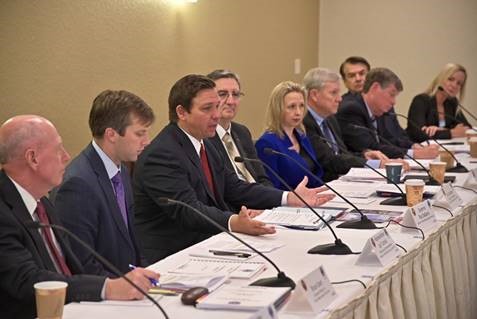 Photo credit: Governor's Press Office
Governor Ron DeSantis yesterday met with the Florida Defense Support Task Force, including Senator Doug Broxson, and discussions included the emergency need for additional federal funding for Hurricane Michael recovery at Tyndall AFB to prevent recovery efforts from stopping May 1.
Broxson told South Santa Rosa News on Friday that during the task force's monthly meeting state leaders talked about the critical need for supplemental federal funding for the Air Force, which is seeking an additional $1.2 billion for the 2019 fiscal year to help offset more than $410 million spent out of its 2019 operations and maintenance budget.
Air Force Secretary Heather Wilson has estimated recovery costs for Tyndall at $750 million. Additionally, the Air Force has also been burdened with flooding at Offutt Air Force Base in Nebraska.
"They've run out of money, and unless an emergency allocation takes place they may have to stop operations," Broxson said.
It was DeSantis' first meeting with the task force since he became Governor.
"It was great to speak with the Florida Defense Support Task Force this morning to discuss ways we can continue to lead within the military industry," DeSantis said.
Earlier this month, DeSantis announced President Trump formally granted the state's request for 45 days of 100 percent federal cost share reimbursement for Hurricane Michael, and DeSantis today announced a $9.8-million FEMA reimbursement to the Florida Department of Transportation for debris cleanup in Jackson County — it's the first FDOT project reimbursed under the expedited FEMA reimbursement process, which the Florida Division of Emergency Management requested at the direction of DeSantis.
"Today's announcement is made possible because President Trump heard my request and ordered these federal dollars to be released," said Governor DeSantis. "Under my watch, and thanks to the President, those impacted by Hurricane Michael will not be forgotten. I'm proud of the work our state continues to do for the people of Northwest Florida."
So far FDOT has removed more than 18 million cubic yards of debris to date in both state and local roadways located in the eight counties impacted by Hurricane Michael.
Meanwhile, Congressional leaders are currently working on a bill to address additional funding to rebuild Tyndall AFB.