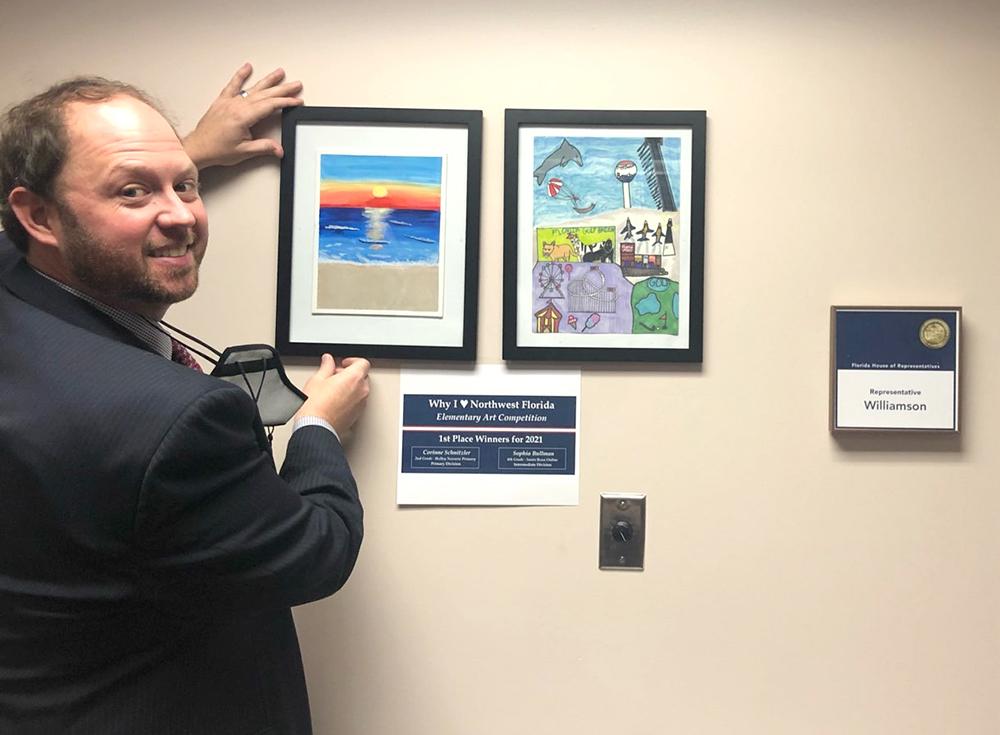 Rep. Williamson displays first place winners' artwork from Corrine Schnitzler (left) and Sophia Bullman (right) at his Tallahassee office located in the Florida Capitol. Submitted photo.
Florida House District 3 Representative Jayer Williamson last week announced the winners of his 2021 legislative session "Why I Love Northwest Florida" art competition. More than 80 entries were submitted by students attending both brick-and-mortar schools and online learning.
With a focus on civics in education, Williamson established the "Why I Love Northwest Florida" art competition during the 2019 session to increase the interest of elementary school students in state government through the visual arts.
Students in Kindergarten through the fifth grade submitted drawings and paintings from across House District 3, depicting their favorite attributes of Northwest Florida.
"This is our third year conducting the competition, and each year we see an increased number of submissions, as well as more schools, participating. It is imperative that, as a member of the Florida Legislature, I develop and support programming that nurtures an interest in civic engagement. The 'Why I Love Northwest Florida' Art Competition is just one of many ways I can do that," Williamson said.
After careful consideration, Williamson and his staff selected Corrine Schnitzler and Sophia Bullman as the first-place winners in the primary and intermediate categories. Schnitzler is a second grader at Holley-Navarre Primary School, and Bullman is a fourth grader attending Santa Rosa Online.
Williamson also honored second grader Bella Kennedy from Holley-Navarre Primary and fourth grader Camden Cox from West Navarre Intermediate as second place winners in the primary and intermediate categories.
"From the program's inception, my goal has been to encourage our youngest students to take pride in our community and one day gives back through public service. Even if it inspires only one student in their future endeavors, it is worth it," Williamson said.
Both of the first-place winning pieces are showcased in Williamson's Tallahassee office, located in the Capitol. The second-place artwork is on display at his District office located in Pace.