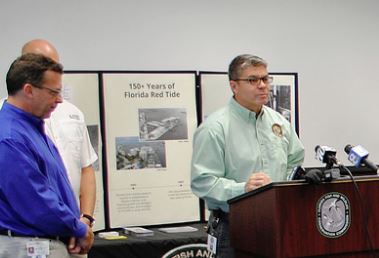 Red tide media update (photo by Rob Klepper)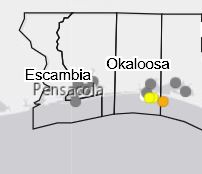 The latest map indicates there is no presence of red time in Escambia or Santa Rosa Counties
The Florida Fish and Wildlife Conservation Commission (FWC) has announced it will provide an enhanced, interactive map updated daily of water samples to inform the public on the status of naturally-occurring red tide throughout the state.
The online Daily Sampling Map will be offered in addition to FWC's current Wednesday and Friday updates on the status of Florida's red tide blooms. This will provide the public with more immediate and accurate red tide data, as researchers process the many water samples from across the state.
"We are pushing out all we can, when we can, in the spirit of providing the most timely and beneficial information to the public and partners," said FWC Executive Director Eric Sutton. "We will continually expand efforts to assist during this difficult event."
The FWC works with a large network of partners, including private organizations, local governments and citizen volunteers, to continue research and sampling efforts and has conducted meetings and phone calls to develop a course of action for affected areas. This strong collaboration is critical to response efforts in coastal communities throughout the state.
The map is available here and additional information is at MyFWC.com/RedTide.