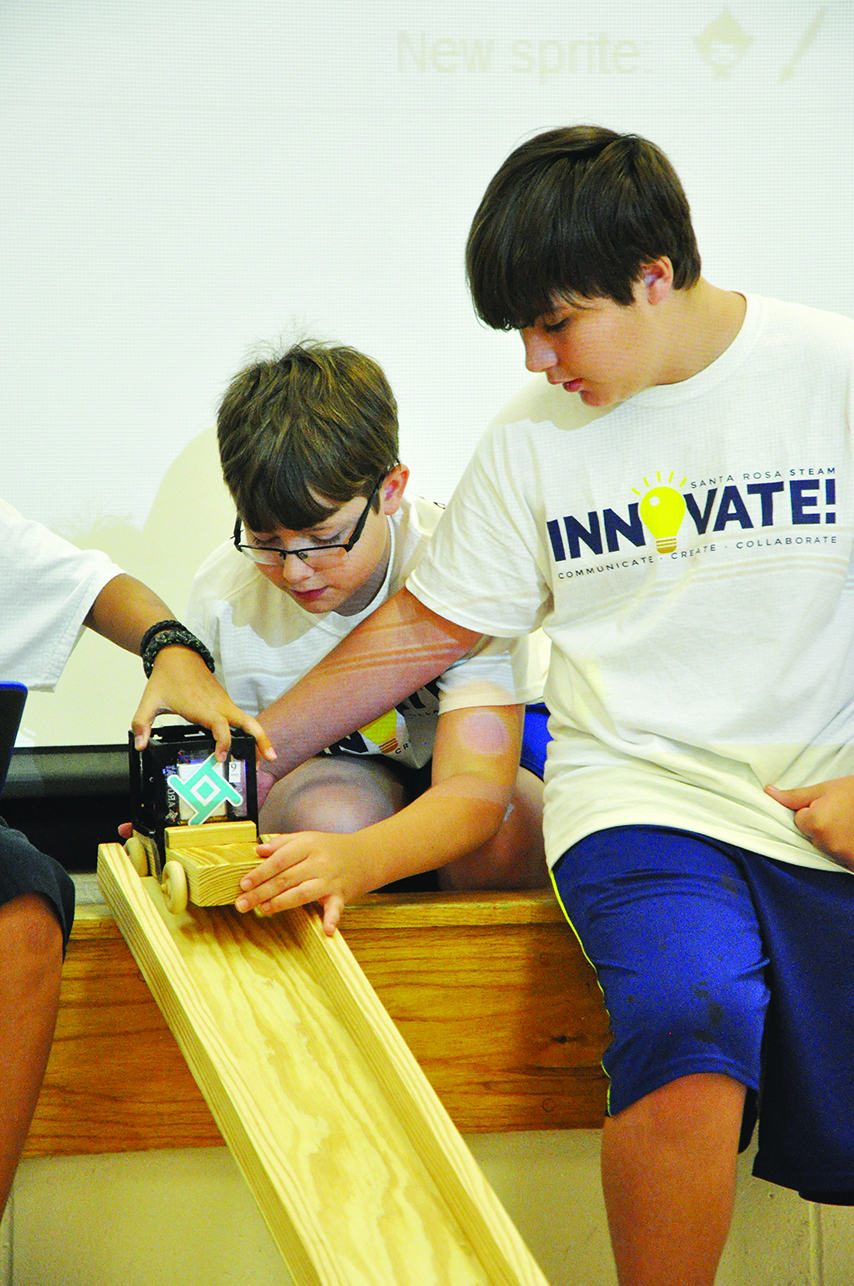 Students bound for 6th grade in Santa Rosa County had a crash course in problem solving last week during the school district's first annual Innovate Summer 5th Grade STEAM (Science Technology Engineering Arts and Mathematics) Camp.
Any recent elementary school graduate interested in taking on a fun science experiment was encouraged to participate in the camp, which took place at several county schools including Gulf Breeze and Navarre high schools.
The objective of the camp was to allow students to research, design, test and evaluate the most cost effective and efficient automotive crash cushion designs.  The camps were headed by Santa Rosa County teachers.
"Their parents just signed them up for the program. We (had) some students from different schools and different counties," said SRC teacher and one of many Navarre STEAM Camp coordinators Stacey Monahan. "The students got to choose their location. We have 39 students here total."
Students were able to choose from an assortment of supplies including packing popcorn, cotton  balls and other household items to construct their crash cushion.
And they utilized those materials to see which ones had the best effect on "reducing G-force," Monahan said.
The students had five days to research and design their break-through crash product, which they tested at the end of last week.
Students were given laptops, a device that measures G-force and a wooden car to work through their week-long experiment. The cube that measured G-force was attached to the wooden car and was used during the crash test portion of the experiment.
"It's an interdisciplinary based program. They have a problem that they're given and they have to solve it in groups," Monahan said. "They had to present their findings at the end of the camp."
To test their crash cushions, they placed the wooden vehicle at the top of a ramp and their cushion at the bottom of a ramp, Pinewood Derby style.
The car then rode down the ramp and hit the cushion. The G-force cube then measured the crash results. The cube also measured the vehicle's speed and other valuable information that the students were able to evaluate and discuss.