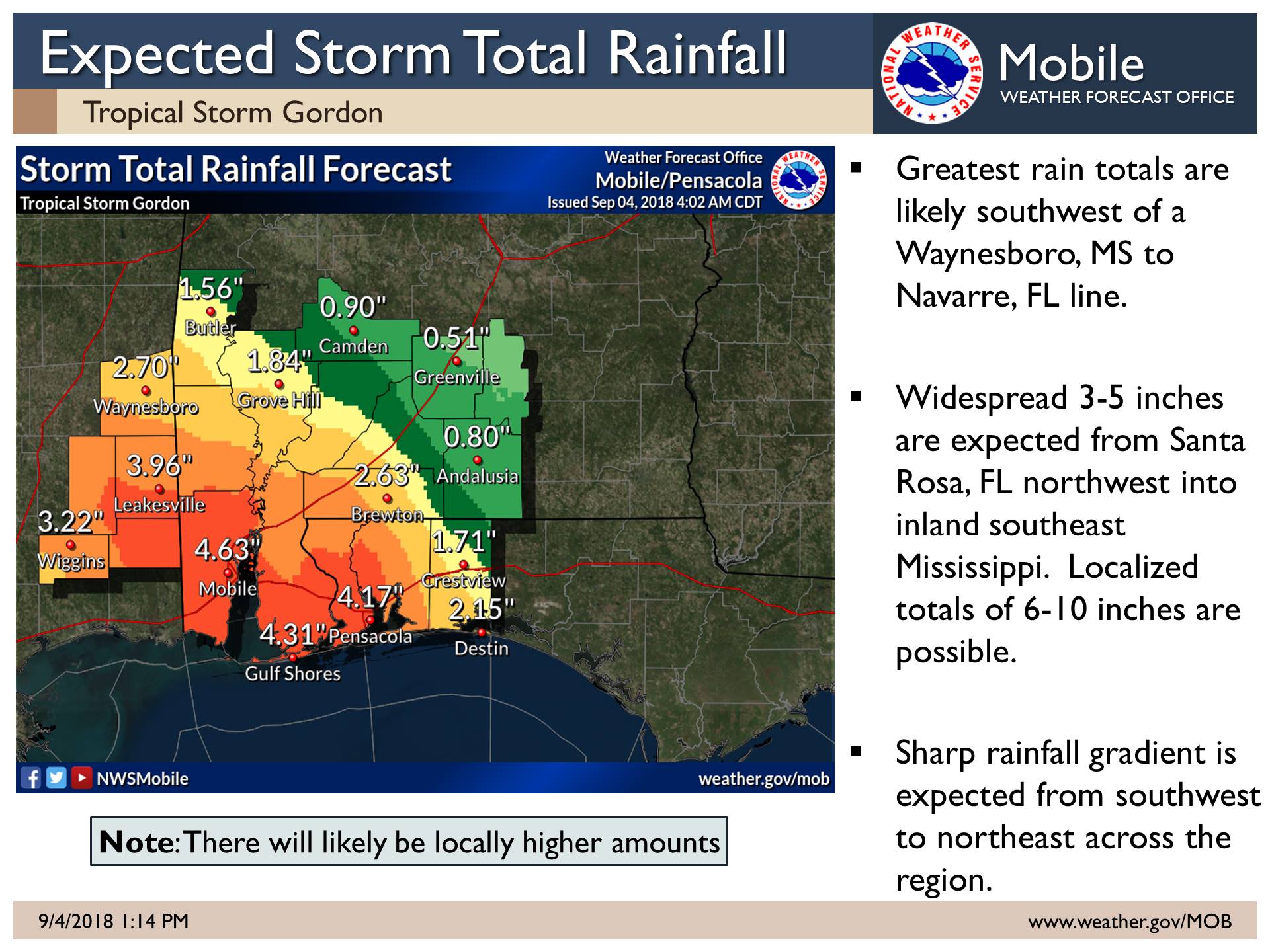 Storm Information from the National Weather Service:
Tropical storm force winds are anticipated to reach Santa Rosa County by late this afternoon or early evening.
An isolated tornado or waterspout cannot be ruled out.
Rainfall amounts are expected to be three to four inches through Wednesday evening.
Storm surge is expected to be one to three feet above normal.
Emergency management staff will be monitoring Gordon overnight.
Local Actions
Santa Rosa County Tax Collector's Office will close at noon.
Santa Rosa County has made limited supplies of sand available at no cost at several locations. Sand bags can be purchased for less than 50 cents each at local hardware stores. Bring shovels to fill and load your own bags.

Leisure Street at Citrus Drive in Holley By the Sea
Tiger Point Park in Gulf Breeze
Pace Fire-Rescue in Pace
The corner of Pine Forest Road and Carroll Road in Milton

Santa Rosa County schools will close for a half day, all after-school activities to include community school/latch key kid program will also be closed. Schools will resume as scheduled on Wed., Sept. 5.
No evacuations have been ordered and no shelters will be opened at this time.

Central Landfill in Milton will be open for regular hours. Waste Pro will run regular routes tomorrow (Tues.). If they must stop due to inclement weather, they will finish routes Wed. morning. For any questions regarding trash pickup, call your waste hauler.

County offices and the court system will operate as normally scheduled on Tues., Sept. 4.
Bridges will be monitored law enforcement throughout the event and closed as necessary. NO BRIDGES ARE CLOSED IN ADVANCE OF A STORM.
The biggest threat for our area remains to be an extremely high risk of life-threatening rip currents. Knee-deep is too deep. Abide by the flag warning system and lifeguard instruction. Double red flags are currently flying at the beach which means the beach is closed to swimmers.
Other Closures

The Gulf Islands National Seashore has closed the Fort Pickens and Perdido Key areas as well as the Opal Beach day use area. Park status updates are posted online at www.nps.gov/GulfIslands.The Naval Live Oaks area will remain on its normal operating schedule at this time, but the status may change with conditions.
Pensacola State College has closed all campuses, offices and non-essential functions. All campuses will reopen Wed., Sept. 5.
General Safety Information