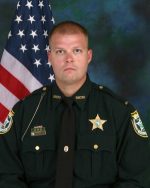 A safety message from Lt. Jason Erlemann, Santa Rosa County Sheriff's Office District 2 Officer in Charge:
We are investigating two cases of suspicious persons roaming around school bus stops in Navarre.
Parents should speak to their children about how to deal with this type of activity. It seems to be stereotypical luring, offering candy, money or looking for lost pets — the same type of warning signs that we all have heard as kids.
"Do not talk to strangers" needs to remain the policy that parents teach.
Having the children stay in groups and being aware of their surroundings are sound tactics.
If there are any suspicious encounters try to look at or photograph the car license plate on the rear bumper or window. That remains one of our biggest factors in identifying malicious activity.
The deputies have been advised to keep extra watch on some of the bus stops in their assigned patrol zones.
Obviously not all can be monitored but we will be spending extra time on this.
The school bus drivers in our area have also been asked to report any suspicious activity that comes to their attention to the Sheriff's Office.
As always I remind you to lock your vehicles and property.
Here is a link to some more information about Stranger Danger! from the Sheriff's Office:
http://santarosasheriff.org/stranger-danger/