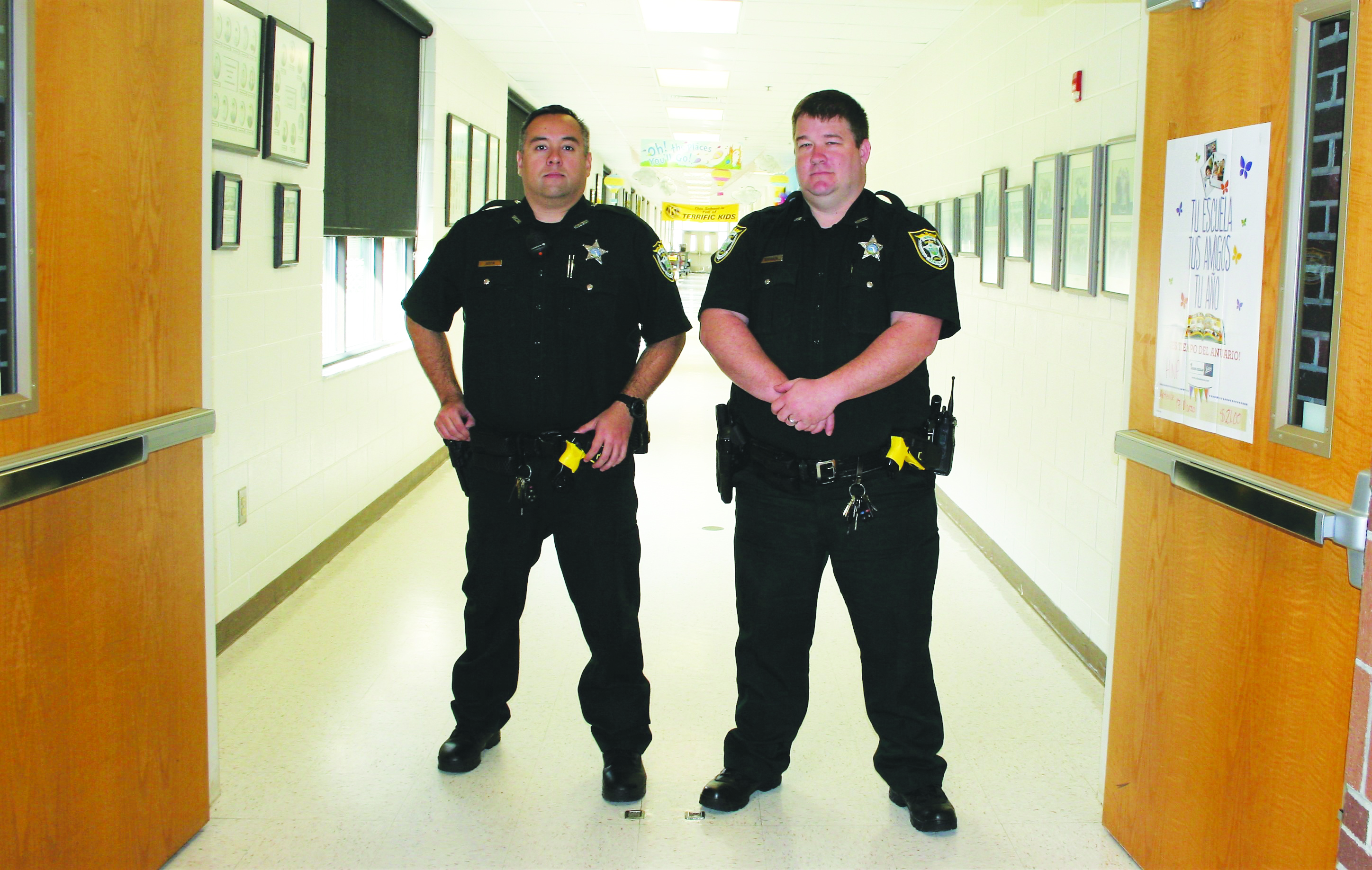 School Resource Officers Art Austin and Matt Robinson are two of only six SROs currently in Santa Rosa County School District's 38 schools, according to Santa Rosa County Sheriff's Office Spokesman Sgt. Rich Aloy.
Florida Governor Rick Scott at a press conference this afternoon in Walton County promoted his $500 million school safety plan. However, Santa Rosa County Sheriff Bob Johnson does not believe the plan as presented can be put into action by the start of the 2018-2019 school year as proposed by Governor Scott.
"My goal is to have a massive change in school safety," Scott said, pointing out his plan calls for mandatory school resource officers in every public school, starting this fall, and other safety measures, including certain firearm restrictions. Additionally, Scott's plan earmarks $50 million for mental health initiatives. "I look forward to this bill passing and dramatically changing school safety in the state."
"I wholly support having a school resource officer in every school," Johnson told South Santa Rosa News on Monday, following a safety meeting with school district officials and other area leaders.
But Johnson said it will be nearly impossible to hire and train around three dozen more SROs by the start of next school year.
Currently there are six SROs for the district's 38 schools, although plans are underway to hire an additional SRO at King Middle School.
"The entire country is seeing dramatic problems with hiring and retaining officers," said Santa Rosa County Sheriff's Office Spokesman Sgt. Rich Aloy, who oversees agency recruitment.
Aloy said after candidates complete law enforcement academy, which takes about six months, and pass a state exam the hiring process, which includes a background investigation and psychological exam, can take one to three months and is following by four months of field training. Additionally, there is a policy that an officer must have one year's experience before becoming an SRO.
According to Sheriff Johnson, even if state funding is made available it would be difficult to hire and train enough officers in time to provide one officer per school and per 1,000 students by the start of the 2018-2019 school year — as set forth in Governor Scott's plan.
"In the 14 months since I've been in office, I've hired 15 officers, and nine of those made the cut," Johnson said, noting the rigorous hiring and lengthy training process. Johnson said that it "may be" possible to implement the plan by the start of the 2019-2020 school year. Johnson also noted that he is approaching retired officers to see if they would be interested in returning to the force.
Per Johnson, it will cost about $80,000 to hire and equipment each new SRO, plus there would be recurring expenses of $55,000 per year.
"We do have the money," Scott said Wednesday, explaining the state's projected budget revenues going into the 2018 legislative session exceeded projected expenses by $3 billion.
Johnson has made his own safety adjustment in the wake of the Parkland school shooting, which prompted Scott's safety plan. Johnson has added one SWAT officer to daytime duty and directed patrol officers to randomly patrol schools.
Furthermore, Johnson said he supports the Governor's proposal to ban firearm sales to individuals under 21 — one of Scott's school safety plan's hot topics which state legislators are debating.
The Florida Legislature is expected to make a decision about the proposed plan before their current session ends March 9.