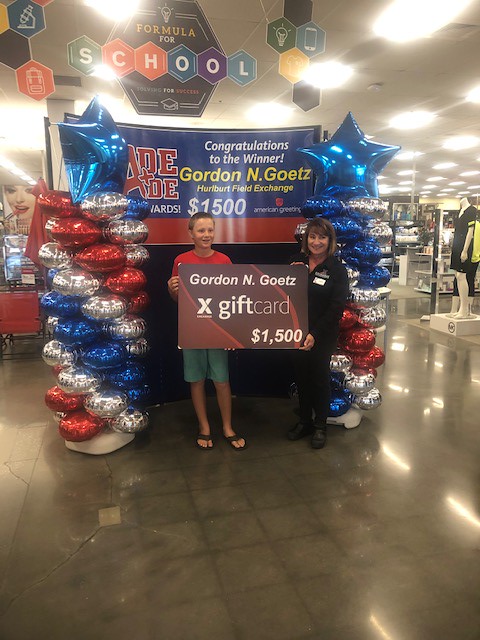 Gordon Goetz pictured with Hurlburt Field Exchange store manager Barbara Ross.
When Gordon Goetz found out he was the second-prize winner of the Army & Air Force Exchange Service's worldwide You Made the Grade sweepstakes, he couldn't believe his luck.
"My first thought was 'oh my gosh,'" said the Woodlawn Beach Middle School student. "This has never happened to me before."
Gordon received his prize, a $1,500 Exchange gift card, at a presentation July 26 at the Hurlburt Field Exchange.
"Gordon is a bright student, and the Exchange is honored to recognize his academic achievement," said Hurlburt Field Exchange General Manager Myra Florence. "His resilience and determination make him an inspiration to military children around the world."
First- through 12th-graders who maintain a B average or higher can enter the sweepstakes for a chance at a $2,000, $1,500 or $500 Exchange gift card. Gordon was randomly selected from more than 1,000 entries.
Gordon, 12, is the oldest son of retired Marine Corps Master Sgt. Gordon R. Goetz and wife Tetyana. Master Sgt. Goetz served 21 years, deploying to Iraq as part Desert Storm as well as Beirut before retiring in 1997.
Gordon and his brother Grant, 7, both entered the sweepstakes after an associate at the Hurlburt Field Exchange informed the family about the contest.
"This was the third or fourth time we've entered," Master Sgt. Goetz said. "[Gordon's win] was a nice surprise."
Besides excelling in academics, Gordon has a passion for computers. His favorite activities are playing video games, watching YouTube—and researching his favorite scientific topics.
"I'm really interested in atomic and nuclear science," he said. "I'd like to get a new computer and monitor [with my prize money]."
But first, Gordon has something generous in mind.
"I'm going to get something for my little brother," he said. "He's always been there for me."
For more information about the You Made the Grade program, students and guardians can contact the Hurlburt Field Exchange at 850-581-8225. Students can send You Made the Grade sweepstakes entry forms to:
You Made the Grade
PO Box 227398
Dallas, TX 75222-7398