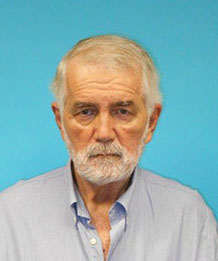 Richard Jerome Mack, 71. FDLE photo.
Attorney Joe Zarzaur, who represents three students molested in 2016 at Gulf Breeze Elementary by the district's former "Substitute of the Year," says Santa Rosa County School District did not turn over Richard Mack's "discipline" records for a 2018 record request. Those records weren't provided until last week and reveal previous action was requested due to red flags noticed back in 2011.
"When I asked for the personnel file, despite me being the lawyer representing these children that were abused in one of their schools, they didn't feel it was important enough to give us the discipline records for this man…until I busted them, basically," Zarzaur said.
Per Zarzaur, he was told SRCDS discipline records are kept in a separate, locked cabinet away from personnel files and not available unless someone specifically requests them.
Those discipline records reveal that administrators at Woodlawn Beach Middle School in 2011 asked the district to remove Mack from the substitute list for their school due to inappropriately touching students and other behavior.
Mack also worked in Escambia County School District, which ended up banning him after incidents at two different schools in 2013 and 2014.
Yet in 2016 Mack was not only working as a substitute teacher at GBES but also named the district's "Substitute of the Year."
Since 2015 Professional Educational Services Group (PESG) of Florida, LLC has been contracted by SRCDS to provide substitute staffing for teachers.
Subsequently, PESG and Mack are also co-defendants in the three aforementioned lawsuits over the 2016 incidents at GBES, which took place between October 24 and October 31.
Mack was booked February 2, 2017 into Santa Rosa County Jail and issued a $1 million bond for multiple felony counts of lewd and lascivious molestation with a victim under 12 years of age.
But that arrest didn't stop retired SRCSD Procurement Officer Jud Crane from issuing a May 4, 2017 recommendation letter for PESG.
"The district's partnership with PESG has been very successful. I offer this fine company my highest recommendation as a staffing service provider," Crane said.
Crane went on to say PESG, which is headquartered in Nashville, Tennessee, houses two local staffing specialists and a field services director who "work tirelessly to fill the many absences created daily by district staff, many of which are requested well after the school day has begun."
In its 2018 proposal cover letter, PEGS boasted of its "97% fill rate guarantee for participating educational partners."
Although Mack did not have a criminal history which would have discovered through background checks, Zarzaur wonders how the district and its substitute staffing company could have missed so many warning signs about Mack. Therefore, his next step will be requesting communication between the parties.
Zarzaur said, based on emails he has received since he went public with details last week, that he believes there could be more victims.
"Frankly, I could care less about the money. I want, and these families want, for the district to change the way they do things," Zarzaur said.