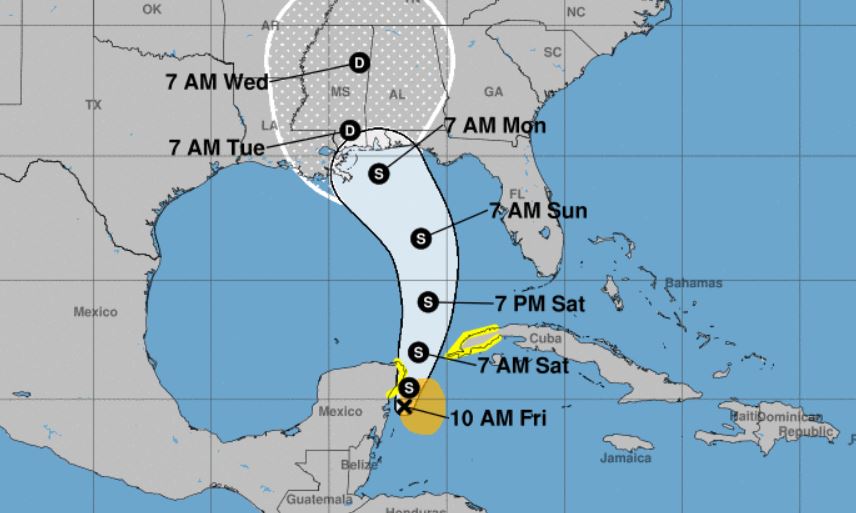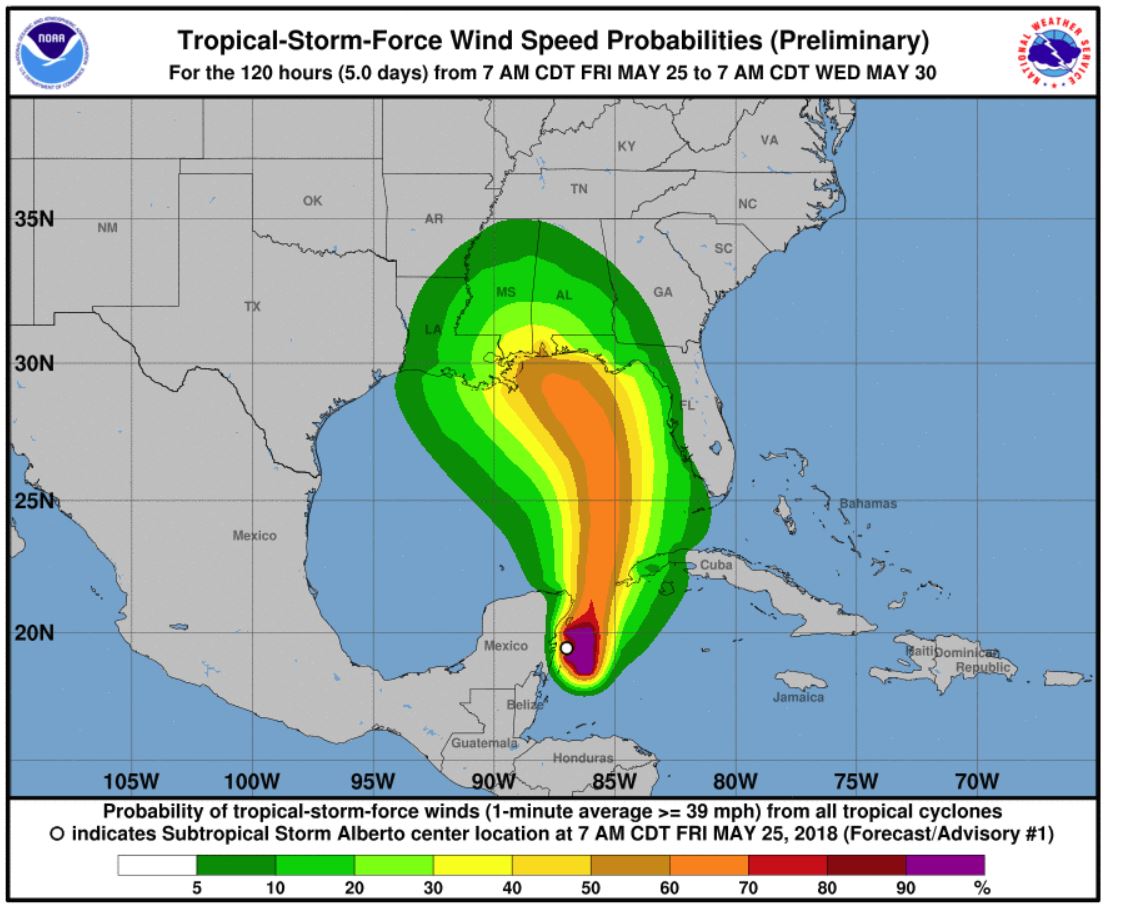 The National Hurricane Center has issued its first advisory for Subtropical Storm Alberto.
BULLETIN
Subtropical Storm Alberto Advisory Number   1
NWS National Hurricane Center Miami FL       AL012018
1000 AM CDT Fri May 25 2018

...PRE-SEASON SUBTROPICAL STORM ALBERTO FORMS OVER THE NORTHWESTERN
CARIBBEAN SEA...
...HEAVY RAINFALL EXPECTED TO AFFECT THE YUCATAN PENINSULA...WESTERN
CUBA...FLORIDA...AND THE NORTHEASTERN GULF COAST THROUGH THE
WEEKEND...


SUMMARY OF 1000 AM CDT...1500 UTC...INFORMATION
-----------------------------------------------
LOCATION...19.7N 86.8W
ABOUT 55 MI...90 KM S OF COZUMEL MEXICO
ABOUT 195 MI...315 KM SW OF THE WESTERN TIP OF CUBA
MAXIMUM SUSTAINED WINDS...40 MPH...65 KM/H
PRESENT MOVEMENT...NNE OR 20 DEGREES AT 6 MPH...9 KM/H
MINIMUM CENTRAL PRESSURE...1005 MB...29.68 INCHES


WATCHES AND WARNINGS
--------------------
CHANGES WITH THIS ADVISORY:

The Government of Mexico has issued a Tropical Storm Watch for the
east coast of the Yucatan Peninsula from Tulum to Cabo Catoche.

The Government of Cuba has issued a Tropical Storm Watch for the
western Cuban province of Pinar del Rio.

SUMMARY OF WATCHES AND WARNINGS IN EFFECT:

A Tropical Storm Watch is in effect for...
* Tulum to Cabo Catoche Mexico
* Cuban province of Pinar del Rio

A Tropical Storm Watch means that tropical storm conditions are
possible within the watch area, in this case within the next 24
hours.

Interests along the central and eastern U.S. Gulf Coast should
monitor the progress of Alberto. Tropical storm and storm surge
watches could be required for portions of this area later today or
tonight.

For storm information specific to your area, please monitor
products issued by your national meteorological service.


DISCUSSION AND OUTLOOK
----------------------
At 1000 AM CDT (1500 UTC), the center of Subtropical Storm Alberto
was located near latitude 19.7 North, longitude 86.8 West. The storm
is moving toward the north-northeast near 6 mph (9 km/h). A general
slow motion toward the north is expected through the weekend,
followed by a northwest turn by Monday. On the foreast track,
Alberto is expected to pass near the eastern coast of the Yucatan
peninsula tonight, be near the western tip of Cuba Saturday morning,
emerge over the southeastern Gulf of Mexico by Saturday night, and
approach the north-central Gulf Coast on Monday.

Maximum sustained winds are near 40 mph (65 km/h) with higher gusts.
Gradual strengthening is forecast for the next 72 hours.

Winds of 40 mph extend outward up to 115 miles (185 km) from the
center.

The estimated minimum central pressure is 1005 mb (29.68 inches).


HAZARDS AFFECTING LAND
----------------------
RAINFALL:  Alberto is expected to produce total rain accumulations
of 10 to 15 inches with isolated totals of 25 inches across the
northeastern portions of the Yucatan Peninsula and western Cuba.
These rains could produce life-threatening flash floods and
mudslides. Rainfall accmumulations of 4 to 8 inches with maximum
amounts of 12 inches are possible across the Florida Keys and
southern and southwestern Florida.  Heavy rain will likely begin
to affect the central Gulf Coast region and the southeastern Untied
States later this weekend and continue into early next week.
Flooding potential will increase across this region early next
week as Alberto is forecast to slow down after it moves inland.

WIND:  Tropical storm conditions are possible within the watch
area through Saturday.

SURF:  Swells generated by Alberto are affecting portions of
the coast of eastern Yucatan Peninsula and western Cuba.  These
swells are likely to cause life-threatening surf and rip current
conditions.  Hazardous surf conditions are likely to develop along
much of the central and eastern U.S. Gulf Coast this weekend. For
more information, consult products from your local weather office.


NEXT ADVISORY
-------------
Next intermediate advisory at 100 PM CDT.
Next complete advisory at 400 PM CDT.

$$
Forecaster Stewart


Following below is Santa Rosa County's most recent update on the system. Additionally, Gulf Islands National Seashore's Fort Pickens Area may close Saturday afternoon due to expected weather conditions and the National Park Service recommends checking their website or calling the Gulf Islands closures hotline (850) 934-2656 for more information.
Heavy rains Saturday through Tuesday – Update #2
Sand available in four locations, sandbags at local hardware stores
Due to a developing area of low pressure over the central Gulf of Mexico, heavy rains and widespread flooding can be expected Saturday continuing into early next week. Damaging straight-line winds and isolated tornadoes will also be possible with the stronger thunderstorms.
Hurricane season starts June 1.
This event is a good opportunity for you to find your flood zone (
www.santarosa.fl.gov/knowyourzone
), review your disaster plan, check your supplies (
the first 72 are on you!
), and to make sure you have a safe place to go in the event of a tornado warning.
Current Situation
The Santa Rosa County Emergency Management staff are currently monitoring the situation along with the National Weather Service in Mobile, Alabama.
Scattered to numerous thunderstorms can be expected today and tonight.
Gusty winds, frequent cloud-to-ground lightning and periods of very heavy rain can be expected with the stronger thunderstorms through early tonight.
Some minor flooding, mostly local, will be possible with some of the stronger storms through early tonight.
Wind and waves will be higher in scattered to numerous showers and thunderstorms today and tonight.
On the coast, frequent lightning and isolated waterspouts will also be possible.
Current Weather Watches and Advisories
A high surf advisory is in effect from Saturday afternoon to Tuesday night.
A coastal flood watch is in effect from Saturday afternoon to Tuesday night.
A flash flood watch is in effect from Saturday evening through Tuesday evening.
Rip Currents
A moderate risk for rip currents will continue through tonight. A high risk of rip currents begins Friday and lasts through the start of next week. Rip currents are our number one danger. Follow the beach flag warning system and obey lifeguard direction. High surf with waves of five feet and higher can be expected.
Graduation Ceremonies
Based on the current situation, the Santa Rosa School Board graduation ceremonies for Gulf Breeze, Pace and Navarre high schools are still scheduled on May 26 as planned. Any updates will be sent from the school board directly to families of graduates.
Memorial Day Ceremonies
The Veterans Memorial Plaza's annual Memorial Day ceremony has been cancelled due to weather.
In the south end of the county, a decision has not yet been made for the Memorial Day ceremony in Navarre Park. Cancellation of this event will be determined at a later date. For more information, contact Joseph Louder, josephlouder@gmail.com.
Sand Bags
Those living in low-lying and flood-prone areas should pay special attention and make preparations now. The county's public works department has sand available on a first-come, first-serve basis at the following locations:
Leisure Street in Holley by the Sea
Tiger Point Park in Gulf Breeze
Pace Fire-Rescue in Pace
The corner of Pine Forest Road and Carroll Road in Milton
Bring your own sandbags and shovel. Bags can be purchased for less than 50 cents each at local hardware stores, including Hall's Hardware in Milton and Lowe's in Pace/Pea Ridge. For more information on how to make and use sandbags, visit the Federal Alliance for Safe Homes (
www.flash.org
).
Roads and Bridges
Bridges are closed only when sustained winds of 39mph or greater are detected onsite. No roads or bridges are closed in advance. Santa Rosa County road closures are posted at
www.santarosa.fl.gov
. State and interstate road and bridge closures (highways 87, 89, 90, 98, I-10, and Garcon Point Bridge) are posted at
www.fl511.com
.