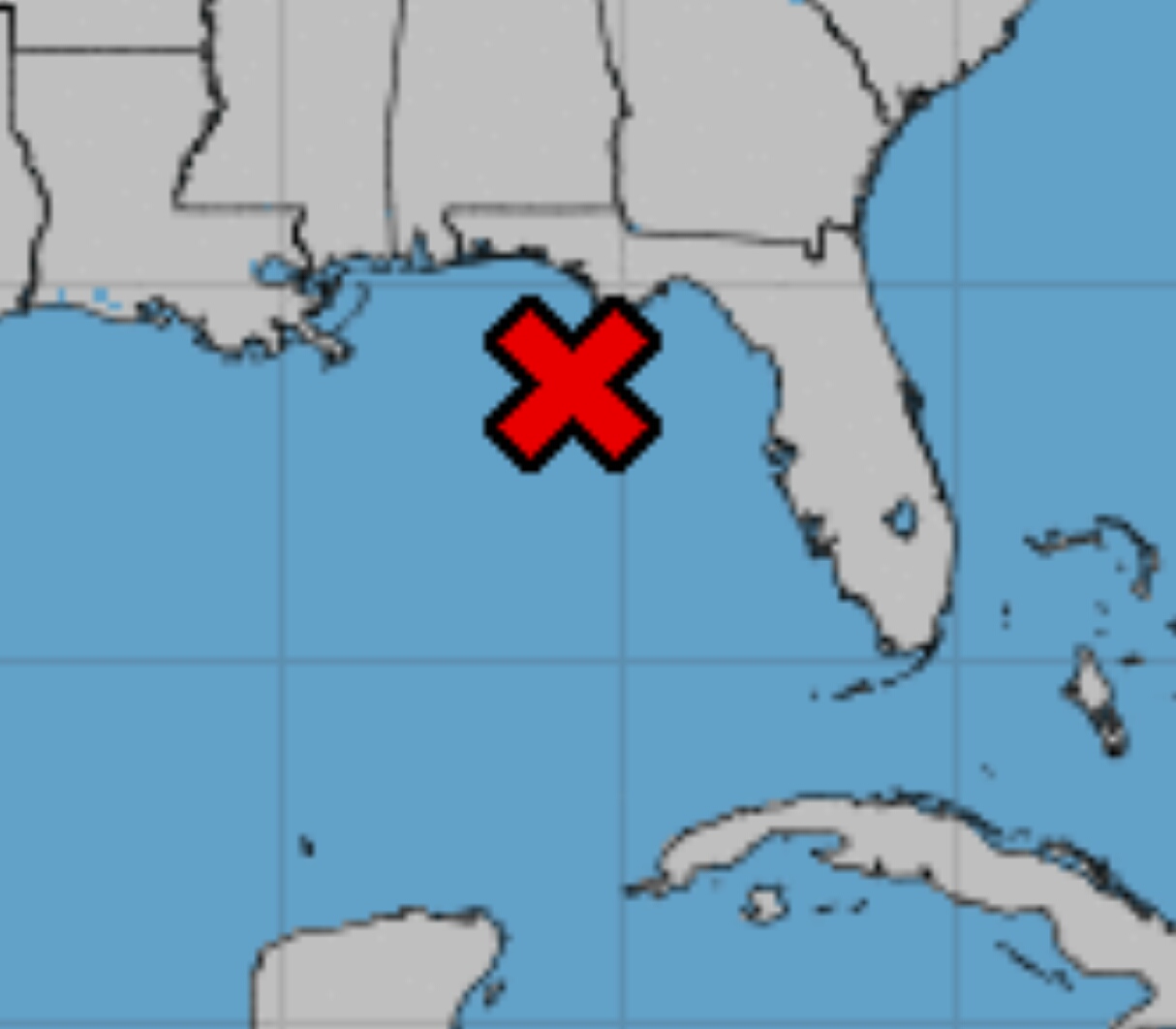 National Hurricane Center 8 a.m. EDT update:
A broad low pressure area located over the northeastern Gulf of Mexico about 100 miles south-southwest of Apalachicola, Florida, is producing widespread cloudiness and disorganized showers and thunderstorms.
Environmental conditions are conducive for development of this system, and a tropical depression is expected to form late today or Thursday while the low moves slowly westward across the northern Gulf of Mexico.
An Air Force Reserve Unit reconnaissance aircraft is scheduled to investigate the disturbance this afternoon.
This system could produce storm surge and tropical- storm- or hurricane-force winds across portions of the Louisiana, Mississippi, and Upper Texas coasts later this week, and interests there should closely monitor its progress.
In addition, this disturbance has the potential to produce very heavy rainfall from the Upper Texas Coast to the Florida Panhandle.
For more information, please see products issued by your local weather forecast office and the NOAA Weather Prediction Center.
* Formation chance through 48 hours…high…90 percent.
* Formation chance through 5 days…high…90 percent.
U.S. National Weather Service Mobile, Alabama 7 a.m. CDT Tropical Update:
Invest 92L continues to slowly organize off the Florida Panhandle this morning. Steady development is expected to continue as the system slowly drifts west-southwest and a tropical depression could form in the next 24 to 48 hours.
What you should expect:
☔️ Rain: An increase in the heavy rain threat over the next couple of days. A couple of inches could be possible especially along the coast.
🌊 Surf: Surf and rip currents are expected to increase along the beaches beginning Thursday. A HIGH risk of rip currents is in effect beginning Thursday. The gulf waters will be hazardous to all levels of swimmers.
Coastal Flooding: Some minor coastal flooding could be possible during the high tide periods mainly Friday and Saturday. This will primarily impact low-lying locations prone to coastal flooding (I.e. Mobile Bay causeway).
💨Wind: Not expecting any significant wind threat; however, a few of the thunderstorms could contain some gusty winds. Securing light loose objects is never a bad safety precaution.