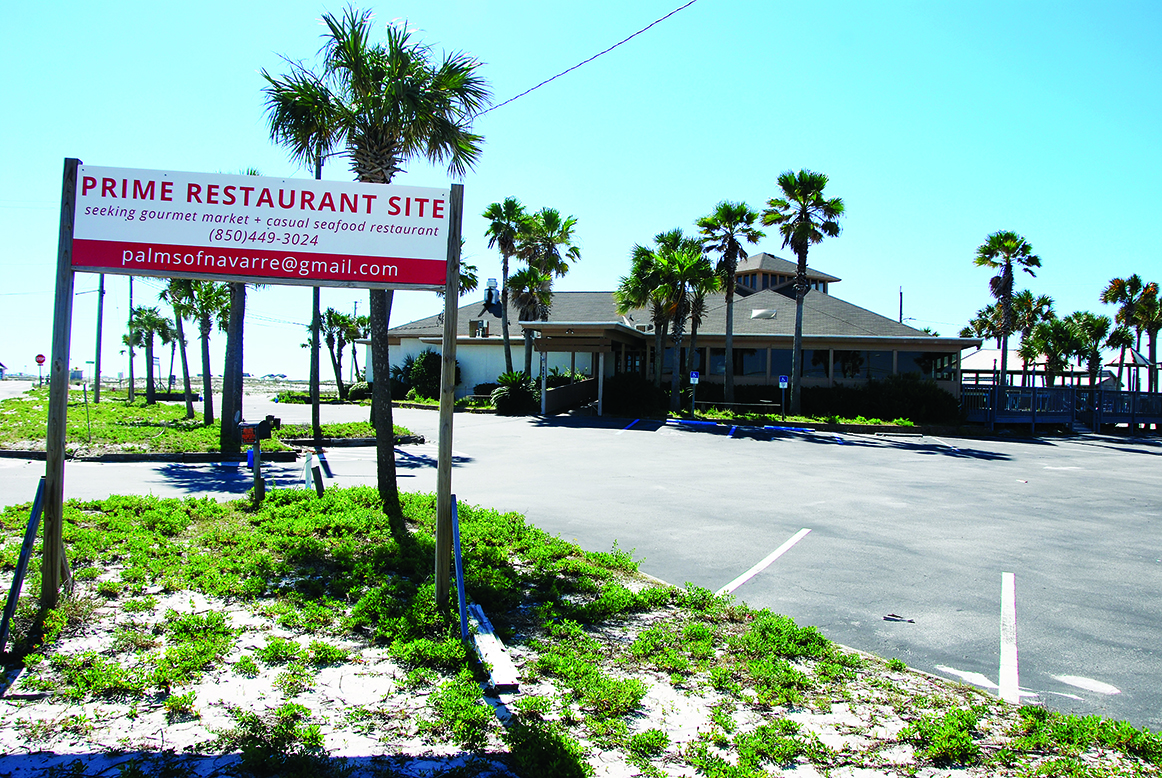 With the county threatening to take legal action against Navarre Beach building leaseholder Sylvia Martin, who leases what was once Rocco's Italian Restaurant, a local business owner has stepped up to help the leaseholder by verbally agreeing to move into the building on the beach that has sat vacant since 2015.
Bob Benaquis, owner of TC's Front Porch, which sits at the foot of the Navarre Beach Bridge, has his sights set on moving into the old Rocco's Italian Restaurant, which sits just north of the Navarre Beach Pier and is one of only a handful of restaurants on Navarre Beach. And the local business owner said he has more planned for the future.
"We have a verbal agreement right now. I'm just waiting to sign paperwork at this point," Benaquis said.
Last week, Santa Rosa County Commissioners voted to formally notify Martin that she was in violation of her lease agreement with the county to operate a restaurant at the site. The lease with the county indicates that the property is required to operate as a restaurant annually on weekends from April 15 until May 15, then daily from May 15 until Labor Day. Martin has been in violation of her lease, which she signed back in 1995, after Rocco's Italian Restaurant shut its doors at the end of 2015.
Benaquis said he wants to sub-lease the 7,500 sq. ft. building from Martin in order to once again have a restaurant at the site.
"There's a lot of dysfunction in there," Benaquis said about the bones of the restaurant noting that he's still waiting to make sure certain components inside still work before signing paperwork. "We are waiting on what condition the refrigeration unit is in, air conditioning, all that stuff."
The county recently spent nearly $750,000 re-branding Navarre Beach, and commissioner Sam Parker told commissioners last week that the vacant building was an eyesore considering all they have done to pull visitors to the beach through the new marketing campaign.
Benaquis has already spoken to Commissioner Bob Cole about his intentions to sub-lease the building.
Benaquis said he is not planning to close the doors on the original TC's Front Porch, which just celebrated its 10th anniversary. Instead, the owner said he wants to open a new venue, with a different menu. For now, Benaquis wouldn't specify what the menu would entail, but gave South Santa Rosa News some hints.
"Snow Crab legs perhaps," he teased. "It will be different."
Benaquis said he also has plans to put a bid on the Navarre Beach Pier once the contract comes up for renewal at the end of July.
"This could be a spectacular thing for the community. We are thinking about putting a bid on the (Navarre Beach) Pier here at the end of July. We're hoping to merge both of those properties and make it a spectacular complex," Benaquis said. "If it doesn't happen, it's going to be a loss to the people here. We have a great game plan, and this area will be remarkably impressed with what I have in mind. I think we will have a great start to a great area of the beach."
Benaquis said he doesn't have a name picked out for the new restaurant, but said he was hoping to have his doors open within a few months.