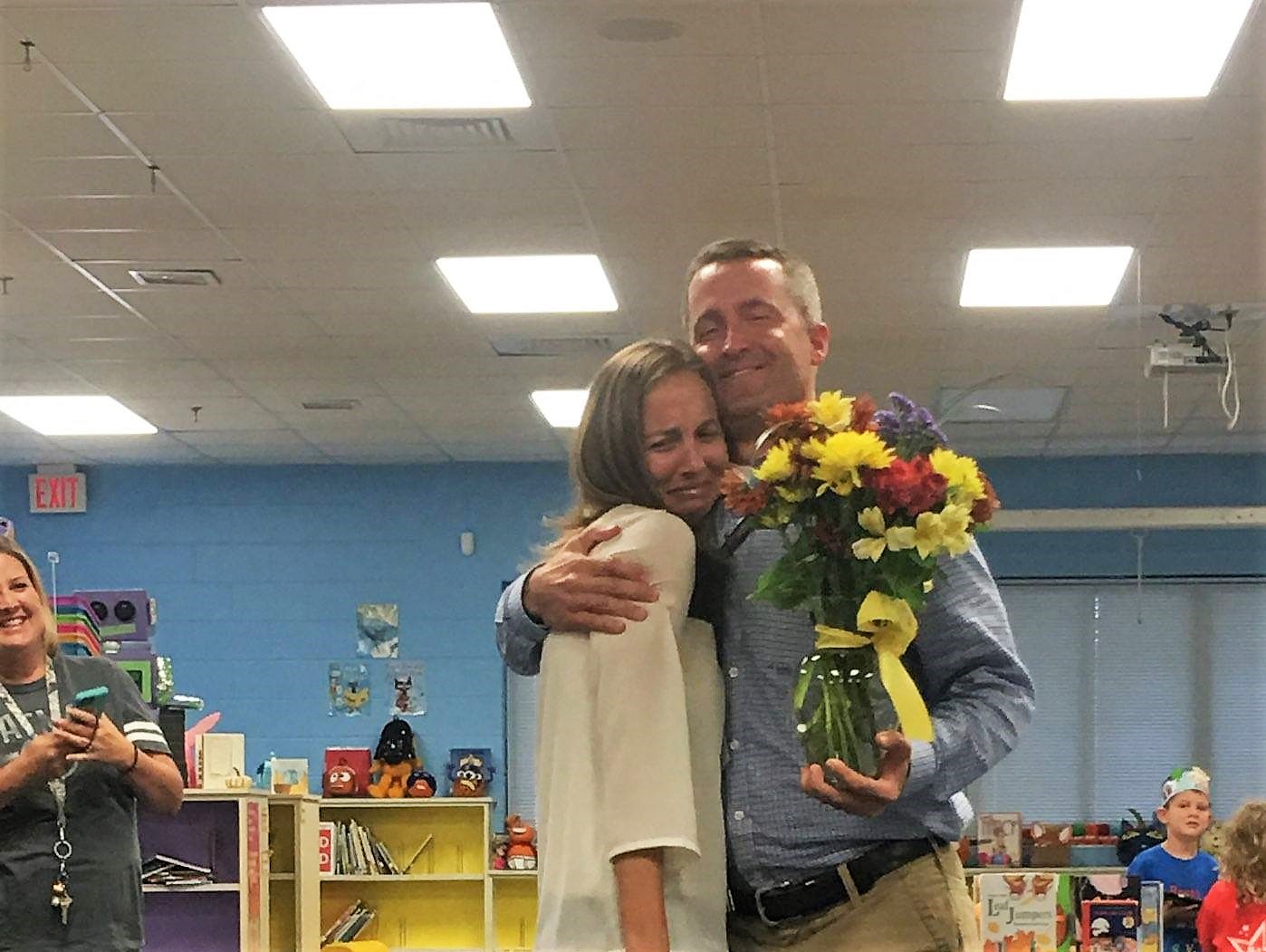 West Navarre Primary's Teacher of the Year, Christina Andrus, left, congratulated by West Navarre Primary Principal Billy Price
Santa Rosa Education Foundation is pleased to announce the 33 nominees for Santa Rosa Teacher of the Year. Nominees were selected by their peers at each school throughout the district:
Becky Nation, Avalon Middle;
Laura Rader, Bagdad Elementary;
Gary Mitchell, Berryhill Administrative Complex;
Alison Hoffman, Berryhill Elementary;
Becky Mulford, Central;
Marti Putman, Chumuckla Elementary;
April Ballard, S.S. Dixon Intermediate;
Carla Moulyet, S.S. Dixon Primary;
Karla Black, East Milton Elementary;
Shelley Bielenda, Gulf Breeze Elementary;
Erin Cosky, Gulf Breeze High;
Christy Morgan, Gulf Breeze Middle;
Shana Moore, Hobbs Middle;
Tina Wells, Holley-Navarre Intermediate;
Nancy Mijangos, Holley-Navarre Middle;
Jennifer Dantin, Holley-Navarre Primary;
Sally Baker, T.R. Jackson Pre-Kindergarten;
Joyce Hendricks, Jay Elementary;
Teresa Dobson, Jay High;
Kim Smith, King Middle;
Susan Kelly, Locklin Technical Center;
Michael DeCarolis, Milton High;
Jennifer Watson, Navarre High;
Kim Bailey, Oriole Beach Elementary;
Claudia Cassevah, Pace High;
Michelle Middleton, Pea Ridge Elementary;
Derek Freeman, W.H. Rhodes Elementary;
Charlsey Edgar, B.C. Russell Elementary;
Mark Sargent, Santa Rosa High/Adult;
Melissa Cody, T.L. Sims Middle;
Amanda Nelms, West Navarre Intermediate;
Christina Andrus, West Navarre Primary;
Joshua Odom, Woodlawn Beach Middle
The Santa Rosa Teacher of the Year will be announced on Wednesday, January 24, 2018. Nominees will be recognized at Santa Rosa's Golden Apple Awards celebrating all Santa Rosa teachers on March 2, 2018 at Skopelos at New World Landing. For sponsorship information, please call 850-983-5043.