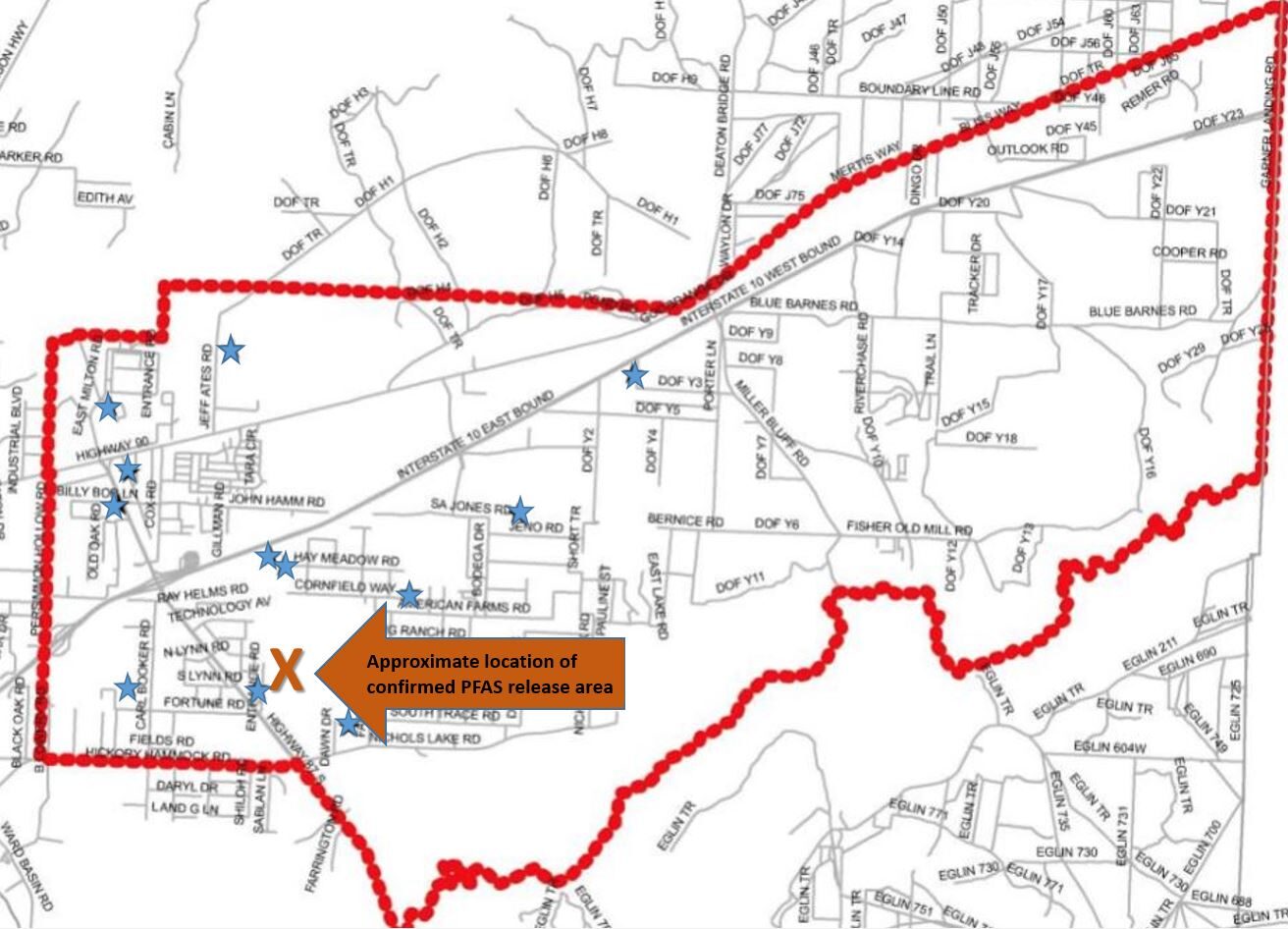 The U.S. Navy on November 9 issued a press release, confirming a PFAS release area at OLF Santa Rosa, which is located inside Santa Rosa County's Well Field Protection Area in East Milton. That confirmed PFAS release area, depicted by an "X," lies within Santa Rosa County's designated well field protection area, outlined in red. The site is also close to Fairpoint Regional Utility System water wells. However, testing of the wells within the WPA indicated none were above the EPA health advisory level of 70 ppt.
Navy officials this morning released the final results from the sampling of private drinking water wells in the sampling areas near Naval Air Station (NAS) Whiting Field and 11 of its Outlying Landing Fields (OLFs) in Florida and Alabama.
Overall, 683 samples were collected – 390 samples were non-detect, 279 samples were detected below the U.S. Environmental Protection Agency (EPA) health advisory and 18 samples were detected above the EPA health advisory.
Those 18 samples above the EPA health advisory were taken from a dozen sites on NAS Whiting Field and two outlying fields located in Alabama.
Testing sites within Santa Rosa County from which samples did detect PFAS but at levels below the EPA health advisory include:
OLF Holley, located on East Bay Boulevard (5 samples);
OLF Santa Rosa, located on Hwy. 87 S in East Milton (10 samples);
OLF Pace, located on Chumuckla Highway at Willard Norrid Road (7 samples; and
OLF Spencer, located on West Spencer Field Road (34 samples).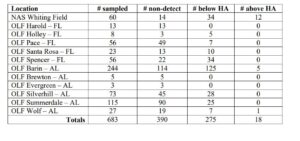 An environmental contractor conducted the testing over the past 12 months and an accredited laboratory reported the results. An independent review validated the drinking water test results. All property owners, who had their private drinking water well sampled received official notice of the validated results.
"This has been a long process," said James Spalding, environmental restoration technical support with Naval Facilities Engineering Systems Command Southeast. "The team reached out to many city/county offices to identify property owners in the designated areas."
The EPA health advisory level is 70 parts per trillion (ppt) for per- and poly-fluoroalkyl substances, or PFAS. The results are the combined concentrations of two PFAS: perfluorooctanoic acid (PFOA) and perfluorooctane sulfonate (PFOS).
The Navy voluntarily began testing the private drinking water wells within identified areas around NAS Whiting Field and its OLFs in Florida and Alabama in 2017 as part of its ongoing investigation regarding the Navy's past use of chemicals collectively referred to as "PFAS" aboard the base.
This effort is part of Navy's ongoing testing of drinking water that is currently taking place at and near Navy installations across the nation.
Anyone with a private drinking water well living in the designated areas was given the opportunity to have their well sampled. Information was provided to them over the past year through a Virtual Open House.
The information is still available online at http://go.usa.gov/xAEQF.
If there is anyone in a designated area who has not had their well
sampled, they can request to have their private drinking water well tested by contacting 844-627-9353 to schedule an appointment.
"Now that the results are in and affected residents have received a validated report, we are here to help them understand those results. We will also be working to resolve the problem for those who had an exceedance," said Spalding.
All residents who previously requested to have their drinking water sampled will receive information about an upcoming Open House to review the results of the investigation in person.
The open houses for NAS WF and its Florida OLFs is scheduled for 10 a.m. to 12 noon and 4 p.m. to 7 p.m. on June 7 at the Santa Rosa County Auditorium, located at 4530 Spikes Way in Milton.
"I am committed to keeping our neighbors and the local community informed as this investigation progresses," said NAS Whiting Field Commanding Officer Capt. Paul Flores. "Now that we have conducted the second round of sampling for the extended area and our OLFs, we will conduct an Open House in June 2022 to explain results that have been found in the area, what it means, and the way forward for these residents."
PFAS are man-made chemicals persistent in the environment that are not absorbed well in soil and can migrate to groundwater. PFAS have been used for many years to make products that resist heat, stains, grease and water, and have been used in a variety of products and substances, such as non-stick pans, water resistant textiles and sprays with water resistant properties. The
most common historical Navy use of these chemicals has been firefighting foam (AFFF) used on Navy installations. AFFF is the most effective way to put out petroleum-based fires, such as an aircraft accident. The Navy no longer conducts training using AFFF, but does continue to use a newer type of AFFF for life saving and emergencies.
In May 2016, the EPA issued a health advisory for two PFAS, specifically perfluorooctane sulfonate (PFOS) and perfluorooctanoic acid (PFOA), at 70 ppt, individually and combined if both are present. While there are no EPA regulations for these compounds, the EPA established this health advisory to offer a margin of protection for all Americans throughout their lifetime
from potential adverse health effects resulting from exposure to PFOA and PFOS in drinking water.
In June 2016, the Navy issued a policy to identify areas of potential release of these materials to the environment. As part of this policy, the Navy began testing in 2017 for PFOS and PFOA in and around NAS Whiting Field to include its OLFs in Florida and Alabama.
For more information on the NAS Whiting Field PFAS investigation, please visit: http://go.usa.gov/xAEQF