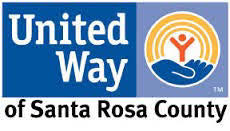 The United Way of Santa Rosa County Board of Directors announced this afternoon that effective October 26 Executive Director Guy Thompson is no longer employed by the organization.
Kyle Holley will continue as acting administrator.
Also, the board states that due to "re-organizing" of the non-profit organization, two other persons previously on administrative leave will not return to their duties.
"Although the forensic audit and investigation continues, the board of directors is working diligently to continue the mission. Because of the importance of the investigation, the board is limited in sharing any further information," stated Pamela Holt, representing the board.
Holt when on to state that the mission of United Way Santa Rosa County continues to be to improve lives by mobilizing the caring power of our community. "We do this work to advance the common good by focusing on the building blocks of a good life: health, education and income stability. The board is dedicated to serving the people of Santa Rosa County. This service provided by United Way of Santa Rosa County is invaluable to those in our community who need it most," she said.