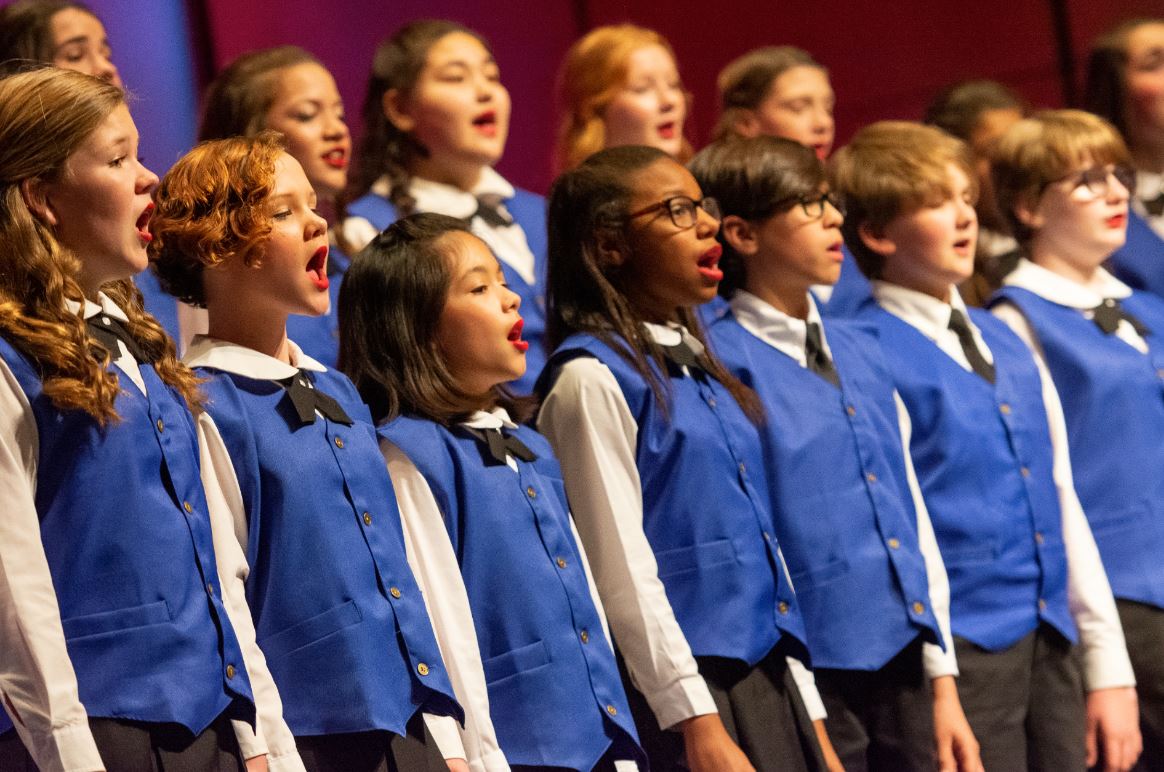 Tickets are now available for the Pensacola Children's Chorus' (PCC) center season performance, "One World, Many Voices". Sunday, February 21, 2021, audience members will be immersed in a showcase of musical diversity symbolizing "A Brighter Tomorrow."
"PCC is proud to offer two performances for this season's One World, Many Voices concert," says Alex Gartner, Artistic & Executive Director for the Pensacola Children's Chorus. "Patrons will have the opportunity to experience our showcase at 1:30pm and 4:30pm. By adding the additional concert, we are able to reduce the number of singers backstage while increasing the number of available socially distant seating options for our audience members." While each performance will not feature every choir, they will both offer a variation on the same vision.
As the name suggests, "One World, Many Voices" will transport the audience around the world through a diverse musical travelogue. Singers will enliven the stage with traditional Kenyan dances, travel back in time to 15th-century Germany, and bring a tear to your eye with an inspirational Irish blessing. These worldly selections will be interspersed with songs of hope, empowerment, and community.
"This season in life has been challenging for everyone, but perhaps most for our young people," says Gartner. "Our goal especially with this concert—and for all of our programs—is to use music to remind our singers and community that a brighter tomorrow awaits those who seize it. It's one that's built upon reaching across differences and finding commonalities. It's about building bridges and recognizing the value in every person. There is no better place to witness the future leaders of tomorrow than at One World, Many Voices."
In addition to the multicultural aspects, audience members will experience gorgeous contemporary music filled with lush harmonies, moving poetry, and rhythmic excitement. Each performance will open with an uplifting "virtual choir"-style presentation featuring PCC's exclusively online choir, eSing. An original composition written by five of PCC's middle schoolers will receive its first live premiere. Entitled "Ignite the Spark," its message is one of resilience and determination that directly responds to the hardships of the pandemic. The piece is their message of hope and resilience in response to the hardships of the pandemic.
With respect for those wishing to participate at a distance, the Pensacola Children's Chorus will be offering a live stream option for both performances. The cost of streaming is $18 per concert. To purchase this option, please visit www.pensacolasings.org.
Tickets to view the production in-person can be purchased by visiting the Saenger Theatre Box Office or www.Ticketmaster.com. Tickets range from $16.00 to $30.00. For additional information, please visit www.PensacolaSings.org.
Please note that seating is limited to COVID-19 physical distancing policies. For the safety of patrons and performers alike, masks are required for admission and for the duration of the performance.