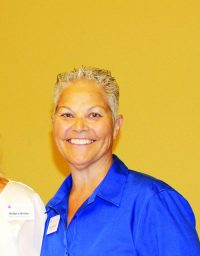 The securities fraud trial of former Navarre Beach Area Chamber of Commerce CEO Judy Morehead is scheduled to start next month in Alabama.
"I have been informed that a trial is scheduled for the week of February 11," stated Daniel G. Lord, Alabama Securities Exchange Commission Spokesman Dan Lord told South Santa Rosa News on Monday.
Morehead had only worked as chamber CEO for about a year and a half before resigning in June 2017, following her May 2017 arrest.
But problems continued for the chamber following Moreheard's departure.
In March 2018 the chamber settled a defamation of character lawsuit filed against Morehead and the chamber by the former chairman of the chamber's Military Affairs Council. The amount of the settlement was not disclosed, but the chamber issued a public apology in the matter.
Since then it appears turmoil continues between the chamber CEO and members of its Military Affairs Council.
Former City of Pensacola COO Tamara Fountain was named chamber CEO in August 2017.
Fountain in November 2018 was banned from attending Navarre Area Board of Realtor events after making a social media post criticizing NABOR's Executive, who had asked questions related to finances during a MAC meeting.
Additionally, two recent chairpersons of the chamber's MAC have called it quits, according to Jim Seevers, who said he was serving as chairman of the chamber's MAC until his December 5 resignation.
"After the former chairwoman resigned, I was vice chairman and took it over for the last three to four months," Seevers said. "Myself and many of the other military affairs committee members were unhappy with (Fountain's) 'aggressive' management style."
Fountain has not yet responded to a request for a comment on the MAC resignations.
Meanwhile, according to the Alabama Securities and Exchange Commission, charges against Morehead included one (1) count of Conspiracy to Commit Securities Fraud and one (1) count of Sale of Securities by an Unregistered Agent. Additionally, Morehead is charged with one (1) count of Engaging in an Act, Practice, or Course of Business Which Operates or Would Operate as a Fraud or Deceit Upon Any Person; and two (2) counts of Fraud in Connection with the Sale of Securities, more specifically described as omitting to state material facts and making untrue statements of material facts to investors. The conspiracy and registration charges are Class C Felonies, punishable by a possible maximum of 10 years imprisonment and a $15,000 fine per charge, upon conviction. All other charges against Morehead are Class B felonies, punishable by a possible prison sentence of from 2 to 20 years and a $30,000 fine per charge, upon conviction.