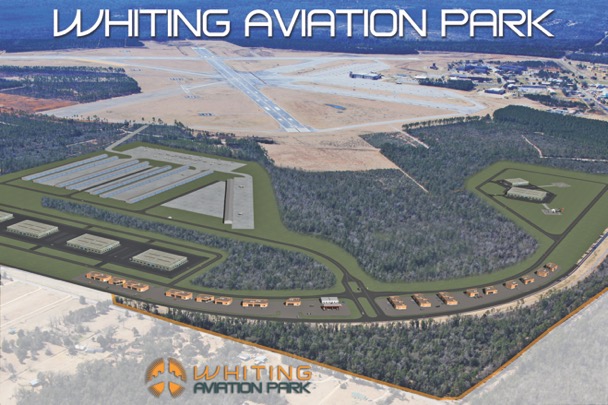 The Triumph Gulf Coast board of directors gave unanimous support of $8.5 million for infrastructure improvements to Whiting Aviation Park in Santa Rosa County on July 18.
"The Santa Rosa County Board of County Commissioners and our citizens wish to thank the Triumph Gulf Coast board of directors for their support of our request to help fund the creation of the Whiting Aviation Park. This project will create hundreds of new aviation-related jobs not only for our citizens but for employment throughout the region. As important, Whiting Aviation Park provides for sustained compatible development on a 267-acre parcel on the fence line of NAS Whiting Field, enhances military value and improves the overall efficiency of operations as maintenance of the many aircraft can be performed adjacent to the base, meaning less downtime for the aircraft," said Commissioner Don Salter, District 3. "This has been one of our county's number one economic development projects for many years and it would not have been possible without the support of the Triumph Gulf Coast board of directors."
The next step for the Whiting project is agreement on a term sheet that will be brought back to the Triumph board for approval. The site development at Whiting Aviation Park is expected to create over 200 high-paying jobs. This project is built on the investment Santa Rosa County made to purchase 267-acres adjacent to NAS Whiting Field and an understanding with the Navy for "through the fence" accesses for private companies. The total project cost is $17,704,975 with Triumph contributing 48 percent of those costs.
Development of Whiting Aviation Park strengthens the region's aviation cluster with Pensacola International Airport to the west and Crestview's Bob Sikes Airport to the east. It enhances the region's growing aviation industry by providing additional industrial space adjacent to an existing airfield, and it supports the regional strategic initiative of expanding the aerospace and defense industry cluster – an industry with a strong outlook for growth. These targeted investments in the aviation and aerospace cluster are expected to drive supply chain companies to co-locate in the region. Florida is currently second in the nation for aviation and aerospace establishments and added more than any other state in the southeast in 2017.
Under the terms of Florida's settlement with BP, the energy company has already deposited $300 million in Triumph Gulf Coast. Further payments of approximately $80 million per year will be made from 2019 through 2033, amounting to a total of $1.5 billion. Applications have been received and are under consideration to benefit all eight disproportionately affected counties. More information about Triumph Gulf Coast, Inc. is available at
www.myfloridatriumph.com
.