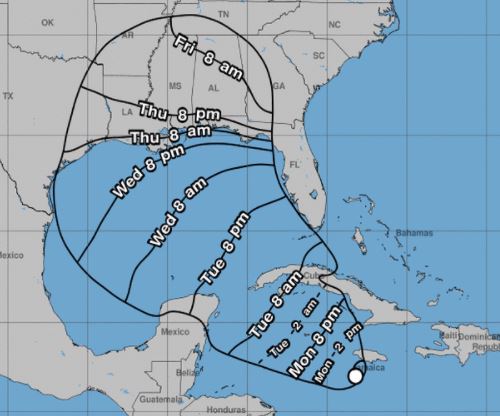 The National Hurricane Center's 8 a.m. EDT update indicates Tropical Storm Delta has formed and is expected to strengthen into a hurricane tomorrow. The storm's forecasted path shifted eastward overnight, and NHC is urging residents from the coast of Louisiana to the western Florida Panhandle to monitor progress of the system ahead of Friday's expected landfall as a Category 2 hurricane.
NHC's cone since yesterday has moved Delta's projected landfall from South Louisiana eastward to the Louisiana/Mississippi border, making the new track similar to the initial forecast for Hurricane Sally.
Decreasing shear over next 24-48 hours will allow for some "robust intensification" of Delta occur, per NHC.
Additionally, computer models show some confusion with Gamma's future path, but NHC's latest update indicates Gamma will dissipate in 120 hours. In the meantime, forecasters say binary interaction with it could help "spin" Delta's movement up into the northern Gulf. Although Gamma yesterday had been projected to make a northward turn, NHC notes certain computer models lose Gamma and "jump" to tracking Delta, resulting in "unrealistic" depictions of the track forecasts. Therefore, Gamma should also continue to be monitored by Gulf Coast residents.
Ahead of the Delta's movement into our area, the U.S. National Weather service in Mobile, Alabama at 5 a.m. issued a coastal hazard message for Escambia , Santa Rosa and Okaloosa Counties in Florida and Baldwin County in Alabama, stating dangerous rip currents are expected for the remainder of the work week. A small craft advisory is also in effect until 7 p.m. this evening. Seas are 4-6 feet, and conditions will be hazardous to small crafts. Inexperienced mariners, especially those operating smaller vessels, should avoid navigating in hazardous conditions, per NWS.
At 8 a.m. EDT, the center of the storm, which is currently a tropical depression, was located near latitude 17.0 North, longitude 78.2 West, roughly 130 miles south of Negril, Jamaica.
Maximum sustained winds have increased to 40 mph with higher gusts. Minimum central pressure has dropped to 1004 MB…29.65 INCHES
The depression is moving toward the WNW near 9 mph, and this general motion should continue for the next day or so. A faster northwestward motion is expected on Tuesday and Wednesday.
On the forecast track, the center of the depression is expected to move away from Jamaica through this morning, move near or over the Cayman Islands later tonight, and approach the Isle of Youth and western Cuba Tuesday afternoon or evening.
The tropical cyclone is forecast to move into the southeastern Gulf of Mexico Tuesday night or early Wednesday.
Present NOAA readings show water temperatures around 84 degrees F in the southern Gulf of Mexico and 80 degrees F in the northern Gulf.
The NHC's next advisory will be issued at 10 a.m. CDT.