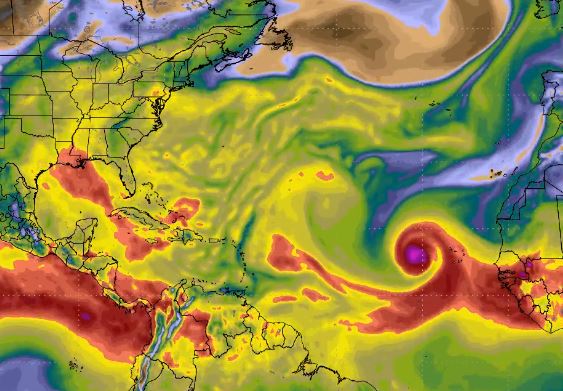 Graphic by Weathermodels.com for September 2
The National Hurricane Center's 2 p.m. AST update #1A for Potential Tropical Cyclone Six indicates no changes from the first advisory.
"Some strengthening is forecast during the next 48 hours, and the disturbance is expected to become a tropical storm during the next day or so," stated Forecaster Lixion Avila.
Currently the system has maximum sustained winds of 30 mph and is located about 425 miles ESE of the Southernmost Cabo Verde Islands. The disturbance is moving west at 12 mph and has a minimum central pressure of 1007 MB.
"This general motion with a gradual turn toward the west-northwest is expected to continue during the next few days," stated NHC Forecaster Lixion Avila.
Weathermodels.com Forecaster Ryan Muae says computer models incidate Tropical Storm Florence will develop off the coast of Africa "where the ocean waters are actually very warm."
Although Muae says the storm will have "major hurricane possibility," computer modeling indicates Florence will remain over open water in the North Atlantic.
However, per Muae, modeling indicates that a second wave being monitored "stays on a west course."