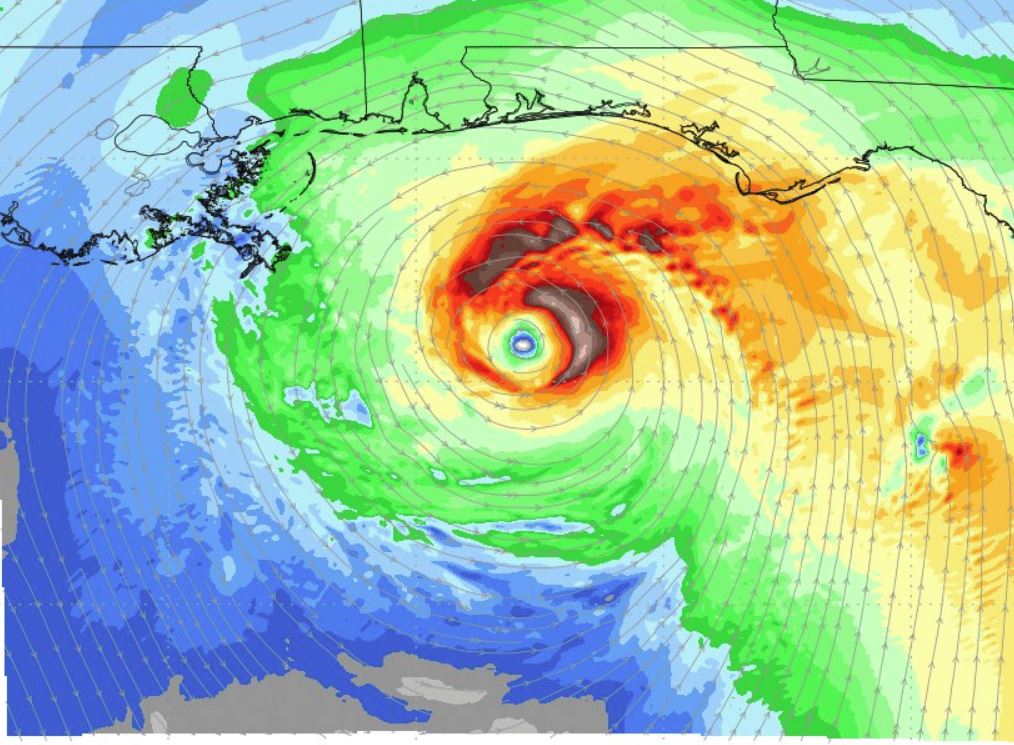 Graphic by weathermodels.com showing wind speed projections for 4 p.m. CDT, September 4
The latest advisory from the National Hurricane Center shows that Tropical Storm Gordon is now moving northwest at 15 mph. Maximum sustained winds remain at 65 mph, but the storm is expected to hit land as a hurricane.
"This general motion is expected to continue until landfall occurs tonight along the north-central Gulf coast. A northwestward motion with some decrease in forward speed is expected after landfall," stated NHC Forecaster Stacy Stewart. "Some strengthening is expected today, and Gordon is forecast to be a hurricane when it makes landfall along the north-central Gulf Coast. Rapid weakening is forecast after Gordon moves inland."
According to Weathermodels.com Meteorologist Ryan Maue, computer modeling suggests the storm will have "vigorous circulation" and could have a "quick burst of intensification" in next 6-12 hours, leading up to landfall.
The advisory states landfall is expected over the lower Mississippi Valley tonight and early Wednesday.
The 10 a.m. CDT advisory states that a storm surge of two to four feet is expected for the Navarre area. High tide will take place at 4:45 a.m.
"The combination of a dangerous storm surge and the tide will cause normally dry areas near the coast to be flooded by rising waters moving inland from the shoreline," Stewart stated.
Additionally, Gordon is expected to produce total rain accumulations of 4 to 8 inches over the western Florida Panhandle, southwest Alabama, southern and central Mississippi, southeastern and northeastern Louisiana, and southern Arkansas, with isolated maximum amounts of 12 inches through late Thursday.
"This rainfall will cause flash flooding across portions of these areas," Stewart said. "Tropical storm conditions are expected to begin this afternoon within portions of the warning area, with hurricane conditions expected by this evening in the hurricane warning area."
The NHC advisory also stated that a "few" tornadoes are possible this afternoon through tonight near the coasts of Mississippi, Alabama, and the Florida Panhandle.