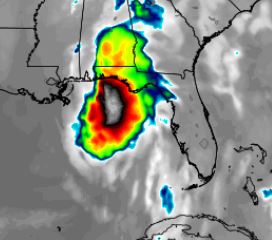 European model simulated infrared forecast graphic for Tropical Storm Michael by weathermodels.com
The latest National Hurricane Center advisory for Tropical Storm Micheal indicates the storm has strengthened and re-formed toward the east and that Northwest Florida will have an "increasing risk" for dangerous storm surge, rainfall and wind impacts.
Accordingly, the National Weather Service in Mobile warns of a high risk of rip currents and "very rough surf" impacting coastal Northwest Florida and Alabama through Thursday.
Air Force Reserve reconnaissance aircraft report Tropical Storm Michael's maximum sustained winds have increased to 50 mph with higher gusts. The storm currently has an estimated central pressure of 999 mb and is located 130 miles southeast of Cozumel, Mexico, per NHC.
"Additional strengthening is expected during the next few days, and Michael is forecast to become a hurricane Monday night or Tuesday," stated NHC Forecaster Daniel Brown. "Michael has strengthened today despite moderate westerly shear. The shear is forecast to gradually decrease over the next couple of days while the system moves over warm waters. This should allow for steady strengthening and most of the intensity models bring Michael to hurricane strength within the next couple of days.
The storm was stationary earlier today but is now moving NNE at 3 mph.