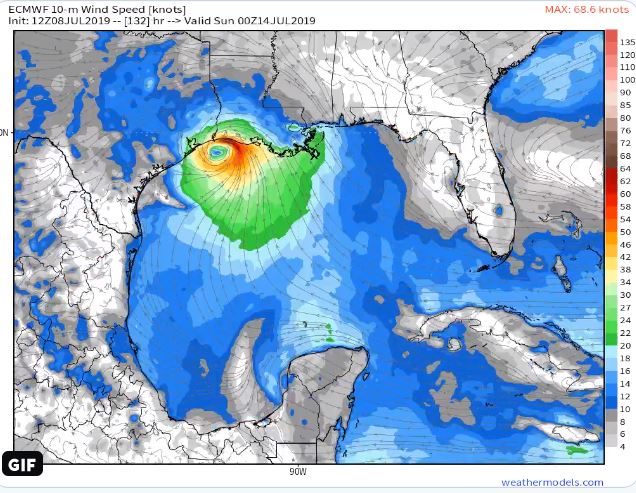 Renowned Meteorologist Ryan Maue with weathermodels.com has released a projection for this week's forecast.
"The land-based origin of the circulation feature probably accounts for the rather slow genesis but I do not see any inhibiting factors along the rest of the westward track," stated Maue.
New model data from ECMWF 12z develops a strong Tropical Storm or Hurricane by Thursday w/landfall this weekend along Gulf coast near the Texas/Louisiana border.

This westward track will allow "Barry" to stay over the warm Gulf of Mexico for several days. pic.twitter.com/Xdoafz4NzD

— Ryan (@RyanMaue) July 8, 2019
Here's the latest official update from the National Hurricane Center:
NWS National Hurricane Center Miami FL
200 PM EDT Mon Jul 8 2019

For the North Atlantic...Caribbean Sea and the Gulf of Mexico:

1. A trough of low pressure located over central Georgia is forecast
to move southward toward the northeastern Gulf of Mexico, where a
broad area of low pressure is expected to form on Wednesday.
Environmental and ocean conditions are forecast to be conducive for
development and a tropical depression is likely to form by the end
of the week while the low moves slowly westward over northern Gulf
of Mexico. Regardless of development, this system has the potential
to produce heavy rainfall along portions of the northern and eastern
U.S. Gulf Coast later this week.  For more information about the
rainfall threat, please see products issued by your local weather
forecast office and the NOAA Weather Prediction Center.  Interests
along the Gulf Coast from the Upper Texas coast to the western
Florida peninsula should monitor the progress of this system.
* Formation chance through 48 hours...low...30 percent.
* Formation chance through 5 days...high...80 percent.
The system is expected to enter the Gulf Wednesday, and a hurricane reconnaissance aircraft is planned to make a Wednesday afternoon flight.